Thomas Robinson: T-Rob Should Be Grateful Charlotte Bobcats Didn't Take Him
June 30, 2012

Elsa/Getty Images
Thomas Robinson seemed like a lock for the second pick in the 2012 NBA draft, but ended up falling to the Sacramento Kings at No. 5.
However, this is a blessing in disguise for the former Kansas star.
The Charlotte bobcats decided to take Michael Kidd-Gilchrist with the second-overall pick instead of Robinson, and while that may result in a minor pay cut, Robinson actually has a chance of making the playoffs in a few years.
The Bobcats were the worst team in NBA history this year. After winning just seven of 66 games for a winning pct of .106 (the worst ever), they are years away from the postseason, and Robinson dodged a bullet by not going to Charlotte.
The Kings, on the other hand, have a young core of their last four first round draft picks (five if you count Robinson), and just need a point guard to be playing in May.
DeMarcus Cousins, Tyreke Evans, Jason Thompson and Jimmer Fredette are all budding stars, and while Fredette has yet to tap into his potential, Cousins and Evans are already great players who are constantly improving.
While the Kings were the second-worst team in the Western Conference last season, they have a lot of room for improvement, and they will soon be playing ball past April.
Michael Jordan's Bobcats have no chance of making the postseason any time soon. Bismack Biyombo was a huge disappointment last season and I don't see him improving much in time. Kemba Walker is stuck behind D.J. Augustin. The team lacks any form of star power, and they could consider it progress by winning 10 games next season.
That's a bad situation for Robinson.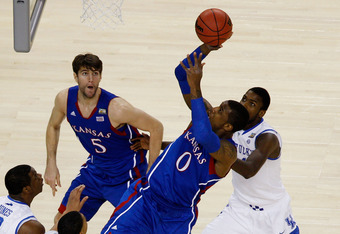 Chris Graythen/Getty Images
T-Rob should have a good point guard to help him or a star to take the pressure off of him. While Sacramento doesn't have a great point guard, Fredette is developing, and the team has a few stars on the roster.
Robinson's time will be better spent with the Kings by far, and he now has a chance to be playing with a young, talented team instead of one that's going nowhere.
A minor pay cut is worth playing in Sacramento instead of Charlotte, and he should count his blessings that he wasn't taken second.