NFL Top 100: Why Darrelle Revis Is the Best Defensive Player in the NFL
June 28, 2012

Nick Laham/Getty Images
Like many other NFL fans, I paid attention to the now-annual Top 100 Countdown airing on NFL Network. This year's addition focused on the top 100 players heading into the 2012 season.
The players who voted for the list clearly emphasized the importance of quarterbacks in today's NFL, with three of them appearing in the top four. Not surprisingly, it was reigning MVP Aaron Rodgers who won the honor of best player in the NFL. Drew Brees came in a close second after his record-breaking 2011 season.
Third place went to Calvin Johnson, aka Megatron, who is evidently the best non-quarterback in the NFL. No. 4 was Tom Brady, the top player on 2011's countdown. And rounding out the top five was Darrelle Revis, who was the highest ranked defensive player on the list.
Now despite the NFL's obsession with offense, there was a lot of love for defense on the list. Among the top 10, four of them were defenders. There's no arguing that DeMarcus Ware, Haloti Ngata and Patrick Willis are freakish players who absolutely dominant at their respective positions.
However, when it comes to best defensive player in the NFL, it's Revis. And in reality, it's not all that close. 
In only five seasons in the NFL, Revis has created a name for himself as a shutdown corner. It's a term that is unfortunately tossed around too much these days. There are lots of great cornerbacks that will have bad games or even occasionally give up big plays and/or touchdowns to elite receivers.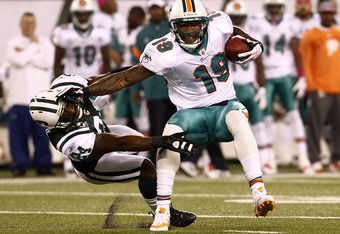 Jeff Zelevansky/Getty Images
Revis is not one of those. In every game, Revis plays the team's top receiver on an island, known to all as "Revis Island." He then proceeds to shut down the receiver, effectively taking out one of the offense's top scoring threats.
While Revis has played at an elite level during all five of his seasons, two of them stand out as even greater. Both his 2009 and 2011 seasons rank among the greatest seasons ever by a single cornerback.
In 2009 Revis held opponents to 48 completions for 502 yards and two touchdowns, while collecting six interceptions himself. One of the touchdowns was a flukey 53-yard touchdown from speedster Ted Gin, Jr., who is known primarily for dropping the ball. The other was a push-off touchdown on a quick slant to Randy Moss, who is one of the five greatest receivers of all time.
Andre Johnson, Marques Colston, Terrell Owens (twice), Steve Smith, Roddy White, Reggie Wayne and Chad Ochocinco all finished with zero touchdowns against Revis and fewer than 40 receiving yards. This goes without including the 2009 NFL playoffs where Revis played an instrumental role in the Jets' AFC Championship run, as he shut down Ochocinco and Vincent Jackson in the first two rounds.
Even though the Jets lost the AFC Championship, Revis only allowed two receptions in the game and again severely limited Reggie Wayne. He then went on to lose the Defensive Player of the Year award to Charles Woodson, despite having had the better season.
As good as 2009 was, Revis basically matched it in 2011. He allowed only 41.2 percent of all targets to be completed and recorded 20 total pass breakups. Revis allowed only one touchdown the entire season, the recipient being Stevie Johnson of the Buffalo Bills.
Revis also had four interceptions last year as some quarterbacks made the foolish decision to throw his way. Perhaps his signature play of 2011 occurred when Revis picked off Matt Moore as he was looking for Brandon Marshall, one of the NFL's best receivers in his own right.
Instead, Revis grabbed the ball and then ran it back for a touchdown. It was 100 yards, making it the longest interception touchdown in Jets history.
Although Rex Ryan is know for having a big mouth, he is correct about Revis being the best cornerback in the NFL. Revis' numbers are historically good with both the 2009 and 2011 season ranking with the all-time greats at the cornerback position. The only cornerback who has definitely had a better season is Deion Sanders, whose run of Pro Bowl seasons in the mid '90s helped him get in the Hall of Fame. 
At his current rate, Revis will be there in a few years as well. As he enters the prime of his career, the Jets can rest assured that their secondary will be great as long as he's playing there.