Steve Nash: Veteran Point Guard Would Make Sense for Portland Trail Blazers
June 27, 2012

Christian Petersen/Getty Images
The Portland Trail Blazers can make their team an instant contender next season with three simple moves: General Manager Neil Olshey must sign Steve Nash to a short-term contract, draft Damian Lillard with the No. 6 pick in the draft and follow that by selecting Meyers Leonard at No. 11.
Nash is the most pivotal of the three, and he makes sense. The Trail Blazers can afford his services, and their point guard play is weak at best. At this point, Nolan Smith is the only point guard under contract.
Signing Nash would give Portland some flexibility at No. 6. Andre Drummond would be a possibility instead of Lillard, but they should still add depth in the backcourt. Lillard is the draft's best point guard, and he won't be available at No. 11. Kendall Marshall will be, but he's too similar to Nash's style.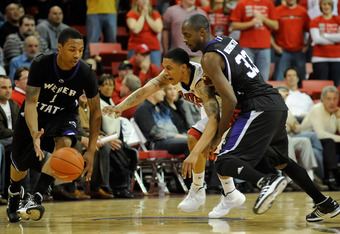 Ethan Miller/Getty Images
Nash's presence will bring out the best in Lillard's point guard qualities. He's an explosive scorer, but he may appear more selfish than he really is. As a player for Weber State, Lillard had to do everything; so judging his passing ability is tough.
Using Lillard and Nash as a duo in the backcourt would help Portland's present and future. It would also benefit Nash as an aging player. He's never won an NBA title, and Portland isn't necessarily out of next season's title picture.
The Trail Blazers could surround Nash with quality players. If they resign Wes Matthews and Nicolas Batum, they will have an above-average starting lineup with LaMarcus Aldridge also in place. Nash would have targets to pass too and players capable of playing at his frenetic pace.
In this situation, Nash would have a dependable backup in Lillard. This would keep his legs fresh and allow him to focus on the game at hand.
Even if Portland doesn't draft these exact players, there are plenty of quality options for a team with two top-15 selections. If they want to spend the money—or make the moves—they will be able to put talent on the floor next season.
The Blazers' brass needs to remember all of this when they pick on Thursday night. Adding dynamic talent will make their pitch to Steve Nash much easier if that time ever comes. He seems to be open to the right situation, and Portland is in position to put themselves in a good spot.
Nash could "buy" himself a championship by signing with Miami or Oklahoma City. He could reunite with Amare Stoudemire in New York, or he could give the Lakers the point guard they desperately need. There are very few teams who won't come calling.
Portland may be off the beaten path, but their cupboard is far from bare. Nash would be a perfect fit and possibly the missing link.