Is Dexter McCluster a Case Study of What Chris Rainey Brings to the Steelers?
June 22, 2012
When the Pittsburgh Steelers drafted hybrid running back/wide receiver Chris Rainey in the fifth round of the 2012 NFL draft, it was almost immediately clear what they were doing—finding their own version of Dexter McCluster.
McCluster, the speedy hybrid player for the Kansas City Chiefs, was drafted in 2010 when Todd Haley was head coach. It's not just a coincidence that Haley is now the Steelers' offensive coordinator, and they brought on a McCluster-esque player in Rainey. 
To understand how the Steelers are going to use Rainey, one just has to look at how the Chiefs used McCluster during Haley's tenure. The two are extremely similar players; McCluster is listed at 5'8" and 170 pounds, while Rainey is a hair bigger at 5'9" and 175. Their smaller size limits them to certain specialized plays, but does not render them ineffective.
That's because they both possess blazing speed and are lucky enough to have good hands, making them useful wide receivers and kick and punt returners, in addition to performing their standard running-back duties.
In fact, a look at Rainey's 2011 stats as a Florida Gator and McCluster's as a Chief shows just how similar they are: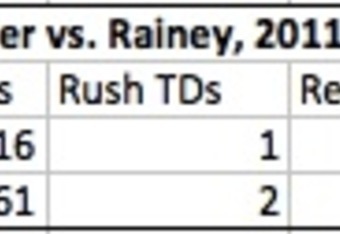 Sure, there's a big difference between the college game and the NFL, but the fact that Rainey got greater production out of fewer receptions and had over 300 more rushing yards than McCluster last year despite having just 57 more carries makes one thing fairly clear—Rainey is even faster than McCluster.
With Rainey's proven college success, his speed and Haley's track record of involving players of his profile on a regular basis, it's pretty easy to determine that the Steelers have big plans for Rainey in his rookie season.
The clues are easy to find. Here's video of McCluster:
And here's video of Rainey as a Gator:
The similarities between the two are pretty uncanny. And with Haley, having already coached McCluster, now handling Rainey's professional development, you can pretty much assume that the McCluster video is a fairly accurate preview of what Rainey is going to look like for the Steelers this year, and every year Haley remains the team's coordinator.
It's not often you can scout one player by looking at the accomplishments of another. But the similarities between McCluster and Rainey and the McCluster-Rainey-Haley connection make it almost too easy to see just how the Haley-helmed Steelers offense is going to use Rainey this season.