2012 NBA Finals: How LeBron Shed the Choking Moniker
June 22, 2012

Ronald Martinez/Getty Images
Flash back to May 17. The Indiana Pacers had just demolished the Miami Heat by 19 points and taken a 2-1 series lead. Mario Chalmers was the leading scorer for the Heat and Joel Anthony was the third leading scorer. Dwayne Wade (5 points, 2-13 FG) had one of the worst games he had ever played and Chris Bosh was out with an injury that would sideline him for another seven games. 
But, like always, much of the criticism was on LeBron James.
His numbers in that game weren't awful, but those who watched it saw an eerily similar LeBron to the one who played so passively against the Dallas Mavericks in the 2011 NBA Finals.
LeBron critics wondered why the best player in the NBA, and one of the most talented athletes the League has ever seen, couldn't reach a Jordan-esque level and will his team to win a critical Game 3. 
Meanwhile, stories were being written about the Pacers being more of a "team" than the Heat (as opposed to the Heat and their top-heavy roster), and that a Bosh-less Heat team wouldn't be able to prevail over those scrappy Pacers.
Three days later in Game 4, the Heat beat the Pacers 101-93, and LeBron gave a performance that might have been even more impressive than his 40-18-9 stat line would suggest, as crazy as that sounds.
The Pacers got out to an early lead, but LeBron almost single-handedly kept his team in the game with his scoring and his facilitating.
Wade's horrible struggles from Game 3 continued into the first half of Game 4, but he got going at the end of the second quarter almost solely because LeBron made several beautiful passes to him that resulted in easy layups and dunks. Both Heat stars lit it up in the second half and the Heat finished with an eight-point win.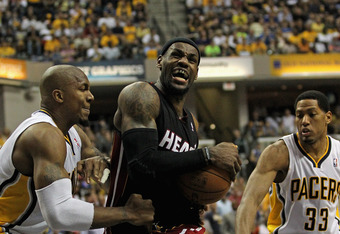 Jonathan Daniel/Getty Images
The Pacers never won another game in the series.
Now fast forward to June 5, Game 5 of the Eastern Conference Finals with the Heat vs. the Boston Celtics. The Celtics would win their third straight game, taking a 3-2 series lead. 
To say there was panic surrounding the Heat organization after this game would be an understatement.
Not only did Miami lose a home game and have to look forward to an elimination game on the road, they lost in an almost inexcusable fashion.
They saw a decent sized fourth quarter lead disappear. They saw a Celtics team out-hustle them on multiple plays. They saw a cloud of criticism headed their way.
Media members from all over the country were bashing the Heat for their lack of effort and urgency in Game 5, but there was also a ton of speculation about the future of the team. Talks of coach Eric Spoelstra getting fired, Bosh getting traded, Wade getting traded, etc.
Oh, and LeBron was being criticized as much as he ever had been.
Everyone questioning Miami's effort and fourth quarter play blamed LeBron for (again) being passive and not enough of a leader. A real superstar wouldn't allow his team to lose such an important game and show such pitiful effort, critics said. 
Fast forward again to June 7, Game 6.
Based on Game 5, most people assumed Boston would prevail, and those who didn't expected the Heat to win in an extremely close contest.
The Heat ended up winning...by 19 points.
In a game where failure was expected and the pressure on one player was as high as it has been in recent memory, LeBron James silenced his critics and put on a performance that would forever change his NBA legacy.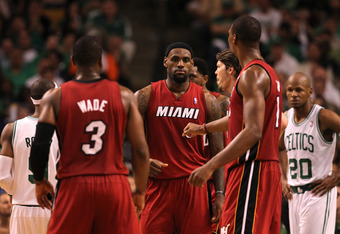 Jim Rogash/Getty Images
From start to finish, LeBron scored at will while rarely missing (shooting 73 percent from the field). He attacked the rim, made all sorts of jump shots and crashed the boards like Dennis Rodman. Wade was mediocre, and besides him, no other Heat player scored in double figures.
It was a one-man show.
LeBron, for what seemed like the first time in a Miami uniform, didn't care about anything other than imposing his will on the Celtics and winning a must-win game. It didn't matter how Wade, Bosh, or any other Miami player performed. If the Heat lost, it was on LeBron. He made sure the only reason the Heat didn't lose was because of him.
LeBron didn't reach that level again in the next six playoff games, but he was still consistently spectacular and was the biggest reason his team won the 2012 Finals last night. Bosh was huge in Game 7 against the Celtics, Shane Battier shot the lights out in Games 1-3 of the Finals, Wade was solid and even hobbled Mike Miller contributed (in a big, seven three-pointers way last night), but none of those guys were the MVP, aka LeBron.
LeBron has gone through plenty of ups and downs this season, but looking back, will anybody remember the downs? Even the critics of LeBron have to admit that his feats greatly outweighed any struggles he went through.
The stats are not what will define LeBron's 2012 season—his performances under pressure will. Game 4 against the Pacers, Game 6 against the Celtics and Games 2-5 against the Thunder were all games where there was an unbelievable amount of pressure on him. Not only did the Heat win those critical games, but LeBron had spectacular, even historic performances each time.
So often LeBron was called a choker who didn't have what it took to win, and with good reason. He disappeared against the Celtics in the 2010 Conference Finals as well as the 2011 Finals against the Mavs. He's also had a number of shaky fourth quarter performances in other playoff and regular season games.
Was he flawless in every clutch spot this season? No, but no player ever can be in an entire season. LeBron did more than redeem those shaky moments this year by what he did against the Pacers, Celtics and Thunder in those aforementioned games.
For the first time in years, it isn't crazy to call LeBron clutch.
For the first time in his NBA career, he can be called a champion.