Did Russell Westbrook Have the Worst Game by a Point Guard in Finals' History?
June 15, 2012

Ronald Martinez/Getty Images
Last night in the ESPN Halftime Report Magic Johnson declared Russell Westbrook was having the worst game he'd ever seen by a point guard in the NBA Finals. This morning on ESPN's First Take, both Stephen A. Smith and Skip Bayless confirmed that claim. Is it true?
Far be it from me to be the person to defend Westbrook. I'm not a big fan of his. He rubs me the wrong way. But having said that I think he gets a lot of unwarranted criticism. To argue that he had the worst game by a point guard in finals' history when he didn't even have the worst finals' game last night is ludicrous.
In last night's game Westbrook had 27 points, eight rebounds, seven assists, one steal and two turnovers. Mario Chalmers had three points, three steals, four rebounds, and three turnovers. Westbrook only shot .385, but Chalmers only shot .143.
In fact Westbrook's game score of 17.9 is better than any of Chalmers eight finals games he's played. It was also better than any of the games that Jason Kidd started last year. It is also better than any game that Derek Fisher had the year before that. In Game 2 of the finals in 2010, Rajon Rondo had a game score of 19.5.
That's the only game by a starting point guard (other than Westbrook's Game 1) in the last three years by a point guard in the Finals that was better than Westbrook's.
Does that mean that Westbrook's game was the second best and completely free of criticism? No. But to argue that not one of those other 28 games had a worse start is preposterous. Stats don't mean everything, but they mean a heck of a lot more than nothing.
Stephen A. Smith declared "don't tell me about the numbers!" on First and 10 this morning. Of course he did. The numbers prove him wrong. The favorite recourse of people who don't like what the numbers say is to simply dismiss them out of hand.
You simply can't do that. Stats really don't tell you everything but they do you tell you something. They do tell you that Westbrook scored 27 points, dished eight assists and grabbed seven rebounds. That is production.
There may have been times when that production was inefficient, but it's better to be productive and inefficient than non-productive and inefficient like Mario Chalmers was.
Their basis for saying so is that Westbrook took too many shots, that he was erratic and that he took the Miami Heat offense out of their game.
Now there's truth to that angle. H was pressing too hard and trying to do too much. If you're going to take that tactic though you can't just compare him to other point guards. It's not fair to compare him to Mario Chalmers because his role on the Thunder is completely different than Chalmer's on the Heat.
Now there are plenty of point guards in Finals history who had horrible games while taking a lot of shots. If you want to know the real nominee for worst game ever by a point guard you'd probably be looking at John Starks Game 7 performance against the Rockets in '94.
Starks was two for 18 from the field, had two rebounds, two assists, and five fouls. He scored just eight points. His offensive rating for the game was a meager 62. Westbrook's by comparison was 107. Stark's game score for the game was a -3.4.
There were other horrible shooting nights by premier point guards as well. Jason Kidd went 4 for 17 in Game 1 of 2004. Rondo went five for 15 twice in 2010. In both instances he had a lower field goal percentage than Westbrook, as well as fewer rebounds and fewer assists.
Dennis Johnson went three for 15 in '85. John Starks had another stinker in Game 1 against the Rockets going three for 18. Gary Payton scored just 13 points on two occasions in back to back games against the Bulls, taking 17 shots to do so in the first and 15 in the second.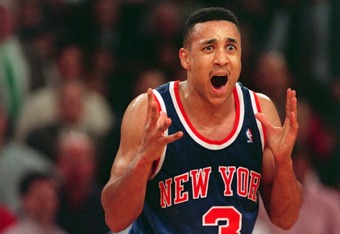 Jonathan Daniel/Getty Images
Tony Parker has two less efficient scoring nights in the series against Detroit, and oh yes, they won the series.
If you want to look at other players who have taken at least 25 shots Westbrook's night was the 29th least efficient shooting night in Finals history. That's not great, but considering there have only been 78 times a player has taken that many shots it's not that horrible either.
Of players overall who have had less efficient shooting nights while taking 25 shots are Michael Jordan, Kobe Bryant, Hakeem Olajuwon, Patrick Ewing, LeBron James, Karl Malone, Charles Barkley, Kobe Bryant, Allen Iverson, Dirk Nowitzki, and Scottie Pippen.
Kobe Bryant by himself has seven less efficient shooting nights.
Now you might argue "but he's a point guard." Point heard but already answered. Plenty of point guards have also been far less efficient.
There's also the other point. You dance with the girl who brung ya'. There is ample evidence that Westbrook is an essential element to the Thunder offense and their offense is both more efficient and wins more when he is aggressive. This argument is well supported by Alok Pattani & Dean Oliver of ESPN Stats & Info.
My argument here is not that Westbrook is beyond reproach, or that he didn't make any mistakes last night. My argument is that he didn't have the worst night in the Finals ever by a point guard, so don't bombard me with comments like "if he's so great why he didn't do this?"
He was pressing too hard. He was trying to to do too much. It's also true that he was kind of forced to for a while in the first half as Durant went to the bench early with foul trouble and there wasn't any other real offensive players on the court at the time. 
There was Westbrook, Thabo Sefolosha, Kendrick Perkins, Nick Collison and Serge Ibaka. He wasn't exactly surrounded with offensive talent during his most inefficient stretch. 
Further in his defense is that when Harden got going he only missed one shot and had one assist. 
The worst part of his shooting came when he didn't have any help on the floor. 
Were there times when he was pressing too hard? Yes. But let's keep things in perspective. 
Can we allow for nuance? I know it's the Finals but do we have to resort to hyperbole after every game? After Game 1, Durant was going to surpass Michael Jordan's legacy. After Game 2 Westbrook had the worst game ever by a point guard.
Isn't there some room in the middle for something between perfection and the worst ever?
Let's rein in the criticism just a smidgen. Why don't we just say that it was the worst Finals performance we've ever seen by Westbrook. I can live with that.