Manchester United Transfer News: Robert Lewandowski to Old Trafford No Guarantee
June 12, 2012

Michael Steele/Getty Images
Robert Lewandowski might seem like a great fit for Manchester United, and the rumors surrounding the Borussia Dortmund striker might be pointing toward Old Trafford, but that in no way guarantees that he'll be picked up by United over the summer transfer window.
Lewandowski is currently starring for Poland at Euro 2012, and his national coach caused a great stir when he stated that Lewandowski would indeed be going to Old Trafford next season to play for Manchester United.
The simple truth is that it may not happen at all.
Lewandowski may not be going to Manchester United—at least not according to Borussia Dortmund CEO Hans-Joachim Watzke. In a recent interview with German media outlet Der Westen, Watzke stated:
This discussion [about Lewandowski to Manchester United] makes me sick. Polish media, in which everything has been rumored, I honestly... Whether offers arrive for him or not, it's totally irrelevant. If I explicitly say for weeks that Robert will definitely compete for the championship and return from his summer vacation for training with us, that is so..."
And that, would appear to be that.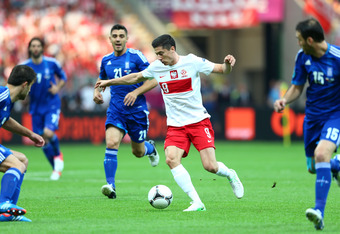 Michael Steele/Getty Images
Obviously the discussion and prospect of a move to Old Trafford isn't out of the equation, but with the club set to fight for his services next season more than originally expected, Lewandowski may remain at his current club.
Lewandowski was an integral part in Borussia Dortmund's successful season, which saw them clinch both the German Cup as well as the Bundesliga over Bayern Munich, netting 22 goals for the club throughout the year.
Speaking after his team's opening-round fixture at Euro 2012, Lewandowski refused to comment on a potential move from the German champions—with the Daily Mail reporting that his full focus and energy was on a successful Euro tournament. Lewandowski said:
"I'm not going to concentrate on these issues [such as joining Manchester United]. Euro 2012 is the priority. I'm totally focused on the national team..." 
With the Red Devils already successfully acquiring the services of former Dortmund midfielder Shinji Kagawa for the upcoming season, losing their top striker in Lewandowski would be a bitter blow for the German club. As a result, their determination to keep the striker at the club next season is understandable and most critical for their chances at repeat success.
The Lewandowski rumors will continue throughout Euro 2012, with the striker likely to comment on his playing future after the tournament is complete.
But with Dortmund's CEO speaking out about their full intention to keep Lewandowski next season, perhaps United's chances at landing the Polish ace aren't so high after all. 
Regardless of what the Poland national coach might say. 
Do you think Robert Lewandowski will end up signing with Manchester United?
Comment below or hit me up on Twitter: Follow @dantalintyre