F1 2012: Lewis Hamilton Wins Canadian Grand Prix, but Again Pirelli Claims MVP
June 11, 2012

Mark Thompson/Getty Images
The 2012 Canadian Grand Prix continued the remarkable streak of unpredictable results, delivering the seventh different winner of the season, this time in the form of Lewis Hamilton.
While Hamilton's comfortable victory finally rewarded the season's most consistent performer with a long overdue visit to the top step of the podium, it added more fuel to the fire of those who are critical of the ever changing nature of the season so far.
While the fans love the excitement of these seemingly random performances, it does beg the question as to whether this really is the best look for the pinnacle of motorsport.
Formula One is supposed to be all about the best cars winning. That's what has seen the sport endure since 1950 and continue to go from strength to strength.
If the fans wanted truly unpredictable racing, they could have embraced the much-vaunted A1GP series. It lasted four years.
F1 is about technology, innovation and pushing design rules to the very limit. Introducing a random variable into this—such as the tyres—defeats the purpose.
It must be incredibly frustrating for the teams of engineers who spend countless hours making design changes to shave a 10th of a second off a lap time, only to have their work undone by tyres that can change character in half a lap and lose multiple seconds per lap.
Throughout the season, we have seen races undone by the self-destructing Pirelli tyres that have "fallen off a cliff" in performance terms in sight of the finishing line.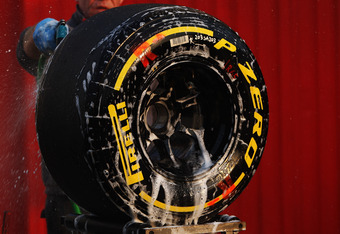 Ker Robertson/Getty Images
Witness Kimi Raikkonen's heartbreaking march backwards through the field in Chine when he went from second to 14th over the closing stages of the race thanks to tyre performance drop-off.
This week, McLaren triumphed because they correctly picked that a two-stop strategy was the fastest way to get to the finish line. Renault and Sauber took the other two places on the podium because they correctly picked that a one-stopper was the way to go.
Conversely, Fernando Alonso and Sebastian Vettel were punished by their recalcitrant rubber for thinking they too could make one stop work.
It wouldn't be so bad if the tyres were predictable in some kind of uniform way, but it's not that simple.
The wear characteristics change with small variations in temperature which requires the teams to be part weather forecaster, part clairvoyant when deciding on strategy based on data from two short practice sessions two days before the race.
It's not even that they can rely on data from previous races as the compounds are continually being tweaked.
There has been a long list of current and former drivers who have been openly critical of what is happening to F1.
At least six world champions have joined in being critical of the lottery nature of the season so far. Former champs Alain Prost, Niki Lauda and Jacques Villeneuve and current racers Jenson Button, Fernando Alonso and Michael Schumacher seem to speak with one voice—it's wrong that just anyone can win a Formula One Grand Prix.
It would be, perhaps, acceptable if this were just an ongoing technical issue that Pirelli were working through.
But it's not.
It's a deliberate ploy that has been engineered by the powers-that-be in F1—we're looking at you Bernie Ecclestone!
Pirelli boss Paul Hembery (on Tyrespress.com) quotes his instruction from Ecclestone: "We need excitement, we need something a bit more animated, and you can do something with the tyres that can add to the show. So, please throw out the rulebook, do what you normally wouldn't do and try and bring this new approach to racing."
The problem is that when the change in performance costs as much as three seconds per lap over the space of five laps, that change is too sudden and too dramatic. That might be acceptable in changeable weather conditions—going from wet to dry and vice versa—but in substantially unchanged conditions it's too much.
As the circus moves to Valencia, we can only guess who will be the next driver-team combination to successfully read the tea leaves or conjure up divine intervention to determine the right tyre strategy to secure a race win.
With former world champions Kimi Raikkonen and Michael Schumacher yet to put a notch in their belt for the season, we could be looking at yet another driver on the top step of the podium.
Is that a good thing?`