Who Will NHL Postseason Awards?
June 5, 2012

Justin K. Aller/Getty Images
One element about any award is the near-endless debate that prize may generate.
In the end, the triumph of one player over another remains subjective, and the ability to chose one over another is also problematical.
Still, the annual NHL Awards are ready to be disseminated later this month in Las Vegas, and within the usual cast of characters, the process remains subjective as it is personal to several.
The list here are the three choices defined by the NHL and then who should win.
HART AWARD (MVP)
Candidates
Henrik Lundqvist, New York Rangers
Evgeni Malkin, Pittsburgh Penguins
Steven Stamkos, Tampa Bay Lightning
The choice of Stamkos brings back shades of Ernie Banks, the famed Chicago Cubs shortstop. Banks was a clear credit to the game, his high energy and production are well documented but he never played on a World Series team. Ditto for Stamkos this season.
The clear choice is Malkin, who carried the Penguins in the absence of Sidney Crosby. Malkin's achievement of a 50 goal scorer (50-59, 109) filled the Crosby void and enabled to Penguins to gain home ice advantage in the opening round of the playoffs.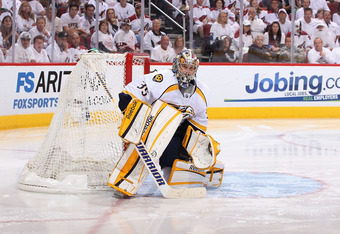 Christian Petersen/Getty Images
VEZINA (Best Goaltender)
Candidates
Henrik Lundqvist, New York Rangers
Pekka Rinne, Nashville Predators
Jonathan Quick, Los Angeles Kings
The first thought is to anoint Quick, but this award is only for the regular season. If the Kings go on and win the Cup, Quick would have a clear shot at the Conn Smythe Award as MVP of the playoffs. Lundqvist was an important part of the Rangers resurgence but the nod here goes to Rinne, whose effort and positive demeanor put the Preds in a position as a pre-playoff favorite to the win the Stanley Cup.
NORRIS (Best Defenseman)
Candidates
Zdeno Chara, Boston Bruins
Erik Karlsson, Ottawa Senators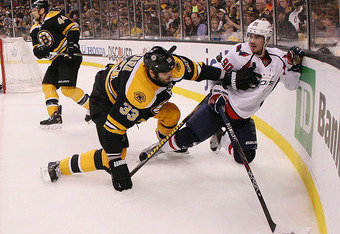 Bruce Bennett/Getty Images
Shea Weber, Nashville Predators
While Karlsson had a terrific season, his experience and acumen may slow his ascendancy to the NHL elite. Weber teamed with Ryan Suter to form perhaps the best defensive pair in the league. This is a close call because Weber's stature clearly helped Pekka Rinne's goals against to remain under 2.4 per game, but Chara's numbers are through the roof. His plus 33 clearly assisted Tim Thomas and Tuukka Rask in keeping the Bruins in nearly every game.
Winner, Chara.
CALDER (Rookie of the Year)
Candidates
Adam Henrique, New Jersey Devils
Gabriel Landeskog, Colorado Avalanche
Ryan Nugent-Hopkins, Edmonton Oilers
For the future, Nugent-Hopkins may get consideration for several categories, and teaming with Taylor Hall, the Oilers could make some noise in coming seasons.
For now, Landeskog, while recording 22 goals and assisting on 30 others for 52 points, on top of a plus-20 rating, helped keep the Avs in the playoff race. The plus 20 represents value for the future, and remains a principal reason why Landeskog wins the Calder.
LADY BING (Sportsmanship)
Candidates
Brian Campbell, Florida Panthers
Jordan Eberle, Edmonton Oilers
Matt Moulson, New York Islanders
Several players on each team could easily qualify. Of the three, Moulson is the most productive. In his past three years with the Islanders, Moulson scored 97 goals, including 36 this past season. Add 33 assists for 69 points and that total good for second on the team behind John Tavares (32-50, 81). Most importantly, Moulson was accessed only three minors all season, and should win the Lady Bing.
FRANK J. SELKE (Best Defensive Forward)
Candidates
David Backes, St. Louis Blues
Patrice Bergeron, Boston Bruins
Pavel Datsyuk, Detroit Red Wings
As captain and significant contributor to the Blues tough defense, Backes wins the Selke Award. This takes nothing from Bergeron because the Bruins as a team, turned in a strong defensive season.
For his part, Datysuk remains one of the most dangerous forwards in the league but his offensive threat supersedes his premier defensive abilities.
Backus, at 6-3, 225, topped the Blues in goals with 24 and tied T. J. Oshie in points with 54. Yet, his play in from of Brian Elliott and Jaroslav Halak helped the Blues during their stellar defensive season and set a franchise record for shutouts.
JACK ADAMS (Coach of the Year)
Candidates
Ken Hitchcock, St. Louis Blues
Paul MacLean, Ottawa Senators
John Tortorella, New York Rangers
MacLean and Tortorella took their teams to great heights, but Hitchcock, with his previous record as a Stanley Cup winner with Dallas and a level of achievement with the Flyers, brought the Blues from the abyss of the NHL to the second highest point total in the Western Conference.
With the goaltending duo of Brian Elliott and Jaroslav Halak cutting down opponents and seeing a franchise record for most shutouts, Hitchcock further established his credentials as a winning coach.
Winner, Hitchcock.
BILL MASTERSON MEMORIAL AWARD (Sportsmanship and Dedication to Hockey)
Candidates
Daniel Alfredsson, Ottawa Senators
Joffrey Lupul, Toronto Maple Leafs
Max Pacioretty, Montreal Canadiens
While Lupul and Pacioretty are worthy, Alfredsson has been a great ambassador for both the game and the NHL for his 16 years in the league. A true gentleman and highly productive with 414 career goals for the Sens, Alfredsson's stature ends this dialogue before it begins. End of discussion.
Choice, Alfredsson.