Matt Forte Contract: Bad Knees, Old Legs and Other Myths About Chicago Bears RB
May 29, 2012

Jonathan Daniel/Getty Images
The Matt Forte-Chicago Bears contract fracas just accelerated to ludicrous speed.
While we were all grillin' like villains, a source told the Chicago Tribune's David Haughs that a sticking point might be a fear that Forte's knees just won't hold up long term.
Indeed, according to the source, many teams were worried about his knees coming out of Tulane in 2008. So it should still be a concern.
After all, says Haughs, running backs start wearing down after 28, and since Forte is 27, why pony up for one who is almost done?
Let's start there. In 2010, fellow Footballguy and New York Times Fifth Down blogger Jason Wood wrote an article on busting fantasy-football myths—including the dreaded "never draft a running back over 30" myth.
It's a myth. As Wood states in his article, age is only a number for a running back.
Here it is, in his own words:
The running back position takes an inordinate pounding, which is why the average length of a runner's career is shorter than most. But for those RBs who are elite enough to stick in the league until they approach the ripe old age of 30, there's no magical spell that turns them brittle or ineffective at that age. It could just as easily happen when they're 28, or 32.
Wood even has a very nice chart showing how many post-30 backs achieve some exceptional totals. While fantasy and reality are two distinct things, good running backs in fantasy are good running backs in reality.
It's not like Forte has carried the ball an inordinate amount of times compared to other active backs. On this chart of rushing attempts for active running backs, Forte is 20th.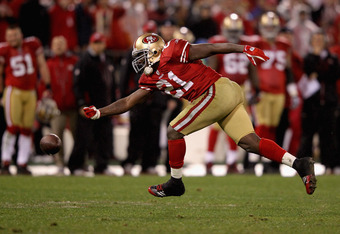 Jamie Squire/Getty Images
While some ahead of him are older players (Larry Johnson, Thomas Jones), many more are not. Frank Gore, at 28, has 639 more carries. Maurice Jones-Drew, who is the same age, has 470 more carries.  
Adrian Peterson (26) has 392 more carries; Chris Johnson (26) has 173 more carries; Steven Jackson, two years older and often hurt in his younger days, has a staggering 1,124 more carries than Forte and is still playing effectively.
His knees? Suddenly, now his knees are an issue? Nobody will officially say it, but it gets leaked? That always leaves a bad taste in my mouth—like it's a public-relations move to plant doubt in fans' minds when they are unhappy with something, which in this case, it seems they are.
Are the knees a concern? Did, as the article states, "the wear and tear on Forte's knees (draw) the attention of several teams, including the Bears, before the 2008 NFL draft when he came out of Tulane?"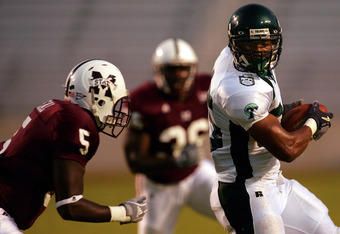 Ronald Martinez/Getty Images
Well, I went and did a little digging into analysis of Forte from the 2008 NFL draft. After a cursory look, I found five pieces of Forte draft analysis. He did indeed (as we knew) tear the PCL and meniscus in his left knee.
Not one site cited it as a huge concern, and certainly, none of them viewed it as a glaring negative. Several of these sites—Sports Illustrated, Scout, NFLDraftscout (who ended up at CBS)—are major players, and some of the writers have gone on to bigger and better things or are members of sites which are well-known and respected.
If it was a giant red flag, it would have come out. He probably would not have gone in the second round. We definitely would have heard more about it.
That's not to say it's a knee in great shape. Maybe it's falling apart.
I'm not sold on that, though, anymore than I am sold that it was a significant concern in 2008 or that this leak from an unknown source is anything more than a PR ploy.
It's stuff like this which makes players hesitant to play under the franchise tag. You play nice, hope that you can get the contract you're worth and then, they treat you like this.
I'm not saying that the Bears have to pay Forte or sign him to a long-term contract. Let's play fair, though.
So, I'm calling shenanigans on this. While there may be some reasonable concern about Forte's long-term viability, I believe the Bears (or someone within the organization) leaked this to garner some public sentiment in their favor.
I can't say I like the tactic, either.