Iowa Hawkeyes' NFL Pipeline and .500 Big Ten Seasons
July 1, 2012

Here's a not so easy question: What do Alabama, USC, Oklahoma and Iowa have in common? 
(Well, not so easy only if you forgot the name of the link you clicked seconds ago.) 
Answer: These four programs produced as much or more NFL talent than anyone else the past three years.  Iowa has led the B1G in players drafted each of the last three years, Jordan Bernstine became the 51st Kirk Ferentz coached Hawkeye to be selected, and the 13 offensive linemen drafted since 2003 rank first nationally. 
These are highly impressive results that compare favorably against any program.
Easy question: What does Iowa NOT have in common with Alabama, USC and Oklahoma? 
Answer: BCS national titles, of course. 
Iowa hasn't even appeared in the championship game.  More amazing, in the last five seasons, Iowa has finished 4-4 in the Big Ten THREE times.  How do all these facts co-exist?  What is it that the Alabamas of the world do with their NFL talent to win national championships, and what does Iowa do with its NFL talent to finish in the middle of the Big Ten pack? 
Tradeoffs and the Use of a Finite Resource
As Michigan and Rich Rodriguez learned back in early 2010 (h/t ESPN), the NCAA has strict rules on how much practice time is allowed each week with the student-athletes.  The coaching staff's job is to devise a strategy on how to best use those hours during each practice, each week and each year. 
The foundation of Iowa's program under Kirk Ferentz has been player development, which nobody would argue is a bad thing.  But at what expense?  Being the top player development program in the country requires an intense focus on fundamentals, which requires precious time. 
Do you use those last 45 minutes of practice on more position drills, or do you implement a new defensive package to exploit something you saw in game film on this week's opponent?  To be able to execute that new package, a team needs to work on it during the week which pulls time away from...you guessed it, player development.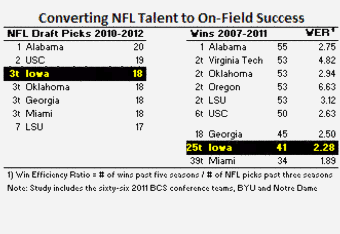 The Hawkeyes don't surprise many teams when they line up on the field each Saturday.  They are going to run a balanced offensive attack, take care of the football, play field position and force opponents to move the ball by sustaining long drives. 
Iowa expects to win with superior execution of what everyone knows they are going to do.  They have to, because there isn't much time for exotics and scheming given the amount of practice time devoted to player development.  But does that leave the team susceptible to game planning by opponents like Iowa State, Northwestern and Minnesota? 
And are opportunities left on the table when a wrinkle or two designed for a specific opponent could make the difference in some of the many close games that Iowa plays each season? 
Not All NFL Talent is Created Equal
While Alabama, USC, Oklahoma and Iowa all produce great numbers of NFL players, they do so in very different ways, which yields very different on-field results.  According to Rivals, the Hawkeyes 18 draft picks averaged 3.06 stars coming out of high school. 
That's about 0.70 less than Alabama's (3.75) and Oklahoma's (3.78) draftees and 1.22 less than USC's (4.28). 
In recruiting, the Hawkeyes will often look past the measurables that make scouts and fans drool, looking instead at the long-term potential of that player.  Prospective DE is only 225 pounds as a high school senior?  No problem, we'll fix that in the weight room over the next 24 months. 
Lack of height or speed is keeping a kid from getting a long offer list?  Good, he'll have a chip on his shoulder to prove those other teams wrong. 
Iowa's focus on player development maximizes an individual player's potential by the time he leaves the program.  Alternatively, the Tide, Trojans and Sooners are able to sign top level high school talent who are more able to contribute immediately and throughout their time with the program. 
Iowa is forced to invest more in its players (in the form of non-productive scholarship years, required coaching up, etc.) and waits longer for its payoff in that investment compared to the elites' plug-and-play 4- and 5-star recruits.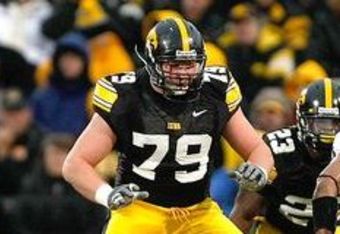 The issue with this can be seen in examining the use of redshirts. 
Consider two hypothetical programs that never have players leave prior to the expiration of their eligibility: One redshirts all players and one redshirts no players.  The program that redshirts their players will have 68 of their 85 scholarship players available for games.  A program that doesn't redshirt will have 85 players available, or 25 percent more than the redshirting program. 
Now back in the real world: 67 percent of Iowa's 18 draft picks were redshirted their true freshman year compared to 20 percent of the Alabama picks.  Alabama's players see the field faster, contribute more of their time on campus and the Tide has less "dormant" scholarships each year than the Hawkeyes. 
These are all good things when the ultimate objective is winning.
Another way to look at a player's ability to immediately contribute is the number of years spent with the program before heading to the NFL.  If you assume that most players are going to leave for the draft whenever they are physically ready for the league, then less time with the program indicates lesser investment in the player was required and that the player was contributing for a higher percentage of his time on campus than a player that takes five years to be NFL ready. 
Once again, Iowa lags behind the elites.  The 18 Hawkeyes had an average of 4.6 years on campus compared to 4.1 years for the USC picks and 3.6 years of Alabama's. 
Sometimes They're Not Diamonds, They're Just Rough
Not every 2-star recruit becomes Chad Greenway or Bob Sanders. 
Iowa has proven time and again that they are probably better than anyone at turning guys nobody else recruited into NFL players, but the lightly recruited are lightly recruited for a reason: They're more of a gamble. Those 2-stars are less likely to contribute in their college careers than are 3-stars, which are less likely than are 4- and 5-stars. 
And Iowa gets loads more 2-stars than the other top NFL producing teams.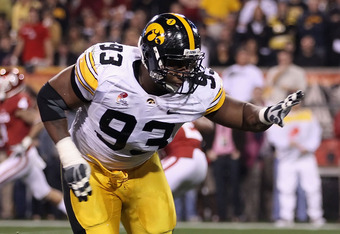 Christian Petersen/Getty Images
In the recruiting classes of 2005-2008 (the classes that turned out the 2010-2012 draft picks), Rivals rated 33 percent of Iowa's 91 commitments 2-star or unranked (51 percent 3-star, 15 percent 4-star, 1 percent 5-star). 
Those 30 commitments are eleven more than the 19 of Alabama, USC and Oklahoma… COMBINED.
Why does that matter?  A lot of those 30 players are inevitably going to be recruiting misses that eat up scholarships for one to five years with little production to show for it.  Conversely, the "misses" among the highly recruited at Alabama (45 percent of its commits over the same period were 4-stars or 5-stars), Oklahoma (56 percent) and USC (76 percent) may not turn out to be NFL caliber, but they are far more likely to contribute than Iowa's 2-star misses and add quality depth to those programs. 
That lack of depth is one of the things that separate the Hawkeyes from the Alabamas year in and year out.  Those teams come at opponents in waves of high-level talent and Iowa's comparative lack of depth means injury bugs that have occurred at a position like linebacker (2010) or running back (geez, when hasn't it been an issue) can derail a season.  
The Answer is Often Right Below Your Nose
So why does Ferentz and staff run the program the way they do?  After all, his job is to win football games, not get players drafted.  Well because player development is a means to an end—winning.
Iowa is not the easiest place to build a consistent winner.  Things like state population, access to nearby recruiting hotbeds (USA Today), coverage by major media markets, national appeal of the brand, war chest of alumni donations and size of athletic department budgets are all things that matter.  Despite not stacking up well in such areas against Big Ten rivals, Ferentz has implemented a system that keeps Iowa relevant year after year.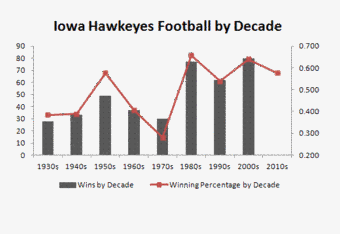 In the past 10 years, Iowa has tied for the second most wins in the B1G, finished in the top 10 nationally four times, won two B1G titles, played in two BCS bowl games and won an Orange Bowl (the biggest bowl win for the Hawkeyes since 1958). 
Ferentz's program has down years of 4-4 and takes shots at conference championships every couple of seasons. 
He's a second-half meltdown against Iowa State (2002) and a Ricky Stanzi ankle (2009) away from a real chance at two undefeated seasons in the aughts.  That's not too bad for a school that has lower half natural advantages in the B1G.  The fact is, it's hard to expect a different system to produce more on-field success than Ferentz's system. 
The next 10 years of Iowa football will probably be more of the same.  And that's a good thing.