Stanley Cup Playoffs 2012: Devils' Home Ice Is Far from an Advantage
May 27, 2012

Being the No. 6 seed in the East to Los Angeles' No. 8 seed in the West, the New Jersey Devils have home-ice advantage for the 2012 Stanley Cup Finals.
This is a bummer for Devils fans, though, because home ice has been rough for higher-seeded teams this postseason, and New Jersey did play better on the road during the regular season.
With a team like Los Angeles coming in this week, here's why home ice is far from an advantage.
Kings of the Road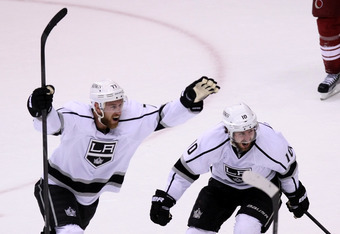 Maxx Wolfson/Getty Images
After going just 18-13 away from home during the regular season, the Los Angeles Kings hit top gear in the 2012 postseason.
As the No. 8 seed in the Western Conference, L.A. obviously had to face the road-ice disadvantage with each series, but that clearly had no affect on the outcome. Through the first three rounds this postseason, the Kings have not gone past five games and are 8-0 on the road.
Both playoff losses came at home, but those came after L.A. had already built a 3-0 series lead. In short, the Kings have been able to dominate a series because, after winning early on the road, that momentum carried over into a Game 3 home win.
New Jersey has to be careful as it's only won one series-opening game this postseason and has traded wins to prevent from taking over a series from the start. L.A. has proven to come out of the gates fast and won't let up once ahead.
Goalie Youth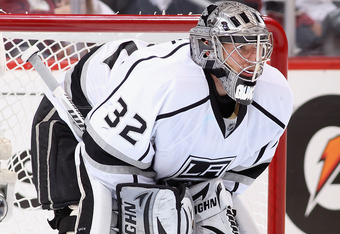 Christian Petersen/Getty Images
New Jersey undoubtedly has strong defense, and it's largely because of veteran goalies Martin Brodeur and Johan Hedberg. The Devils ranked No. 8 in defense this season by allowing just 2.5 goals per game, and the defense has saved them this postseason, as the offense has been inconsistent.
Los Angeles, on the other hand, has been just as impressive defensively by allowing just 2.1 goals per game (ranked No. 2). It has the youth to sustain a longer series. Jonathan Bernier and Jonathan Quick are 23 and 26 years old, respectively, and the Kings have allowed only 22 goals this postseason.
Certainly, L.A. has been helped by an explosive offense that pulled a 180-degree turn from its No. 29 regular-season ranking, but Quick has defended his goal quite well.
Brodeur obviously has more overall experience, being much older, but Quick's 94.6 save percentage this postseason trumps that. In this series, we may see the passing of the torch from one legendary goalie to one with just as much potential.
Home Ice This Postseason
Eight times in this postseason, the team with home-ice advantage has lost. Obviously, six are the result of both Los Angeles and New Jersey making it to the Stanley Cup Finals, but the Philadelphia Flyers and Washington Capitals also pulled off an upset.
Philadelphia and Washington were the No. 5 and No. 7 seeds, respectively, in the Eastern Conference, and the Capitals also almost defeated New York in Round 2, falling in Game 7.
The good news for Devils fans, though, is New Jersey's 6-2 home record in the playoffs. The bad news is the Kings are even better right now on the road.
In short, playing at home has not guaranteed anything, and it is arguably an irrelevant factor.