Lolo Jones: Commitment to Olympic Training Will Ensure Big Results in London
May 23, 2012

Harry How/Getty Images
Olympic hurdler Lolo Jones has used her willpower and strength to bring her back to the 2012 Olympic Games in London after her heart-breaking 100-meter hurdles finish in 2008.
Jones' willpower runs much deeper than just he training, though.
With major stars like New York Jets quarterback Tim Tebow coming out in the mainstream to talk about celibacy and how they advocate for it, Jones has opened the world up to her commitment to the lifestyle as well.
Jones told HBO Real Sports about her commitment to waiting until marriage and how it's the hardest thing she has ever done:
I want to wait until I'm married to have sex. My mom, she was with my dad for 20 years and they never got married and they're not together anymore. So I just want to have that solemn bond. It a gift I want to give to my husband. But please understand this journey has been hard...It's the hardest thing I've ever done in my life. Harder than training for the Olympics, harder than graduating from college has been trying to stay a virgin for marriage. I've been tempted, I've had plenty of opportunities. I'm one year out from turning 30. If you're making a sequel to the 30-year-old virgin, I am your candidate.
It's honestly hard to find a problem with what she is saying or how she has chosen to live her life. If she wants to stand her moral ground and advocate for what she believes, she is more than welcome to; that's the beauty of America.
Agree with what Jones says or how she lives her life or not, that unbelievable commitment to her goals will help push Lolo to a gold medal in 2012.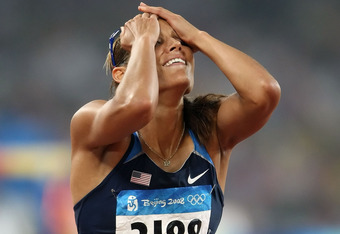 Nick Laham/Getty Images
To be the best in the world at something, an athlete needs to dedicate themselves to that craft with every ounce of their being. When they come up short, like Jones did when she clipped the ninth hurdle and cost herself a win at the 2008 Beijing Games, it haunts them.
Lolo has shown that she is mentally strong and has won many races and tournaments over the last four years. The question now will be whether or not she can handle the pressure of the big stage in London.
Win or lose, Lolo has proven through her work ethic and actions that she is the kind of role model children should really look up to.