Euro 2012: Olivier Giroud Is Set to Star for France This Summer
May 21, 2012

Forwards have a habit of capturing our imaginations more than any other position during major competitions.
With the exception of Zinedine Zidane during World Cup 1998 or 2006, or say Wesley Sneijder or Andres Iniesta at South Africa 2010, forwards often seem to steal the show ahead of midfielders or defenders.
We become enraptured by the story of 18-year-old Wayne Rooney at Euro 2004, or Fernando Torres or Andrei Arshavin (he featured as a forward for Russia) during the 2008 European championships in Austria and Switzerland.
Goals tend to do that to us.
There's something uniquely captivating about seeing the ball go into the back of the net.
There's another forward who is setting himself up to take Europe, and the rest of the world that will be watching by storm this summer.
With the 2012 championships in Poland and Ukraine less than three weeks away, France striker Olivier Giroud, France's new No. 9 (he earned his first call-up to the national side back in November ahead of friendlies with USA and Belgium) is riding a wonderful crest of form.
In fact, he hasn't ebbed for what feels like forever.
Speaking to the media after calling up Giroud for the first time, Blanc had spoken of the qualities he looks for in a player to fill the forward role in his lineup, and why the Montpellier forward had caught his eye.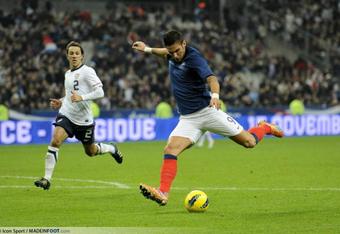 "In that position, I like having a player who is atypical, with his size and his ability to play with his back to goal," Blanc said.
"We've been thinking about [calling Giroud up] for a little while and it's the right time to reward him and to allow him to discover what the international level involves."
It turned out to be a brilliant bit of managerial decision-making from Blanc, as Giroud continued his sensational run of form—he had 11 goals in 15 league appearances for Montpellier ahead of that call-up—for both club and country until the end of the season.
He went on to score 21 league goals this season, top in Ligue 1 and helped lead Montpellier to the first Ligue 1 title in club history.
Not bad for a 25-year old who, just two seasons ago, was plying his trade with Tours in Ligue 2.
I was in France during that 2009-10 season, and while I became familiar with Giroud's name—he had a knack for finding the back of the net even then (he led Ligue 2 in scoring, again with 21 goals, that season)—he was resigned to the single page French newspaper L'Equipe reserved for the country's second-best league.
No longer. Giroud has become the toast of France, and a flag-bearer for the new-look Les Bleus that manager Laurent Blanc has spent the better part of two years molding and chiseling.
Montpellier president Louis Nicollin has placed a £50 million price tag on his leading man, obviously realizing that Giroud will be in high demand this summer. Europe's top clubs will come calling, but that is for later.
Giroud led the line on his own for Montpellier this season, the focal point of manager Rene Girard's 4-2-3-1 formation.
Blanc has used a similar lineup during his time coaching France, and played Giroud as the main striker against Germany, when the hit man made his full debut for the national team on the last (leap) day of February.
He struck first for Les Bleus that night in a stirring 2-1 victory over a powerful (albeit undermanned) Germany side that will enter the upcoming European Championships as one of the favorites to take home the winner's medal.
Karim Benzema (injured for the Germany match), the normal starter at the forward position for France, who is coming off his own phenomenal season for Real Madrid during which he tallied 32 goals and 15 assists in all competitions for Real Madrid, would likely assume the role of forward in Blanc's first-choice XI, but even he has lent his support for a potential partnership with the in-form Giroud.
Speaking to former French international Bixente Lizarazu on French radio station RTL Sunday evening, Benzema brought up the prospect of playing up front with Giroud.
"Giroud, très bonne saison ça me fait penser à Lyon qd j'étais avec Fred. Faut demander au sélectionneur si il veut nous associer"

(Giroud, he's had a terrific season and makes me think of my time with Olympique Lyon when I played up front with Fred. You'd have to ask the manager (Laurent Blanc) if he wants to pair me with Giroud for France.)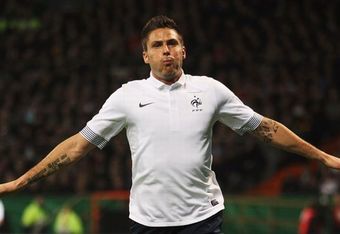 While he has never gone with a conventional two-striker look for France, instead opting for a more mobile central figure paired with pacy wingers (usually Franck Ribéry on the left and Loic Remy on the right), injuries and Giroud's spectacular form may force Blanc's hand come the opener against England in Donetsk.
Remy is a serious doubt for the Euros, as he races to recover from a thigh problem. While there are certainly other players within Blanc's initial side (he has until May 29 to settle upon a 23-man roster from his initial selection of 26) who can take over Remy's habitual role, the former Bordeaux boss may experiment with a two-forward look during France's three upcoming exhibitions before France head to the Euros.
Blanc did employ a 4-4-2 at times during his three-season spell managing Bordeaux. Then it was Marouane Chamakh who often partnered up top with Fernando Cavenaghi; in Giroud and Benzema, however, Blanc has two attacking options who not only possess superior talent but have the ability to link up with teammates in the attacking third.
Just the sort of dynamic Blanc is looking for. While he has never slumped to public pressure, one feels that Giroud may well prove too difficult to keep on the bench.
While a stellar season in no way guarantees a starting spot for the national setup (just look at Diego Milito's secondary role for Argentina at World Cup 2010 following that record-setting campaign with Inter Milan—although when Maradona's your manager, you can rest assured that good sense will be thrown out the window), one would think Giroud has a great chance at trotting out onto the pitch come kickoff against the Three Lions.
He may have to prove his worth yet again in the upcoming friendlies. But that shouldn't faze him.
This is a guy who's made it a habit of proving people wrong his entire professional career. What's a couple more games?