Bayern Munich vs. Chelsea: Blues Break Bayern's Heart at Allianz
May 21, 2012

Alex Livesey/Getty Images
It was one of the most emotional and nerve-rattling Champions League Finals in recent history.
To describe this bizarre sporting spectacle as crazy was certainly an exercise in understatement, which both Roberto di Matteo and Uli Hoeness chose—when it all ended.
After two and a half hours, any neutral and secular observer instead slowly came to the unbelievable conclusion that divine intervention must, indeed, exist.
Seldom have we seen a more one-sided match to mark the highpoint of Europe's football season. 
In a manner worthy of a Homeric drama, the several hundred million spectators—who joined the fortunate few present in the marvelous Munich stadium to follow the World's favorite game from the comfort of their homes or packed in public places—were again reminded of an eternal truth:
In the realm of Sports, as in all endeavors powered by human passion, there is no justice.
Herein lies the fascination of football finals—their always unpredictable outcome, no matter how dominant one side may seem. There can be superiority on the field—even to the point of humility.
It may seem that one group of players are so overpowering that the other group is deserving only of our collective commiseration.
And for the first 90 minutes, so it was on Saturday, as the powerful Bayern of Munich faced off against the most improbable opponent in this competition: London's Chelsea Blue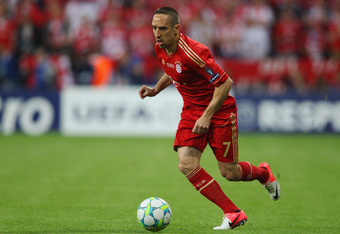 Alex Livesey/Getty Images
In horrid anguish, the supporting Blue Army waited for cruel reality to run its course. 
In stupefaction, they witnessed wave upon wave of red-shirted assaults batter the suspension-depleted inner defensive fortress the valiant Blues had erected to protect their own net. Shot upon shot, corner upon corner, rained on Petr Cech's goal—like so many Greek arrows on the walls of Troy. The match statistics were indisputable: 34:9 shots on goal, 20:1 corners taken—both tallies in Bayern's favor.   
Over the regular 90 minutes, Roman Abramvich's billionaires could muster but one miserly shot on goal. Chelsea managed hardly a single counter-attack to alleviate the permanent pressure Bayern built. Nor could it be argued that their offensive impotence came as tribute to their brilliant defense.
Surprisingly passive, curiously without contact—almost un-British—were their challenges.
But to confuse organized withdrawal to their 16-meter line with submissive surrender would do injustice to the determination and spirit of sacrifice that Chelsea's ageing stars and battle-hardened warriors summoned on this fabulous summer evening.
If their collective heroics deserved an individual name, it must certainly be Ashley Cole.
Flinging himself at every bruising shot, racing from the wing to thrust his battered corpse in front of the most vicious missiles fired from point blank range—he became the last line of defense behind his beaten teammates. To me, he was the symbol of Chelsea's major attribute in this epic drama: the refusal to accept defeat, no matter how hopeless and dismal the cause, unaffected by their crushing inferiority on the field.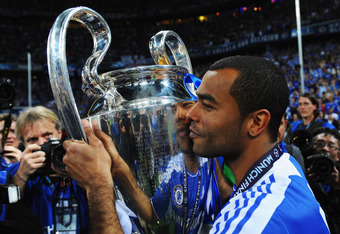 Mike Hewitt/Getty Images
Not that their hypothetical talent was missing.
Obviously, Juan Mata—the Spanish wizard—was reliably impeccable, his chirurgical passing under immense pressure nothing less than sensational. Didier Drogba—the athletic giant—proved again that he is unmatched when challenged in the air. Gary Cahill, on but three days training, excelled at organizing his back-line in place of the exiled captain, John Terry, who was left alone to suffer helplessly in the stands.
On this special night, heroics were not the property of Chelsea alone.
In red, the determined will to emerge victorious was always just as tangible.
The substitutes Diego Contento and Anatoliy Tymoshchuk smothered every Chelsea excursion into midfield. The captain Philipp Lahm and the leader Sebastian Schweinsteiger launched attack after attack, apparently immune to frustration or exhaustion.
Franck Ribéry drove the ball incessantly, floated flanks and crosses like an automate serving tennis-balls gone berzerk. So desperate was he to redeem his name on this most prominent of football stages, that he dashed relentlessly, weaving to and fro at will, his pace too energetic, his moves too swift for José Bosingwa to follow.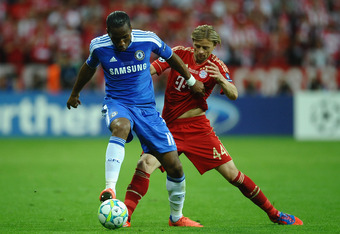 Laurence Griffiths/Getty Images
Yet the game is simple, and its object is clear: The ball must somehow find the back of the net. 
And as the intense drama unfolded and reached its 83rd minute, when the Bavarian crowd's festive expectation had already faded to exasperation and worrisome disbelief at so many chances carelessly left unused, the—at this point—unimaginable was still achieved!
Finally, Petr Cech was beaten by Thomas Müller's perfect header, the deserving reward for a relentless collective effort—for the physical pain of outrunning, for trying, failing, regrouping and trying again, for overcoming the growing doubts that this Blue castle could just not be taken!
All of Germany erupted in enthusiastic exuberance! Indescriptible joy!
All of England fell silent (with maybe the exception of a very few viewers, quietly praying for Tottenham's qualification for next season's tournament and the pots of gold it promised).
 
Certainly, this score—objectively long overdue—spelled ultimate doom for the Blues.
How could their team—so perfectly built on the principle of denial and negation—even dream of equalizing in only eight minutes time? On what, now, to build confidence, after not having been able to fire one shot on target during the full match?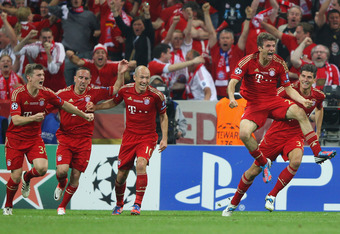 Alex Livesey/Getty Images
Could it have been all in vain—their survival of Barcelona's artistry, of Benfica's bold desperation, of Napoli's deadly precision?
Suddenly, the Men in Blue rushed forward, the clock ticking down.
With a sense of urgency we had assumed foreign to their game—strange to their whole concept of protection—now truly captained by their veteran, Frank Lampard, they thrust themselves within reach, forcing their first corner at 88 minutes of play!
It was perfectly taken by the Matador and met ruthlessly by the forehead of Chelsea's most imposing warrior!  The shocked Bayern fans see the brilliant execution, finished by the irresistible power of unbending will!
A lion's roar rips through the night: "We will not succumb—we are alive!" 
From Abidjan to Johannesburg, a continent in frenzy cries, "There is only One—Didier Drogba!"
The match resumes in prolongation.
One would think that such a last-minute reversal of fortune would fundamentally change the equation, handing the psychological momentum to the Blues. On to victory—now to march on to Glory!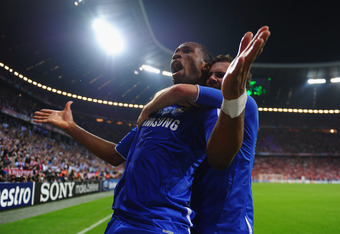 Laurence Griffiths/Getty Images
But adversity separates men from boys, the great from the feeble.
In a resurgence of energy, drawing on reserves invisible, Bayern regroups, pushes back the Blue tide and drives forward, yet again. 
Triumph and disaster have always been twin brothers.
So, it fits the story-line perfectly that the hero of the moment becomes the victim just the next.
An awkward hack to the heels of his one-time Marseille colleague, the penetrating Franck Ribéry, hands Drogba responsibility for the next climatic moment of this incredible drama: a penalty in over-time, potentially the decisive game-changer!
Despairing catharsis in blue meets jubilant certitude in red.
On the Bayern side, who now would doubt that justice is about to be restored? 
With the cold resolve of an appointed executioner, Arjen Robben—the only player on the pitch who can boast previous allegiance to the opponent—readies the fatal shot, which will annihilate all hopes for Chelsea's golden generation at a last, grand triumph—for their well-merited place in football history.
It is but a mere formality, a routine gesture practiced to perfection. A short charge, a forceful stroke of a precious shoe—the rest will be Glory.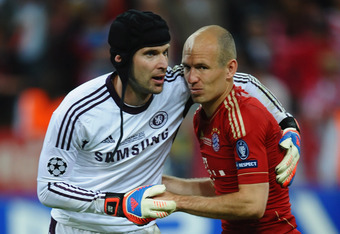 Laurence Griffiths/Getty Images
Or Tragedy. 
Sebastian Schweinsteiger cannot bear the suspense. On his knees, he focuses his dizzied sight on Manuel Neuer's empty—and totally meaningless—goal and the Munich curve beyond, the young German goalkeeper at his side, impatiently awaiting the verdict: either Salvation or Damnation.
The whistle blows, the ball is free...but there is no joy amongst the Reds in Allianz.
Denied, still again, by the accurate anticipation and the well-timed lunge of Petr Cech, the hapless Arjen Robben crumbles miserably on the spot. Franck Ribéry, who will be forced to leave the game which was to usher in his first title, pounds the sideline green with both fists in agony and disgust!
Indomitable, they simply refuse to be beaten!
Of course, prolongation cannot decide the outcome, so after 120 minutes of exhausting battle,
it will be left to the cruelest of lotteries to determine who lifts the Cup with the Ears. A victor must be crowned.
Sebastian Schweinsteiger will cover his face with his sweat-soaked jersey to hide a stream of tears he cannot retain after it becomes his turn to be denied from the spot—the same man that pumped his fist in exhilaration after his penalty had ended Real Madrid's high hopes in Bernabéu.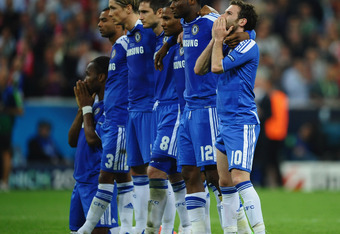 Laurence Griffiths/Getty Images
Didier Drogba will take his role on this memorable night and thus destroy the Bavarian Dream of winning this Finale Dahaom. Roman Abramovich—often criticized for his inflated investment in sporting glory—will gently whisper a quiet—and true—"Thank You" to his legion of exceptional athletes that he will soon need to rejuvenate.
In the end, puzzlement abounds. 
Somewhere in the wonderful arena he helped design, an emotionally drained Uli Hoeness—the heart and soul of this FC Bayern—will have raised his head to the dark skies, silently contemplating the existence of a Lord Almighty, who—as has always been the right of gods—on this night chose the color blue for his amusement.
Could it maybe just have been a display of some type of potent African sorcery?
For Bayern, there can be no acrid taste of defeat, too incomprehensible the outcome from their point of view which in no way diminishes the accomplishment of a Chelsea team that—all along this campaign—simply refused to be beaten.