Chelsea's Champions League Final: More Than a Match
May 17, 2012

Clive Rose/Getty Images
Every once in a while, a match comes along that has the potential not only to define a club's season, but to shape the future of a club for years to come.
For Chelsea, the last time a match of this magnitude came around was in 2003, and it was the last day of the season.
The task was simple: Avoid defeat against Liverpool at Stamford Bridge, and Ranieri's men would secure Champions League qualification for only the second time in Chelsea's history.
Hearts were in mouths as Sami Hyypia gifted Liverpool the lead, but club captain Marcel Desailly and erratic winger Jesper Gronkjaer both found the net to send Stamford Bridge into raptures.
With the club on the verge of bankruptcy and financial ruin, the revenue generated from a top-four finish would have proved the saving grace for Ken Bates' club. Little did anyone know how much more significant this result would prove to be, for the name of Roman Abramovich was yet to enter common football parlance.
But the Russian oligarch had been flirting with the idea of buying a Premier League club for some time, and this result proved the deciding factor in his decision.
Nine years, eight managers and hundreds of millions of pounds later, Abramovich finds his club languishing in sixth position, outside the top four for the first time in 10 years and with an aging squad that will not last forever.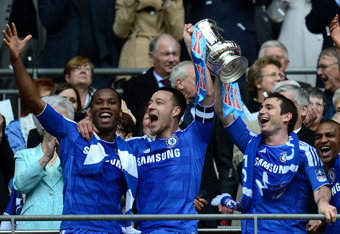 Shaun Botterill/Getty Images
But there is a lifeline, a possible salvation from the ignominy of a season playing in Europe's "second competition," and it comes in the form of Roman Abramovich's "Holy Grail," the trophy he has yearned after for so long, the "cup with the big ears," the Champions League.
The Abramovich era has yielded two League Cup triumphs, four FA Cup victories and three Premier League titles—without a doubt the most successful period in the club's history.
But through all the domestic success and silverware, Chelsea have been perennial "nearly men" on Europe's grandest stage. Under Abramovich, Chelsea have been losing semifinalists on four occasions in Europe and were one kick of the ball away from lifting the trophy in Moscow in 2008.
A variety of factors have prevented the "Roman army" from conquering Europe, from ghost goals to penalty slips to late heartbreakers. It has become an obsession for Abramovich and his senior players, and the difference between success and failure as a Chelsea manager is often defined by Champions League performances.
It could have led to a long-term contract for Avram Grant in 2008, and it may prove to be the deal-breaker in determining whether Roberto Di Matteo is given a permanent contract as Chelsea boss. The young Italian manager has belied his lack of experience at the top level with a string of heroic victories masterminded over the best Europe has to offer.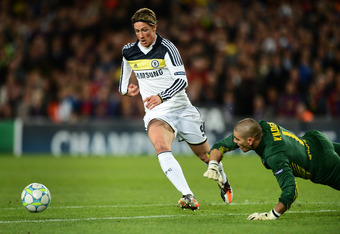 Jasper Juinen/Getty Images
No Chelsea fan will ever forget the epic comeback in the second leg against Napoli, and the "two perfect performances" against Barcelona have overshadowed Chelsea's lacklustre league form.
But now Chelsea must confront the well-oiled machine of German efficiency that is Bayern Munich with four key suspensions and a couple of injury doubts.
A moment of madness from John Terry in the Camp Nou may have cost "Mr. Chelsea" the opportunity to lead his beloved team to European glory, but Roberto Di Matteo still needs to look to experience if he wants to lift Europe's premier cup competition.
The Chelsea side still contains a core of blue-bloods that have experienced the Champions League heartache that has plagued the West London side since the dawn of the Abramovich era. Petr Cech, Ashley Cole, Frank Lampard and Didier Drogba all have vital parts to play in Munich on Saturday, and they will need to inspire a side full of forced changes.
The loss of Branislav Ivanovic and Ramires, two men who have the tendency to pop up with crucial European goals on big nights, will hurt Chelsea, and the suspension of Raul Meireles further restricts Di Matteo's options in midfield.
Chelsea's Champions League chances have now become inextricably linked to the ongoing fitness concerns of the two remaining first-team centre-backs, Gary Cahill and David Luiz, who are both desperately trying to overcome hamstring injuries.
Even if the two talented defenders do make it back in time, they will be returning in an environment where there is no room for error—the biggest game of their respective careers.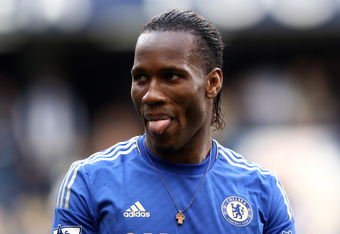 Ian Walton/Getty Images
Many have said that Fernando Torres' long and winding road to retribution and the recapture of form must lead through Munich, and with Sturridge and Kalou struggling for form, Torres could be deployed in a wide role as he attempts to link up with the likes of Juan Mata.
But through all these selection problems and issues, Petr Cech and Ashley Cole will remain to marshal the defence, Frank Lampard will bust a gut in midfield and Didier Drogba has proven that he still has the ability to terrorize the world's best defences, even at the ripe old age of 34.
These are the men that Di Matteo has looked to this season when all hopes of a Champions League victory had faded, and these are the men that will be crucial in determining whether or not Chelsea fall at the last hurdle yet again.
This match has been described as the most important in Chelsea's 107-year history, and it is hard to argue with that statement.
The Chelsea dynasty currently stands on the edge of a knife—if the club do not secure Champions League football for next season then they will not be able to attract the premier talent needed to restore a squad starved of quality.
The dead weight has to be weeded out, but Champions League football is a crucial prerequisite of enticing replacements of sufficient quality to challenge for honours once again.
This match will determine the future of Roberto Di Matteo as manager, it will affect the legacies of the players involved and it could change the course of Chelsea's future for years to come.