Ndamukong Suh Needs to Restrain His Inner Hulk to Be Great
May 10, 2012

Ndamukong Suh needs to drop a note to The Avengers' Bruce Banner and talk to him about rage control issues.
This occurred to me somewhere in the middle of the movie as I (and every other person on the planet apparently) watched Banner struggle to repress his inner rage-monster until the right moment when it could be aimed at the right person.
Suh is a tremendously talented athlete, one who could dominate the defensive tackle position for years to come.
I don't believe there is any real argument on that point.
The only thing keeping Suh from greatness is Suh.
Of course, the most well-known event was when he received a two-game suspension for stomping on Packers guard Evan Dietrich-Smith on Thanksgiving last year. (As bad as the kick was, the two head smashes to the turf were equally foolish.)
However, we shouldn't overlook the fact that he was fined multiple times prior to that and had met with Commissioner Goodell about how he might avoid repeating the actions which got him fined.
In today's NFL, plenty of fines make us roll our eyes, but Suh has been in the middle of some "at the edge of acceptability" plays many times.
There have been allegations he had a temper back at Nebraska, though, and there were some questions about it during the draft process.
Of course, Suh (and by past comment sections, some Lions fans) don't want to admit it could be an issue. To some extent, can you blame anyone?
Football is a tough game—and that's underselling the point. On the field, we describe guys as "warriors"—we praise their tenacity and toughness and aggression.
There's a fine line though, and perhaps Suh has crossed it.
I'm not saying he's a dirty player, because he isn't. However, he is definitely an out-of-control player at times and that will inevitably only hurt his career and, more importantly, his team.
Plenty of football players play the game with a fierceness which could get them arrested in other walks of life, and that's fine. The best of these players—the ones who impact the game beyond the field, who carry their teams to championships, the ones who have long careers—are pointed at as "the best."
The difference may be a fine line, but in his first two years in the league, Suh has crossed it many times.
You can play tough, you can play hard, you can be fierce. You can do all of that and be in control.
Clay Matthews, Von Miller, Brian Urlacher, Julius Peppers, Haloti Ngata—these men play the game as hard and effectively as anyone. None of them are perfect; they all lose it sometimes.
Most of the time, though, they play in control. They channel their anger and rage into action that helps their team, doesn't harm it.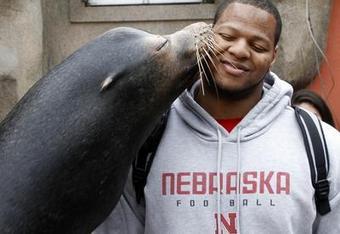 Suh is a young man by any definition and by all accounts is a compassionate, charitable man off the field. As all young men do, especially in a violent sport like football, he seems to grapple with his temper and sometimes lets his emotions get the best of him.
Which is a weakness, make no mistake. The more hotheaded he gets, the easier he is to be taken out of his game. To be removed as a player, sometimes mentally, sometimes literally. Players will pick and pick at him until he cracks and then he's getting flagged for unsportsmanlike conduct or ejected.
It's part of the game and if he doesn't know that opposing players are aware of it, he will be in short order.
If he is going to take his game to the next level—and understand me, his next level could be the highest of levels—to lead his team to a championship and etch his name among the greats at his position, he needs to learn to harness that temper.
He needs to avoid the flags, needs to avoid the fines and, above all else, cannot be ejected or suspended.
Suh does the Lions no good on the bench or in the locker room.
If he is going to take the next great leap, he needs to find a way to control his temper on the field.
There will inevitably be comments below the article telling me how the NFL is a wussy game now and Suh is just playing football and I should stop hating.
Believe me, I don't hate Suh and the game is better when he is on the field.
Restraining that temper keeps him there and keeps the game worth watching.
Bruce Banner was able to channel his inner rage, which he admits is always there, into action. He is able to control it and be a useful force at the end of The Avengers.
If the Hulk can do it, so can Suh.
Then there would be precious little anyone could do to stop him.