Utah Utes Football: Changes to Expect on the Depth Chart
May 2, 2012

Christian Petersen/Getty Images
The Utah Utes have officially released their post-spring, pre-fall depth chart. While there are few surprises, nothing is quite yet set in stone. 
And like a prepubescent voice, it will change and get deeper when the incoming recruits arrive this fall. 
Here are a few "starters" who will be leapfrogged in the process.  
Right Tackle
Now: Daniel Nielson (6'6", 317, Fr.)
Will be: Carlos Lozano (6'8", 385, Jr.)
Lozano, a transfer from East Los Angeles College, is a massive tackle—perhaps the biggest in all of college football—who moves well for his size. He'll make a lot of noise when he arrives on campus, and I'm not just talking about the ground-shaking effects of his movements.
No. 3 Wide Receiver
Now: Luke Matthews (6'2", 206, Sr.) or Reggie Dunn (5'10", 170, Sr.)
Will be: Matthews 
Matthews is slightly slower, but still explosive and has better hands. Dunn also has a history of fumbles and struggles as a blocker—he needs to add to his frame. However, both will see the field often as the Utes try and air it out more this year. 
Quarterback
Now: Jordan Wynn (6'2", 207, Jr.)
Will be: Wynn
No change here, so why bother? Freshman Travis Wilson (6'6", 205) is why. Wilson made strides during spring practices to emerge as the clear backup. He's tall, very mobile and has a cannon for an arm.  
And with Wynn's durability concerns, he may see the field sooner than expected.
Rover Linebacker
Now: Jacoby Hale (6'0", 225, So.) or LT Filiaga (6'0", 240, Fr.) 
Will be: Hale
Hale has bulked up since joining the program as a 195-pound freshman, but hasn't lost a step. He runs a 4.5 40-yard dash and shows the necessary instincts to play linebacker at this level. Incoming recruit Reshawn Hooker could push him for playing time, but my money is on Hale to solidify his spot atop the depth chart.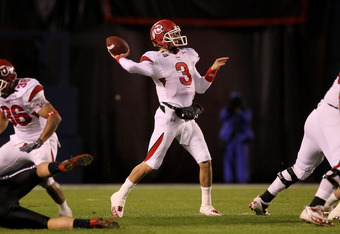 Stephen Dunn/Getty Images
Nickelback
Now: Mike Honeycutt (5'10", 182, Jr.)
Will be: Justin Thomas (5'9", 170, Fr.)
Honeycutt is fast but a better fit as a special teams specialist. Thomas—a Rivals 4-star recruit who spurned the likes of Baylor, Oklahoma St. and Missouri—is a future star for the Utes. And the future is this fall.  
Punt Returns
Now: Griff McNabb (5'7", 160, Jr.)
Will be: Charles Henderson (5'9", 187, Fr.)
McNabb has the more reliable hands of the two, but Henderson is a bigger threat to go the distance. He has top-end speed and wreaks havoc in the open field. Having him back there immensely helps the Utes in the all-important battle of field position. 
Others to watch out for: CB Keith McGill (6'3", 205, Sr.), RB Harvey Langi (6'1", 228, So.), DT Visesio Salt (6'3", 340, Jr.), OG Cedrick Poutasi (6'5", 322, Fr.), LB Moana Ofahengaue (6'4", 205, Fr.)