Washington Redskins: Why Drafting Kirk Cousins Was the Best Thing for RGIII
April 30, 2012

Gregory Shamus/Getty Images
The Washington Redskins selected Kirk Cousins in the fourth round of the 2012 NFL draft, and Robert Griffin III will reap the benefits.
When the pick was made, pundits on both ESPN and NFL Network scoffed. Our very own Matt Miller has called out the pick as being a "bad move." Just about everyone expected more weapons for RGIII or more protection to put in front of him.
Yet, experts shouldn't be so quick to trash a move that has so much potential.
Every young QB needs a mentor. Some mentors are great like Mark Brunell, Trent Dilfer or Chris Chandler. Other quarterbacks are too worried about one last shot to properly mentor great young talent (see Favre, Brett.)
Yes, Cousins is only a year older than RGIII, and yes, most people think of veteran QBs when they think of mentors. But Mike Shanahan has always been known to think outside any box put in front of him, so this is nothing new.
If you've met Cousins or followed his college career closely, this shouldn't come as a surprise.
Read the scouting reports on Cousins and certain words and phrases stick out—"fantastic leadership...polish,"  "more brains than brawn," "rare intangibles...film room junkie," and "hard worker."
All of those phrases point to a young man who is more mature than than his peers and perfectly suited to be a long-term backup in the NFL.
Offensively, Cousins is a lot more polished than RGIII. Dan Roushar, the Michigan State offensive coordinator, runs a similar offense to the Shanahans and has flirted with NFL jobs as recently as this offseason. As RGIII transitions to a pro-style offense, Cousins will be able to point out a lot of nuances he has seen before and help his teammate grasp parts of the game that will be entirely new—even to a second-overall pick.
Is Cousins going to be the perfect mentor? Of course not. He'll be putting on his first NFL jersey the same time RGIII is. He won't know the ins and outs of every NFL city (or even Washington D.C.) and he won't know the intricacies of defensive players like a battle-tested veteran.
He will, however, be a better mentor than current Washington Redskins QB Rex Grossman, who is known mostly for his lack of leadership skills and being seemingly allergic to hard work. Is that the guy you want leading by example in your QB sessions?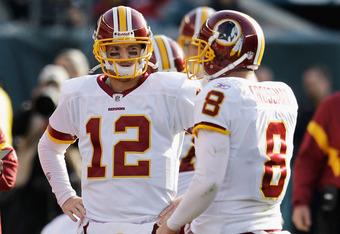 Rob Carr/Getty Images
Former Redskin QB John Beck isn't much better. One would be hard pressed to find an NFL journeyman who has been less successful than Beck, even if he flirted with a starting position in numerous NFL cities for much of his soon-to-be-over career.
Not to mention the very simple fact that backup quarterbacks are very useful in an NFL where edge rushers are getting faster and defensive tackles run like gazelle. Ask the Indianapolis Colts (or at least the now-fired general manager and head coach) if they wish they had a better backup quarterback to Peyton Manning. Ask Todd Haley, formerly of the Chiefs, if he wishes he had even average QB play behind Matt Cassel in 2011.
Cousins wasn't a top QB prospect for a reason. He has some work to do with his own mechanics and lacks a lot of the elite physical tools scouts look for, but there's nothing standing between Cousins and a long NFL career, backing up RGIII and making the most out of spot starts due to injury (that mobile QBs like RGIII are usually susceptible to.)
Make no mistake about it, Cousins isn't headed to Washington willingly ceding anything to his new teammate. Quarterbacks, even special prospects at the quarterback position, bust all the time. Being a long-term NFL backup is one thing, but Cousins isn't going to going to stop gunning for RGIII's spot.
That will help too.
While Mel Kiper and others worried about a "quarterback controversy" in Washington, talking with either of these young men dispels that notion. Competitiveness can manifest itself in ugly forms, but it doesn't have to and Washington knows the quality of the two young men they're bringing in.
So, bringing in Cousins immediately improves both the quality on the quarterback depth chart and also the atmosphere on the sidelines and in the film room. He will push RGIII and help him be a better quarterback along the way. If RGIII falters, Washington will have a guy ready to step in both short- and long-term.
Like any draft pick, it is easy to assign a letter grade too early, before the players play or the scenarios play out. For this pick specifically, it is easy to assume the worst will happen, but maybe just maybe, Kirk Cousins is exactly what Robert Griffin III needs.
Michael Schottey is an NFL Associate Editor for Bleacher Report and an award-winning member of the Pro Football Writers of America. He has professionally covered both the Minnesota Vikings and the Detroit Lions, as well as NFL events like the scouting combine and the Senior Bowl.