Green Bay Packers 2012 Draft: Help for the Defense Doesn't Rest
April 28, 2012

Darren Hauck/Getty Images
Going into the 2012 NFL Draft, the Green Bay Packers and Ted Thompson were focused on improving their 32nd-ranked defense. The three biggest needs were getting a right outside linebacker, a defensive end and secondary help, either at cornerback or safety.
With his selections of Nick Perry, Jerel Worthy and Casey Hayward, Thompson has filled those needs in the first two days of the draft. Like he was in the 2009 draft, when he traded up to select Clay Matthews, Thompson has been aggressive in trading up to select players he covets.
I talked about the selection of Perry yesterday.
Thompson traded up twice in the second round Friday night and Worthy and Hayward became the newest members of the Packers. Last month, I picked both Perry and Hayward in my mock draft.
Sandwiched between them, I had selected defensive end Kendall Reyes. Ironically, once Reyes was selected at pick No. 49 by the San Diego Chargers, Thompson had seen enough. He quickly moved up so he could select Worthy at pick No. 51.
Defensive line coach Mike Trgovac explained why the Packers decided to select Worthy over defensive end Devon Still, who was still available. 
"We just thought in the end—and it was very close between those two—but we just thought at the end he had a little more of that wiggle and get-off than Still," Trgovac said. "That was a tough one, that one was debated long and hard. It wasn't a slam dunk. We liked both those kids. We just thought as far as the movement and juice he gives us in there, we went with that pick."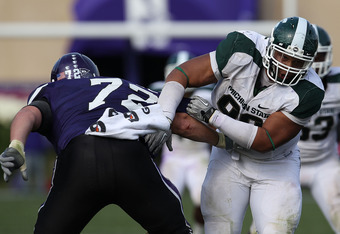 Jonathan Daniel/Getty Images
Worthy can be a very disruptive player with his quickness. Thompson explained why he liked Worthy. "He's a very instinctive player and is very quick off the ball," Thompson said. "He has a natural ability to see things in traffic and come off blocks."
In 2011, Worthy earned first-team All-American honors, with 30 tackles, 10.5 for loss, and 3.5 sacks for Michigan State. The year prior, he had 40 tackles, eight tackles for loss and four sacks.
Thompson also decided to move up to select Hayward with pick No. 62 of the second round.
"We had him rated as a very good corner in this draft," Thompson said. "I think he's an all-around player. Very aware in space, very good foot athlete, good balance, good pedal, can plant and close. Sees the ball well... got good hands and a knack for interceptions. Pretty good tackler."
You could imagine that defensive coordinator Dom Capers is pretty happy with the draft so far.
"Good young players at all three levels of the defense," said Capers. "They're all really unique with what they bring to the defense. We talked about Perry (Thursday) night. Jerel Worthy is an interior lineman that has excellent initial quickness and good strength to go along with that. I think he'll fit right in with what we're trying to do with our linemen.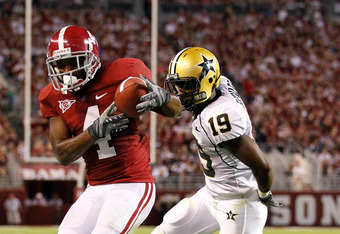 Kevin C. Cox/Getty Images
"Casey Hayward is a very bright guy. He's a classy kid. He's been a captain. Good football instincts. His production, he has excellent ball skills. I think he's a guy that will be able to handle it if you want to move him around. He's a guy that can do some of that. I'm very excited about getting these three guys."
Hayward has a great asset that he will bring to the Green Bay secondary. He's a ball hawk who had a great senior year, picking off seven passes. The former Vanderbilt Commodore has 15 career interceptions.
Hayward anticipates the ball very well, having broken up 31 passes in his career. Hayward also was aggressive against the run, averaging more than 63 tackles a season over three years.
So what will the Packers do in the draft on Day 3? They still have seven picks, four of which can't be traded as they are compensatory picks. I would expect the Packers to help their offense a little today.
I expect the Packers to select a center to develop under veteran center Jeff Saturday. Three names to keep in mind are David Molk from Michigan, Mike Brewster from Ohio State and Quinton Saulsberry from Mississippi State.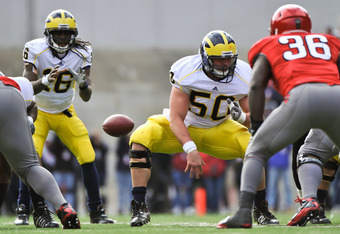 Jamie Sabau/Getty Images
The Packers might also be looking for another guard or offensive tackle. Maybe they will draft a player who can play both positions, perhaps someone like Don Barclay from West Virginia, Thomas Compton from South Dakota or John Cullen from Utah.
The Packers will most likely draft a quarterback as well. It had been rumored that the Packers really liked Russell Wilson, but Wilson was picked by the Seattle Seahawks in the third round last night.
"We think Russell Wilson's a very good player," said Thompson. "We think Seattle made a wise choice in picking him."
I could see the Packers selecting a quarterback such as Chandler Harnish from Northern Illinois, B.J. Coleman from Tennessee-Chattanooga or Patrick Witt from Yale.
The Packers could also be looking for some help at running back. Chris Rainey from Florida would add blazing speed to that position, plus he is multi-dimensional with his ability to catch the ball and  exceptional talent on special teams.
A couple other running backs to watch would be Robert Turbin from Utah and Brandon Bolden from Mississippi.
Stephen Dunn/Getty Images
The Packers also figure to add to their defense again, this time with another defensive back or perhaps a linebacker.
Safeties Markelle Martin from Oklahoma State, George Iloka from Boise State and Aaron Henry from Wisconsin are still on the board, as is safety-cornerback Justin Bethel from Presbyterian.
Korey Williams from Southern Miss and Kentrell Lockett from Mississippi are linebackers who the Packers might consider late in the draft.
In just a few hours, we will find out how the third day of the draft shakes out for the Packers.