Pittsburgh Steelers: Grading the Team's 2nd and 3rd Rounds of 2012 NFL Draft
April 28, 2012

Jamie Sabau/Getty Images
After an amazing first round of the NFL draft, where the Pittsburgh Steelers found themselves on the clock with one of the best players still available, the Steelers were quick to turn in their card with the name Dave DeCastro on it.
In doing so, the Steelers not only solidified one of their biggest areas of weakness, but they found a player that is exactly how you would describe a Steelers offensive lineman.
As I sat watching the second and third rounds of the draft, I wondered if there was any way that the Steelers could come close to the success they did in the first round, and I honestly didn't think it would be possible.
I was wrong.
When the Steelers were on the clock in the second round, one of the players that many mock drafts had the Steelers taking in the first round was still available. Mike Adams, Ohio State.
Once again, Pittsburgh was on the clock, and a person that not only fills a major need was available, but one that should have been off the board an entire round earlier.
You can call it the "red flag" issues if you want, but the that does not change the talent level of the Steelers second-round pick.
While some people point to the red flags, they need to be addressed. First, you have the seven games he was suspended in his three-year career at Ohio State. Those games were for trading game memorabilia for tattoos. This is the same reason Terrell Pryor was suspended.
You can call it wrong if you would like, but in reality, it was more stupid than wrong. What he got suspended for is not only legal in the real world and the NFL, it is something that most rookies do at one point or another before they get their first contract for income.
Now, the other issue, which should be a bigger issue for the Steelers, is that it was leaked that Adams tested positive for marijuana during the NFL Scouting Combine.
This is not about if you or I agree that smoking weed should be allowed or not. It is about if Adams mature enough to realize that the mistake was made, and it can not be made again. If he can, then this water is under the bridge.
If Adams can keep away from smoking pot, then this second-round steal could be as big as the first-round steal of David DeCastro.
When the Steelers were on the clock in the third round, all I could think about was them drafting a NT to replace Casey Hampton. With Alameda Ta'amu from Washington available, all I could think about was having the Steelers call his name.
Then they didn't. Instead, they selected Sean Spence out of the University of Miami.
For starters, in full disclosure, I am a Miami Hurricanes fan. I think Spence is a great player, and I think he is going to make an amazing addition to the Steelers roster.
I have to admit, though, I was kind of shocked when the Steelers called his name. Then I thought about it.
Everyone was anticipating that the Steelers were going to select Dont'a Hightower in the first round, and the way this is looking is like they would have, had DeCastro not been available when the Steelers picked.
My concern has always been that I believed Stevenson Sylvester is good enough to be a solid ILB for the Steelers, and in drafting Spence what the Steelers did was push Sylvester to be a better player. That and the fact that Larry Foote will be playing his last season in 2012 with the Steelers.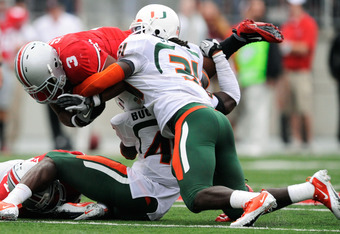 Jamie Sabau/Getty Images
Spence brings to the table a very different skill set to the Steelers than what we have had before. When you look at the Steelers linebackers, all of them are big and strong. Woodley, Harrison and Timmons are all monsters. The reason Timmons is on the inside is because he is faster than both Woodley and Harrison.
Spence is faster than all three of them. In the NFL today, teams are employing more two tight end sets, and the ILB's are being required to guard them. That is not even mentioning that the ILB is also responsible for covering the running back out of the backfield.
With Farrior playing next to Timmons, it was a case of Farrior blitzing and Timmons dropping into coverage. This hurt the Steelers on a couple levels, because teams knew who was blitzing and who was covering, and they could exploit that situation.
Now, either can cover, and either can blitz. This has to make Dick LeBeau ecstatic.
Though Spence will see the field mostly on special teams in 2012, don't be shocked to see him in sub packages, because he has the tools to be a successful linebacker for the Steelers. There were more than a few times I said while watching the Hurricanes last year that I wish the Steelers would draft Spence. Now they did.
In grading Day 2 of the NFL draft, I have to give the Steelers:
Second Round, Mike Adams: A.  Solid grade. Even though Adams has the "red flags," to get a first-round talent towards the end of the second round could not be considered less than an A.
Third Round, Sean Spence: A. The Steelers had a need at linebacker, and were able to come away with a player that fits their system. No, he is not going to come in and start this year, but how often do third-round picks? Spence will be a solid special teams contributor, and may play in some sub packages.
What to look for in the rest of the draft:
When looking at the available players, there are still a ton of players that the Steelers could pick, that should have been gone long before now.
Alameda Ta'amu—The big nose tackle, who could replace Casey Hampton is still available. Looking at the teams that run the 3-4 that pick before the Steelers and haven't drafted defensive line yet, there is a chance Ta'amu will be available when the Steelers select in the fourth round.
Brandon Washington, G, Miami—Though the Steelers used their first two picks on offensive linemen, don't rule out them taking another one. Between depth, and the injury history of Willie Colon, this could be the Steelers next pick.
George Iloka, S, Boise St.—The Steelers still have a need in their secondary, and Iloka could be the eventual replacement for Ryan Clark.
Lamar Miller, RB, Miami—Now that the Steelers have addressed their line, they could go on to replace Rashard Mendenhall. Miller is big, strong and fast, and the only reason he has not been selected yet is because of his injury history. He reminds me of Frank Gore.
Brandon Boykin, CB, Georgia—Had he not fractured his leg in the Senior Bowl, he would have been selected already. Boykin is a team leader, and a playmaker, and won't last long into the next round.
Bobby Massie, OT, Ole Miss—Again, this would have to be a depth pick for the Steelers, but on a line with injury history like the Steelers have had, can you ever have enough depth?
Tommy Streeter, WR, Miami—At 6'5, 215 lbs and 35" long arms, Streeter could be the deep threat the Steelers have been looking for for years. Having only started one season at Miami is the reason he is still available, but with a 40 time of 4.37 seconds (faster than Antonio Brown), he shouldn't last too much longer.
Though none of these players may be available when the Steelers make their next pick, the way the draft has fallen to them to this point, don't be shocked if the Steelers end up with a least one, or two, of them.