Harrison Barnes Left Carolina Without a Legacy, but Not Without Accomplishments
April 6, 2012

Dilip Vishwanat/Getty Images
It would be unreasonable to offer a total defense of Harrison Barnes, who has become the target of criticism, disappointment and derision in the wake of his Carolina career's poor finish.
The sports world thrives on fickleness, and for teams and athletes to assemble large swells of bandwagon supporters during the good times, they have to endure the reflexive abandonment in the bad.
Our memory of Barnes ultimately will be shaped mostly by what is missing from his cumulative body of work: He will become the first Carolina player since J.R. Reid in 1989 to have his jersey honored in the rafters without playing in a Final Four. The well-circulated article by Jay Caspian Kang, Brand Gone Bust, captures the failed expectations part of the Barnes legacy perfectly.
But it truly is only one aspect of the whole picture. As long as we are in the business of precisely defining how Carolina fans will remember Harrison Barnes, there is another part to his career, and the Carolina basketball narrative, that deserves a place in the historical record.
The rapid transformation of Carolina's 2010-2011 season over its final two months wiped our memory of just how bad our fortunes seemed to be turning early that year. Barnes had a huge role in that transformation.
Kendall Marshall's irreplaceable role in launching that recovery and Barnes' failure to deliver on expectations in 2012 have glossed over what was a season full of critical clutch performances by the latter—and let us not underestimate how critical those performances were.
In January of 2011, in the midst of already being labeled a bust and with the season hovering on the brink of a second-straight off-the-bubble disaster, Harrison Barnes completed a five-game stretch of consistently impressive late-game play—one of the best such displays Carolina has ever seen.
With the blowout loss at Georgia Tech on January 16 as his only exception, Barnes scored eight points over the final 3:30 to beat Virginia Tech; hit late, decisive threes to beat Clemson and Miami; and exploded for 25 points to carry the team over N.C. State.
Without those performances and those shots from Barnes, the Heels would have certainly lost the first three of those games and would have had a much more difficult time against the Wolfpack.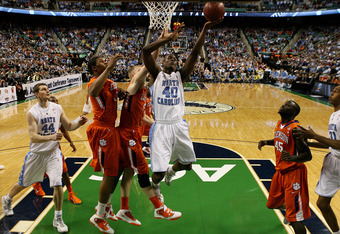 Streeter Lecka/Getty Images
The significance of these moments can only be understood within the context of the whole season. Ridiculous as it seemed just two years removed from our second national title in five years, the program was experiencing a crisis.
The 2010 season was supposed to be an aberration due to an incomplete team, and the recruiting class of Barnes, Marshall and Reggie Bullock was supposed to fill those holes and seamlessly put the program back on track.
Not only was that not happening, but the circumstances were ugly: with the possible exception of Marshall, everyone was underachieving, and Roy Williams was publicly lashing fans.
It was Harrison Barnes with help from Kendall Marshall—and not vice versa—who changed the outcomes of games, reoriented the season and subsequently reestablished the expectations both for himself and for the team.
In an alternative version of this narrative in which Barnes misses those shots, Carolina not only fails to win the ACC regular season title, but potentially finds itself on the bubble. Frustration compounds; they might lose a few more games they should not; and there might not even be enough hope on which to build to keep Barnes and John Henson in school for 2012.
In that scenario, Carolina is still today in a prolonged rebuilding phase from 2009—not, as they are, about to launch a second rebuilding phase after the dissolution of a very good basketball team.
It is completely fair to judge a player of his caliber on expectations that he set for himself, and Barnes certainly did not meet those expectations.
It is worth noting, however, that the total absence of Harrison Barnes at the moments we needed him this postseason are disappointing in part because of the striking consistency he had in those moments last season.
As I mentioned, fans will primarily remember Barnes for what he was not, and for that reason they will largely forget him.
Whereas many former Carolina players stayed longer to continue pursuit of their goals, Barnes made the disappointing, but acceptably rational, decision to leave. Carolina basketball history is too full of those former kind of players to have room to glorify Barnes, and he likely knows that.
But when we take the time to remember what Harrison Barnes was, bust and betrayal should not come to mind. It does not require total voiding of his accomplishments in order to praise other former Tar Heels for deciding to return.