Mark Cuban Right to Plea for Increasing NBA Draft's Minimum Age
April 5, 2012

Ronald Martinez/Getty Images
Dallas Mavericks owner Mark Cuban has never been shy about voicing his opinion on anything.
Cuban's now at it again. His latest rant calls for the NBA to increase it's minimum age requirement. His suggestion is that NBA commissioner David Stern ups the age limit from one year out of high school to three years before players become eligible for the NBA draft.
Whether you agree with Cuban most of the time or not, he's right on this topic.
According to a report from ESPN.com, Stern is in favor of trying to up the limit to two years out of high school. However, Cuban would like to take it a step further to three years.
Cuban went on to tell Tim MacMahon of ESPNDallas.com:
"I just think there's a lot more kids that get ruined coming out early or going to school trying to be developed to come out early than actually make it," Cuban said. "For every Kobe (Bryant) or (Kevin) Garnett or Carmelo (Anthony) or LeBron (James), there's 100 Lenny Cookes."

"Then you say, what about the kids that aren't college material or whatever?" Cuban said. "I think then we just put them in the D-League for three years and then they become draft-eligible with their class. They could go to Europe if they want, like Brandon Jennings."
The rule of three years out of high school works very well for the NFL. While the sports are totally different, upping the age requirements would have a positive effect on the NBA product.
First and foremost, you get a more mature and developed athlete on a consistent basis. There will be far less one-and-done projects, who are drafted based solely on potential. How many of these guys never pan out?
It's those type of projects who aren't ready for the NBA who tend to water down the product.
Secondly, three years of college does a lot to mature a player on and off the court. 
Certainly, you are still dealing with young men who can still be immature at times. That being said, after three years, they should be much more grown up than they would be coming out after one year.
Their bodies also grow after three years. Some guys have talent, but just not the physical strength to play in the NBA. After three years of college, NBA scouts and general managers have a much clearer picture of what they likely have in each player.
Forcing these prospects to go to school for three years, but also prioritize going to class, also forces them to grow up as men. With the NCAA's new rules on academics, it forces potential prospects to go to class.
Coasting through one year is one thing. Coasting through three is a little more difficult.
That also gives these athletes options when the NBA doesn't work out.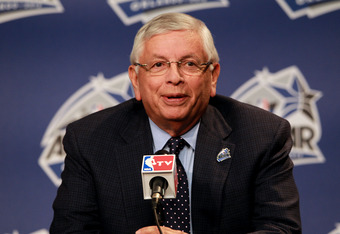 Ronald Martinez/Getty Images
Remember the names Korleone Young, Leon Smith, Ousmane Cisse, Ndudi Ebi, James Lang, Robert Swift and Ricky Sanchez?
All were drafted out of high school and didn't make it in the NBA. 
As Cuban said, there are many more guys like this who didn't make it than there are Kobe Bryants.
Cuban can be controversial at times, but the guy's not an idiot. At the end of the day, he knows what's best for the game and he's willing to speak his mind about it.
In this case, he's dead on.
Of course, the player's association will never have any of that kind of talk about upping the age limit to three years. However, if they knew what was good for them, they would take Cuban's advice.