NCAA Tournament 2012: Mick Cronin Has Cincinnati Back in the National Picture
March 23, 2012
Jamie Squire/Getty Images
Rewind back to August 24, 2005. Cincinnati head coach and icon Bob Huggins was going about his business, working on an elite recruiting class for the Bearcats' entrance into the Big East.
Insiders had mega-athlete Bill Walker and prolific scorer O.J. Mayo pegged for Clifton to join forces with pure point guard Devan Downey. 6'10" Michael Beasley was also in the mix.
And then the world came crashing down for Bearcat fans. New President Nancy Zimpher forced Huggins, the winningest all-time coach at Cincinnati, to pack up and go.
Color the fanbase devastated. After all the man had done for UC basketball, he wouldn't get his chance to recruit Big East-level talent for the 'Cats.
Fast forward to Selection Sunday the following season. Interim coach Andy Kennedy had rallied his senior-laden Bearcats to what seemed like an unlikely spot in the NCAA Tournament. Led by seniors Eric Hicks and James White, in the eyes of ESPN's Joe Lunardi, Cincy had done enough to warrant inclusion—bracketology showed UC as a No. 9 seed that day. 
Bearcat fans sat anxiously during the unveiling of the brackets until all the spots were shown, and there was no Cincinnati to be found. 
My reaction was to get in my car and drive. No destination in mind. Just drive and get away from everyone. After 14 straight NCAA Tournaments, the fun was over. One of the worst days of my life.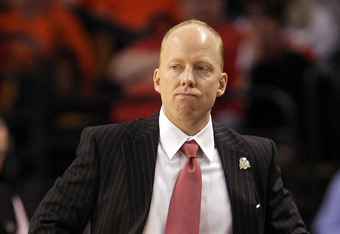 Jim Rogash/Getty Images
Still, Kennedy had done a fantastic job under difficult circumstances, but administration didn't offer him the full-time gig.
Fans were outraged. Then came the announcement that Mick Cronin would take over the program.
Cronin grew up in Cincinnati, the son of legendary high school coach Hep Cronin. He worked his way from video coordinator to assistant coach under Huggins, then left for the same position under Rick Pitino at Louisville. 
Fans dubbed Cronin a traitor. Three seasons as the head man for Murray State (two NCAA berths) later, Cronin was headed to Clifton to take his "dream job." 
Fans, still reeling from the loss of beloved Bob Huggins, were none too pleased. 
Not only was Mick faced with winning over the distraught fanbase, he didn't have any players, one scholarship player to be exact.  Oh, and it was already March, when most schools had grabbed all the talent. Further, UC's academic status was teetering, so not only did Mick need bodies to compete in the ridiculous Big East, he had to make sure the guys he brought in would be great academically as well. 
Talk about a 500,000 foot mountain to climb.
But Mick didn't care. The La Salle High grad got after it.  Using two cell phones and putting his personal life on hold, Cronin brought in a host of junior college players that, to put it bluntly, nobody else wanted. An 11-19 record ensued and attendance dropped like an anvil. 
Mick's next recruiting class was a tad better, but for the Big East, it wouldn't cut it—at least not right away. Most of the guys like Larry Davis, Darnell Wilks and Anthony McClain were four-year projects.  The one ready-to-play guy was 6'6" Rashad Bishop from New Jersey. 
The early going of Mick's second season was tough sledding, but a late December win over Miami (OH) broke a slump and propelled Mick's squad to an 8-5 start to the Big East slate. His team had barely any talent, but they played with heart, they fought and scrapped and defended. 
Most of the guys lost so much the year before (2-14 in the Big East) that they sacrificed it all for W's the following year.  The team faded down the stretch to finish 8-10, but qualified for a postseason tournament. 
The third recruiting class was the key.  6'9" Yancy Gates, from Withrow High in Cincy, a Top-75 recruit, decided to stay home and help rebuild the Bearcats. Shortly after, Cashmere Wright, a 4-star point guard from Savannah, GA, backed out of a commitment to Clemson and chose UC. Mick then plucked Dion Dixon, the leading scorer in the Chicago Public League, to round out the class. 
The next two-and-a-half years were very difficult as Gates, Wright, and Dixon suffered many setbacks and improved slowly. Cronin landed Top-10 recruit Lance Stephenson out of New York for one frustrating season in the midst of that growth.
UC even climbed into the Top 25 early that season (2009-10) after a good showing in Maui, but could never figure it out, ultimately getting blasted at home by Dayton in the second round of the NIT Tournament. 
Elsa/Getty Images
In 2010-11, Mick's fifth season, fans and pundits grew restless. The message was simple—get to the NCAA Tournament or find a new job. 
Behind the leadership of five seniors (the Bishop class), Cronin finally broke through.
The Bearcats earned a No. 6 seed in the Dance, winning a first-round game over Missouri before falling to eventual national champ UConn.
Finally, we come to this past season. An early loss to Presbyterian at home and a 23-point shellacking by Xavier (and I believe there was some sort of fight, too) brought out the naysayers once again. 
But, behind the improved toughness of upperclassmen Wright, Dixon, Gates and JaQuon Parker, the Bearcats began knocking off ranked opponents like it was going out of style, beginning with No. 22 Pitt on New Year's Day and not stopping until they had set a school record of eight wins over ranked teams in one season.  The victims were: @ 22 Pitt, @ 11 Georgetown, @ 11 UConn (Gampel), vs 17 Louisville, vs 7 Marquette, vs 12 Georgetown, vs 2 Syracuse, vs 10 Florida State. 
The magical run came to an end last night in the Sweet 16, the school's first since 2001, to a formidable opponent in the Ohio State Buckeyes. OSU was ranked in the Top 10 most of the season and features three or four first-round NBA draft picks. UC fought hard, but came up short.
On behalf of UC fans everywhere, we want Mick and his boys to know they have nothing to hang their heads about.  You treated us to a magnificent season, chock-full of incredible, unlikely wins over great teams.
We want to thank Yancy for choosing to stay home and helping bring the Bearcats back into the national picture. We also want to thank the unsung guys like Deonta Vaughn, Jamual Warren, and John Williamson, who crawled through a river of sh*t a la Andy Dufresne in Shawshank Redemption to help Mick Cronin and his hardworking staff vault our UC Bearcats back to relevancy and beyond.
And, for the first time in years, UC fans are pumped for next season!