Dallas Cowboys Free Agency: Signing of Kyle Orton Could Be Mistake Down the Road
March 15, 2012

Jamie Squire/Getty Images
Relying on a veteran quarterback is certainly not uncommon in the NFL. Most would probably argue that it is a necessity, and I can see the logic behind having insurance.
Then again, finding the best deal on auto insurance is the subject of about one in five television spots you'll see at any given time.
The Dallas Cowboys have locked up another veteran backup quarterback for Tony Romo in the wake of Jon Kitna's recent retirement. But it was somewhat surprising to see the Cowboys commit so quickly to a salary of this stature for a guy who hopefully will never see the field.
Be honest with yourself when reading the phrase below:
Dallas Cowboys starting quarterback Kyle Orton.
I need a shower.
Seriously, Orton will fit this role just fine, especially so long as he's holding a clipboard and he is far from his helmet.
But what if he has to play?
Better yet, what if he has to play numerous games in succession?
There are two problems with this philosophy.
First of all, you're paying a huge premium for a player you would never employ as a starting quarterback under typical circumstances.
Second, giving a guy who has already either failed as a starter or has simply aged beyond that capability extensive playing time should not create much optimism—should it?
I get that experience is a huge factor in just about anything in life. When it's Week 15, you have to win out to make the playoffs and your starting quarterback goes down in the first quarter, it sucks to not have a backup quarterback who can move the ball.
Ask the 1990 Dallas Cowboys about that.
Then ask the 1991 Dallas Cowboys for another perspective.
History shows that having a younger, hungrier backup who still has daylight in front of him is a good thing, too. Steve Beuerlein launched his starting career by leading the Cowboys to the playoffs in relief of injured starter Troy Aikman the season prior to the 1992 championship run.
Then again, you've got seasoned-veteran Bernie Kosar tossing a huge second-half touchdown pass to Alvin Harper in the 1993 NFC Championship game, which preserved a trip to the Super Bowl XXVIII. If you're not familiar with that play, let me just say that a beginner does not complete that pass—he almost certainly throws an interception.
But what are the odds of that scenario ever happening again?
Can anyone really suggest that Green Bay would have been in better shape with a fading veteran at backup quarterback than still-on-the-rise Matt Flynn?
Of course not.
 
The truth is that you have no idea how a backup quarterback will perform any more than you can foresee whether or not they'll even play.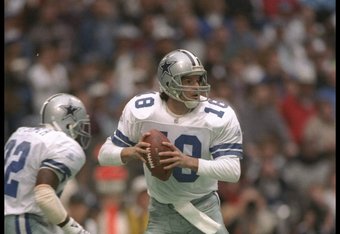 Mike Powell/Getty Images
And can third quarterback Stephen McGee play at all? I'm not sure anybody has any idea, because he never does.
If I'm a head coach, I want to take the best team I can into the season, and this will only happen if I have them on the roster. Employing a pricey veteran backup means that I'm taking money out of another player who could make the team better because he plays.
Furthermore, I always want to know if a younger quarterback on my roster can play.
Romo entered the league in 2003 and didn't get a real opportunity to play until 2006. Is it fair to assume that Romo might have been the better option than Quincy Carter or the rapidly fading Vinny Testaverde as early as 2004? What about Drew Bledsoe in 2005?
The best move for the Cowboys would have been to just make McGee the backup and use the Kitna-Orton finances toward other areas of the roster.
The combination of this week's salary-cap penalty imposed by the NFL on the Cowboys and bigger spending on another veteran quarterback is already looking like it will leave a few more holes than originally thought heading into the NFL draft in April.