2012 NFL Free Agents: Teams Sure to Overpay Mediocre Talent
March 9, 2012

Rob Carr/Getty Images
Whether it be because of history or perceived necessity, these teams are going to break the bank this year on talent that is, at best, average. As a result, the 2012 season will follow the same pattern. 
These teams will dominate the head-scratching conversations throughout the free-agency period, giving fans the idea that they really can run a football team. 
Washington Redskins
Can anyone remember an offseason where the Redskins didn't load up with overpriced, overrated talent? Daniel Snyder is just like Jerry Jones, only he doesn't have the past glory to hang his hat on. 
Over the last several years, we've seen people like Albert Haynesworth, Donovan McNabb, Mark Brunell and countless others make their way to Washington either by trade or free agency. Every one of these players was well past his prime when the 'Skins brought him in, and every one was an unmitigated bust. 
The quarterback position is in obvious need of an upgrade, but the stars aren't really aligned for the big names. I doubt Peyton Manning will go to an NFC team, and if he does, he won't go to a place where he has to face Eli twice a year. Robert Griffin III would be ideal, but it's a long shot. 
For one, the Browns pick ahead of the Redskins, and with two first-rounders, Cleveland also has more to trade up with. The rest of the free-agent class is ugly, but Washington will have to go for someone. I am looking at the likes of Kyle Orton or a rookie who's been reached for. 
The problem is that the quarterback position will set off a chain. Other top free agents aren't going to go there, so Washington will have to bring in other second-tier free agents, spending too much money at every step. 
Arizona Cardinals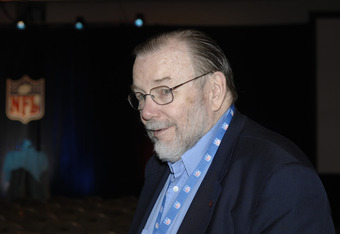 A. Messerschmidt/Getty Images
Other than drafting Larry Fitzgerald and signing Kurt Warner, I can't remember a good move that this franchise has made in the last 10 years, and it wasn't exactly a well-run organization before then. 
Arizona's struggles have been massive ever since Warner's retirement, and I see them doing some hard overreacting. 
They do need a good second receiver to line up opposite Larry Fitzgerald, but the bottom line is that Fitzgerald will always be the focal point of the offense. So, look for them to spend a lot of money on a player who won't bring a ton in the way of production.
The other area where the Cardinals need help is up front on the offensive line. Improving the line is great, but they'll end up bringing in more mediocre players, trying to find a protection combination that works. 
Miami Dolphins
Two words: Peyton Manning. The Dolphins are going to try to bring in some veteran talent to entice Manning. You can see this one coming from a mile away, as Stephen Ross has a history of driving up people's price tags.
Mike Klis and Woody Paige of the Denver Post are reporting that the Dolphins will be meeting with Manning soon. Realistically, if he's going to go there, the Dolphins will have to bring in some more talent to entice him. There's a problem with that though, as real talent will cost way too much. 
So, the Dolphins are going to have to hunt for a lot of mediocre talent and, unfortunately, I don't see Manning going to the Dolphins. That is going to lead to a roster of overpaid average talent with no clear leader.