NCAA Tournament 2012: The VCU Rams and the 4 Best Teams No One Is Talking About
March 7, 2012

Ronald Martinez/Getty Images
The 2012 NCAA tournament field is starting to assemble, with several solid automatic bids winning their conference championships this week.
The VCU Rams and several other teams are all looking like teams capable of making a deep run in this year's tournament 
As we continue to make our way through the drama-filled Championship Week, buzzer-beaters and raucous celebrations will unfold all over the country, with teams solidifying their spots in the field of 68 teams.
If there is one thing that head coach Shaka Smart and Virginia Commonwealth's team last year taught us, it's that any team is capable of making a magical run to the Final Four.
The Rams are once again dancing this season, punching their tournament ticket after defeating the Drexel Dragons 59-56 on Monday night. Along with VCU, here are four other teams ready for the nation to embrace as they dance their way through the brackets.
Virginia Commonwealth
Record
28-6, 15-3 in the CAA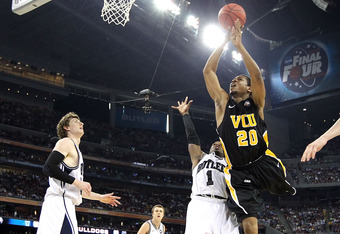 Andy Lyons/Getty Images
Best Player: Bradford Burgess
The 6'6" swingman is the leader of the Rams. He was their breakout star in last season's run to the 2011 Final Four. This season, he is averaging 13.3 points, 4.9 rebounds and 1.5 assists each game.
The senior is an NBA talent who has the veteran experience to lead his team on another tournament run. 
Why They Are Dangerous
The VCU Rams are a dangerous team right now for two specific reasons. One is that they will be entering the tournament on a six-game winning streak, including impressive wins over George Mason and Drexel in the CAA tournament.
Head coach Shaka Smart also has his team solid on the defensive end of the floor, which is a staple of a good tournament team.
Along with the aforementioned Burgess, point guard Darius Theus and big men Juvonte Reddic and D.J. Haley played key roles for the team last season. Don't sleep on the Rams—they have the defensive prowess and postseason experience to duplicate their 2011 success.
Memphis Tigers
Record
23-8, 13-3 in Conference USA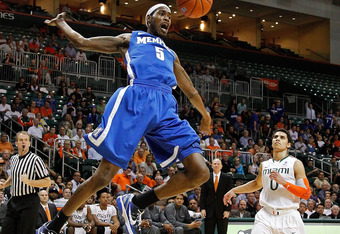 Mike Ehrmann/Getty Images
Best Player: Will Barton
The sophomore guard is having an All-American type season for the Memphis Tigers. He is averaging 18,7 points, 8.1 rebounds and 2.9 assists per game, and he's carried this team through adversity all season long.
He is wired to score, and there are very few defenders in America capable of locking down the NBA talent. 
Why They Are Dangerous
The Tigers entered the season with the hype of a top-10 team but quickly started to fall apart after early-season losses to Michigan and Georgetown.
However, this team has steadily improved all season and is riding a four-game winning streak into the conference tournament this week.
Their roster is full of athletic players such as Barton, Tarik Black, and Joe Jackson. They also return star freshman Adonis Thomas this week, who has missed most of the season with an ankle injury. Things are certainly coming together for this team, and they are a real threat to make noise this month.
Indiana Hoosiers
Record
24-7, 11-7 in the Big Ten
Best Player: Cody Zeller
The Big Ten Freshman of the Year has helped revitalize the Indiana Hoosiers program this season. The All-Big Ten second-team selection is one of the most dangerous players in the country.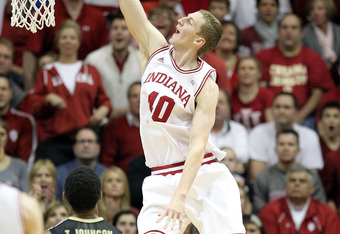 Andy Lyons/Getty Images
He is averaging 15.4 points and 6.4 rebounds each game for the Hoosiers, and he's their main post threat. He is capable of dominating opposing big men in any game and has held his ground against some of the best post players in the country in Jared Sullinger and Draymond Green throughout conference play.
Why They Are Dangerous
Consider who the Hoosiers have beaten this season. They are the only team to beat the absolutely loaded Kentucky Wildcats, as well as taking down Michigan, Ohio State, Notre Dame and Michigan State.
However, they have flown under the radar because of head-scratching losses to downtrodden teams such as Minnesota and Nebraska. A crew of athletic, defensive-oriented players has this Indiana team ready for a deep tournament run.
Marquette Golden Eagles
Record
25-6, 14-4 in the Big East
Best Player: Jae Crowder
2012 Big East Player of the Year Jae Crowder is having a banner year for the Marquette Golden Eagles. The 6'6" combo forward is averaging 17.6 points, 7.9 rebounds and 2.1 assists and is carrying the team on his back, along with Darius Johnson-Odom.
He is a classic "tweener," a player labeled without a position, but that doesn't matter. The kid is a ballplayer. He will be front and center when this team starts its tournament run.
Why They Are Dangerous
I have no idea how a team that finished second in the Big East standings is heading into the NCAA tournament without any buzz, but that is happening with this Marquette team.
Though they are a bit inconsistent, they have the talent to make it to New Orleans this season. Along with Crowder and Johnson-Odom, one of the best duos in college basketball, they have talented guards in Vander Blue, Todd Mayo and Junior Cadougan. 
They are anchored in the paint by 6'8" power forward Devante Gardner and 6'9" athletic small forward Jamil Wilson. They may not have a star big man, but they have a stable of athletes who are ready to run opposing teams out of the gym.
Belmont Bruins
Record
27-7 overall, 16-2 in Atlantic Sun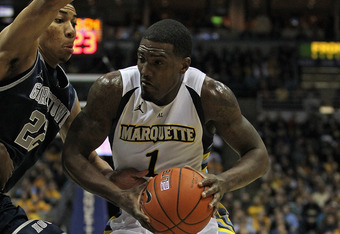 Jonathan Daniel/Getty Images
Best Player: Kerron Johnson
The 6'1" point guard holds the keys to the Bruins offense. The junior showed the Atlantic Sun conference this season that he is one of the most dangerous guards in the country, and he will play a vital role in the team's March Madness run.
His 14.1 points, 5.2 assists and 3.1 rebounds each game make him one of the best statistical guards in the country, and he is ready to showcase his skills to a national audience.
Why They Are Dangerous
Experience is what makes this Belmont team a very dangerous draw in the tournament. For the fifth time in the past seven seasons, the Bruins will be dancing.
They have six upperclassmen who play significant minutes, and they can score with anyone in the country.
Their trio of guards Kerron Johnson, Ian Clark, and Drew Hanlen can score from anywhere on the floor, and senior big men Scott Saunders and Mick Hedgepeth are ready to make up for last season's opening-round loss to Wisconsin.