2012 NFL Draft: Why the Indianapolis Colts Should Consider Robert Griffin III
March 7, 2012

Sarah Glenn/Getty Images
While the Indianapolis Colts are expected to draft Andrew Luck this April, they should give Robert Griffin III a good, hard look before they make that decision.
Just as tight ends in the NFL are no longer just blockers (some rarely block at all), quarterbacks are no longer just throwers. The dual-threat quarterback is a growing breed in the league.
For evidence, one need not look farther than the 2011 MVP, Aaron Rodgers. The Green Bay Packers quarterback has 16 rushing touchdowns over the last four seasons.
Cam Newton, the rookie quarterback of the Carolina Panthers, completed his first campaign in the NFL by rushing for a league-record 14 rushing touchdowns as a quarterback. He also threw for a rookie-record 4,051 passing yards.
In short, Cam Newton is incredible and dynamic. Aaron Rodgers is incredible and dynamic.
The NFL is a quarterback-driven league right now and to be successful teams need to stay ahead of the curve.
Teams need to ask themselves what they can do to get an advantage. What can they do differently than everyone else? How can they hurt the competition where they have no answer?
Right now, the answer is to have a quarterback who is incredible.
And dynamic.
In the 2012 NFL draft, the Indianapolis Colts will have the chance to take whoever they want. They have every player in the draft available to them right now. They are expected to select Peyton Manning's  replacement from either Stanford's Andrew Luck or Baylor's Robert Griffin III.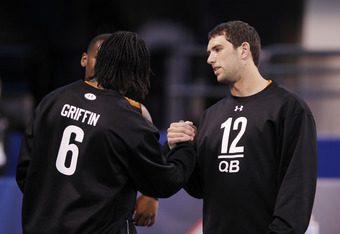 Joe Robbins/Getty Images
The common opinion, on top of most expert opinions, is that Jim Irsay and the Colts will play it safe and select Luck. The former Cardinal is considered the safe pick based largely on his reputation as a pocket passer. However, at the combine he showed that he is no slouch in the athleticism department, measuring up similarly to Cam Newton's combine numbers.
But while Luck is a quarterback with some athleticism, RG3 is a quarterback athlete.
Griffin ran the second fastest 40-yard dash time for a quarterback ever recorded, officially clocking in at 4.41 seconds. The fastest time recorded by a quarterback at the combine was 4.33 seconds, run by Philadelphia Eagles quarterback Michael Vick.
Griffin also excelled in the vertical leap, measuring at 39" (best among quarterbacks) and the broad jump, where he practically flew en route to his 120" measurement.
And, unlike several top recruits, RG3 aced his interviews. He showed poise, confidence and humility during the highly demanding, highly stressful NFL combine. He said everything you want the face of your franchise to say.
Not to mention his football intelligence was off the charts.
Griffin represents the next generation of NFL quarterbacks.
With defenses getting bigger, stronger, faster, it's time for offenses to counter them. Having a Peyton Manning-esque statue in the pocket is no longer the best way to beat defenses.
Coverages are too complex. Defenders too smart and too athletic. Quarterbacks simply not accurate or intelligent enough to hit their windows.
Scott Cunningham/Getty Images
So make the windows bigger.
By adding that uncoachable speed to the quarterback position, defenses are forced to account for the quarterback as yet another weapon on offense.
That means committing defenders to spy him or having multiple defenders exercising contain assignments.
If he takes off running, the defensive backfield will always be tempted to come up to meet him, opening up the receivers they had been covering.
Even if they stay disciplined in their coverages, a defender can only cover an NFL wideout for so long before he gets open. It's simply not possible to mirror a man with as much athleticism as wide receivers have these days for more than six or seven seconds.
And when a quarterback can extend a play with his legs, you can expect plays to last well beyond those marks.
If the defenders stay glued to their men, executing perfect coverage and avoiding the temptation to meet the galloping Griffin, he can simply take off upfield, eating up yardage at a ridiculous rate. He just has too many ways to beat you.
The NFL is all about winning and RG3 may give the Colts the best chance to get back to their winning ways as quickly as possible. Luck will probably need a while to build rapport with his receivers and adapt to NFL schemes, because that's the kind of quarterback he is: cerebral.
On the flip side, RG3 can be effective from day one. His elite athleticism will revive plays that seemed dead in the water. His legs will offer him the chance to make plays that guys like Manning and Luck can only dream of.
The Colts offense is hurting right now. With Manning likely out, their top two receivers becoming free agents and their offensive line a mess, they need to stock up on playmakers.
Robert Griffin III offers them a playmaker at a position that doesn't offer too many of his kind.
Before making the "safe" pick in Andrew Luck, the Colts should consider the opportunity they have to get ahead of the NFL curve.
Athletic quarterbacks are in vogue right now and for good reason.
They are succeeding.