Jimmie Johnson's Crew Chief Chad Knaus Suspended for Illegal Modifications
February 29, 2012

Todd Warshaw/Getty Images
Hendrick Motorsports crew chief Chad Knaus has had his fair share of run-ins with NASCAR.
And he's gotten off to a bad start in 2012.
According to the Associated Press, Knaus has been fined $100,000 and suspended six races after Jimmie Johnson's car was found to have illegal modifications headed into the Daytona 500. Car chief Ron Malec is also suspended for six races, while Johnson has been docked 25 points for the infraction. 
The incident happened on Feb. 17 at Daytona International Speedway, where NASCAR said the No. 48 Chevrolet had illegally-modified sheet metal between the roof and the side windows, otherwise known as the C-posts.
Both Knaus and Malec are allowed to attend the races during their suspensions.
Team owner Rick Hendrick has decided to appeal the penalties, per NBC Sports:
Our organization respects NASCAR and the way the sanctioning body governs our sport. In this case, though, the system broke down, and we will voice our concerns through the appeal process.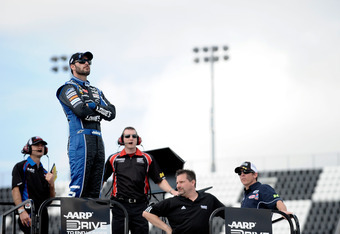 Jared C. Tilton/Getty Images
This isn't exactly the start Hendrick Motorsports and Johnson had in mind. After finishing in 42nd place at the Daytona 500, Johnson has now been moved back to last place in the Sprint Cup Series standings.
Johnson's record five straight Sprint Cup championships seems like it happened ages ago. He had his worst season in years in 2011, finishing in sixth place and 99 points away from champion Tony Stewart.
This year, Johnson and his crew have dug themselves a hole from the beginning, trailing Daytona 500 winner Matt Kenseth by 70 points and a top-10 spot by 58 points.
If Johnson is to get back on top, he has a long road ahead of him in 2012. But you can never count out a five-time champion.