Super Bowl Commercials 2012: Twitter Reacts to Best and Worst Ads
February 5, 2012

For many folks, the Super Bowl is not about the game. It's about the commercials.
Super Bowl commercials have a longstanding tradition of being totally awesome. They're funnier than garden-variety commercials, and ultimately, they are more memorable as well. They're perfect water cooler fodder.
But who are we kidding? In this day and age, conversing around the water cooler is a totally obsolete tradition. It's much easier and far more interesting to share one's thoughts on Twitter.
That's exactly what a few million people are going to be doing today. We're going to be keeping tabs on what people think of the commercials, and we're going to share the best tweets we can find.
Just keep it here and soak it all in, my friends.
So they finally aired the Honda commercial in which Matthew Broderick reprises his role as Ferris Bueller.
Famed author Bret Easton Ellis couldn't believe what he was watching: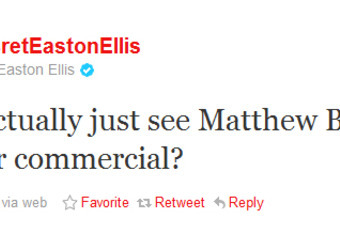 This person didn't recognize Broderick at all: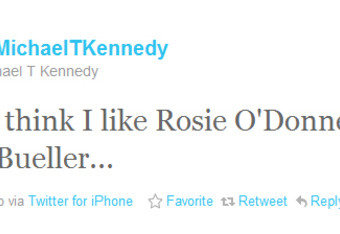 Tim Siedell is not impressed by Broderick's choice to peddle Honda: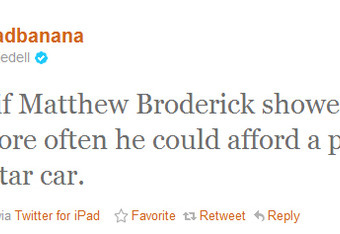 Billy Corben, the guy who directed "The U" for ESPN's 30 for 30 series, has an idea for what the next step could be: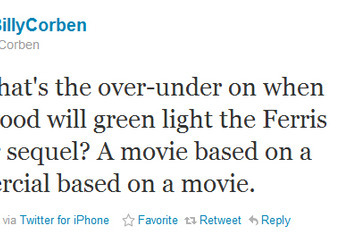 It's not The Avengers, but Act of Valor looks pretty sweet. Hard to beat a movie featuring active-duty Navy Seals, you dig?
The point of the movie? Ask Brad Wollack: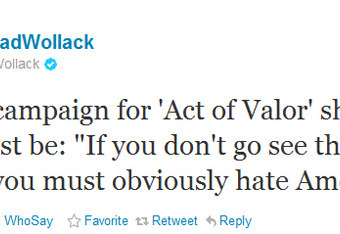 Bloody-Disgusting.com co-owner Brad Miska agrees: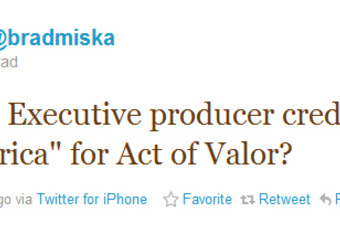 Bud Light just aired an ad featuring a beer-fetching dog. I'm pretty sure this is what Kenny Mayne is referring to with this tweet: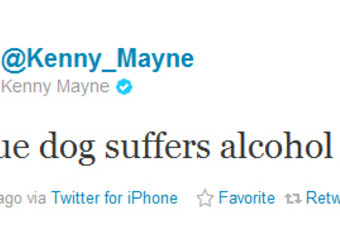 Nobody wants to buy a Fiat, but Fiat tried to convince people that they do by putting an incredibly hot chick in their Super Bowl commercial.
College Football Talk has a theory about what we really watched: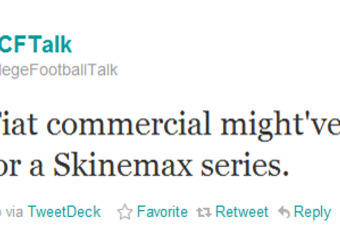 Netw3rk has another theory: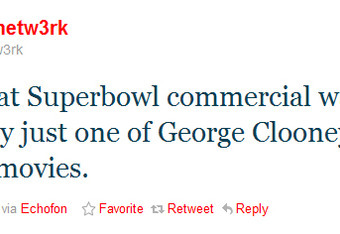 Jennifer Healy wants everyone to know the truth: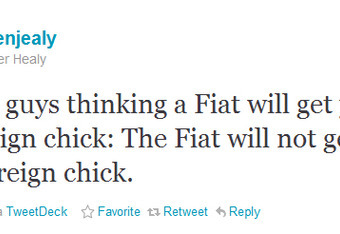 Well, Tom Fornelli is going to try his luck anyway: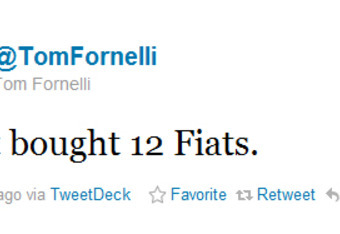 While Fiat tried a hot babe, Acura tried Jerry Seinfeld and the Soup Nazi. Brian Windhorst has the truth about the Soup Nazi: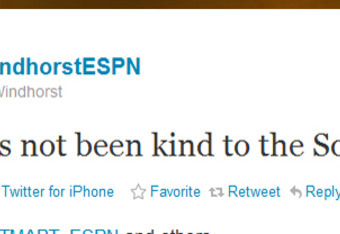 Darren Rovell rather liked the Acura commercial, but he went and got picky: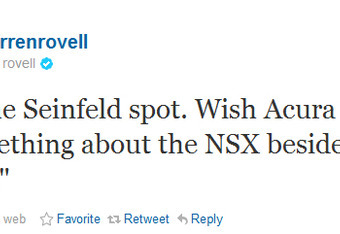 After Madonna's epicly awful/brilliant [pick one] halftime performance, we got a Chrysler commercial featuring a voiceover from Walt Kowalski himself, Clint Eastwood.
Unlike most Super Bowl ads, Chrysler's Super Bowl commercial was dead serious. People responded in a big way. That's probably because when Clint Eastwood talks, it's your job to listen.
Brooklyn Decker was listening: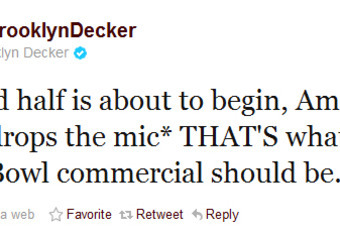 Jeff Passan was very impressed: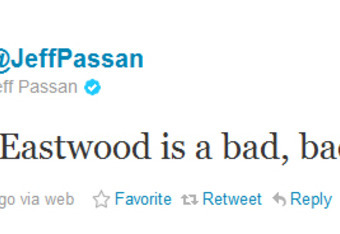 Tom Fornelli would vote for Eastwood given the chance: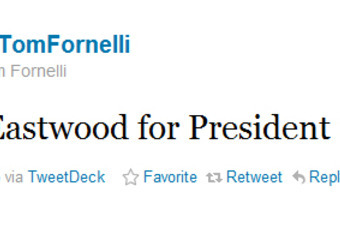 This guy has a brilliant idea: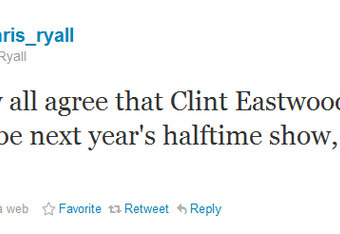 I'll speak for the rest of America when I say, "Yes!"
I'll also speak for America when I say that CM Punk is a funny guy: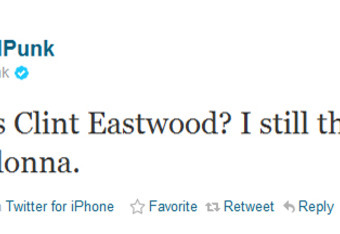 So we've officially seen one half's worth of Super Bowl commercials. From the look of things, Twitter is not impressed.
DJ Mr. Rodgers has a question:
The answer is no. He hasn't missed anything. This crop of commercials has been just okay. 
Oakland A's pitcher Brett Anderson isn't impressed either: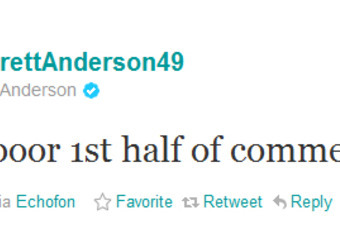 Ditto for linebacker Shawne Merriman: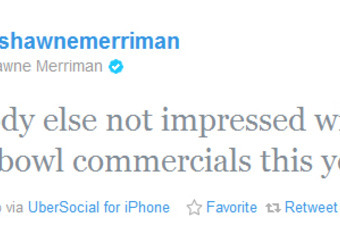 Maybe the good ones are all being save for the second half.
OMG did you guys see the spot for The Avengers????
Twitter did, and it suffices to say Twitter liked it.
ESPN personality Michael Smith couldn't wait to watch it again after it was over: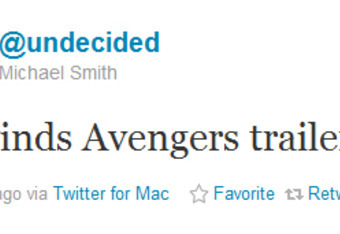 Same goes for ESPN's Robert Flores: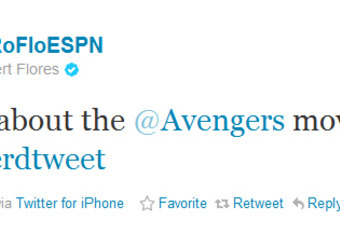 MTV News correspondent Josh Horowitz is ready to proclaim The Avengers trailer the victor: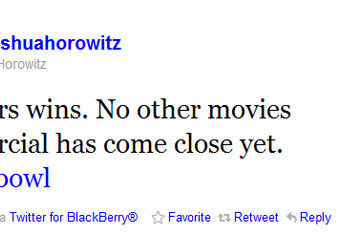 Shortly after The Avengers, we got to see Adriana Lima peddling some online flower company called Teleflora.
Tom Fornelli of CBSSports.com was rather captivated: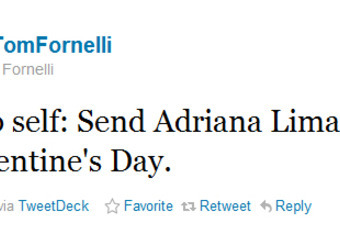 Matt Hinton of Yahoo! Sports translated the commercial to mean this: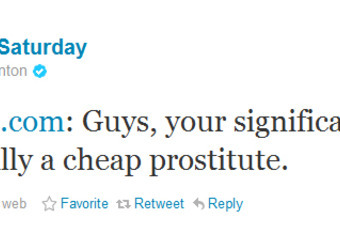 We also got to see a trailer for the new GI Joe movie, which features The Rock channeling Jay-Z.
Jared Wade was not convinced: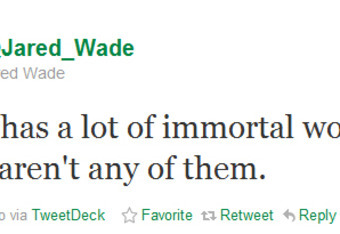 Paul Scheer may actually be right about this: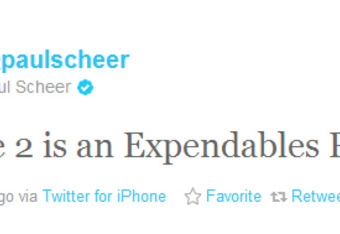 I didn't catch which company it was for, but one car commercial featured a car doing all sorts of snazzy Hollywood stunts. 
Yahoo! Sports MLB columnist Jeff Passan was not sold: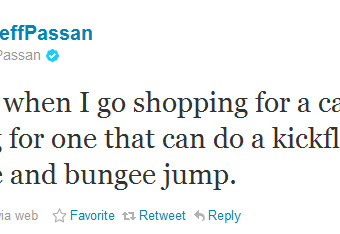 For the record, I do. You never know what you're going to need in a car.
This year, the Super Bowl features David Beckham in an underwear ad. Randy and Jason Sklar don't think it was a great career decision on Beckham's part: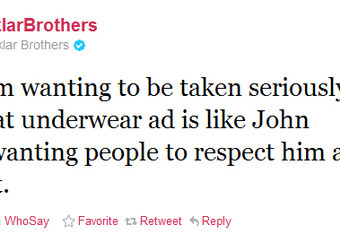 Once again, Coke is using animated polar bears to sell its product. ESPN.com NBA writer Zach Harper noticed something funny about one of the bears.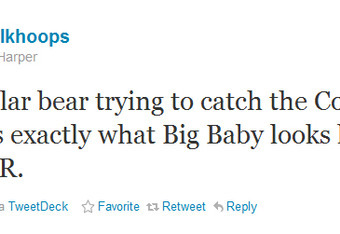 Go back and watch it again, and this will be your reaction: "OMG it's so true!"
They just showed the Volkswagen commercial with the fat dog and Darth Vader. This guy points out what I've been saying all along: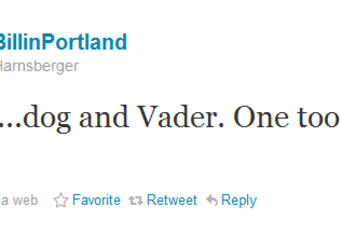 Exactly.
It's not just me and that guy, though. Bleacher Report's Dan Levy thinks the addition of the Star Wars stuff damn near killed the commercial: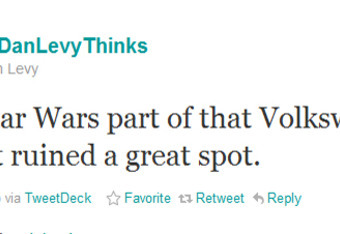 Is it just me, or are these GoDaddy.com commercials getting a little old?
Okay fine, I dig the hot babes too, but Sam Miller of the Orange County Register points out that the ads are slightly misleading: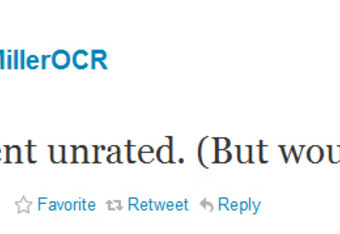 Major League Baseball pitcher Brandon McCarthy seems to agree. He hit the GoDaddy.com commercials with the ultimate insult: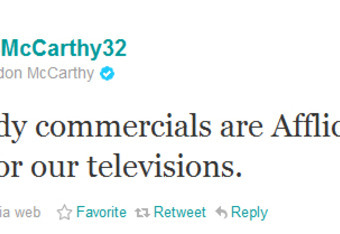 As for the Battleship trailer, this smart fellow points out the inconvenient truth of the matter: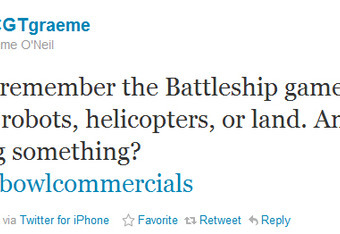 I'm pretty sure it didn't have Liam Neeson either, but I won't complain about that part.
If you're looking to survive the impending 2012 apocalypse, what you need is a Chevy truck. Apparently.
This fan poses a good question that wasn't answered in Chevy's ad:
KegsnEggs learned a valuable lesson from the ad: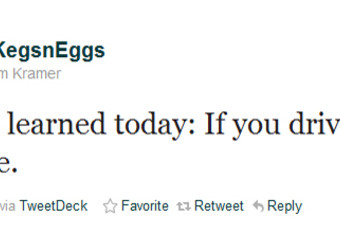 Somebody at Pepsi came up with the idea of putting Flavor Flav in the dungeon of a castle. Because, you know, that makes sense. Kinda.
Filmmaker Dan Perez managed to see the comedy in it: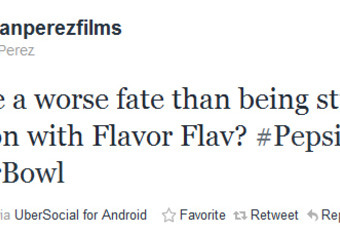 Did ya'll happen to see the Audi commercial where the guy drives up and kills a bunch of vampires? That was freakin' awesome.
Fake John Madden has an idea for how that car should be used next: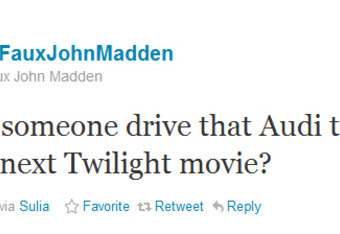 Another good one was Hulu.com's ad, which featured Will Arnett being, well, Will Arnett.
This guy happened to catch the Arrested Development reference in the commercial: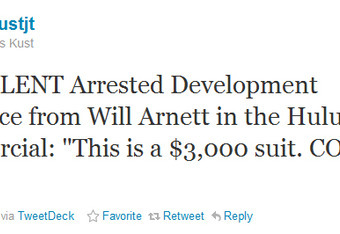 Did you catch it?
There was also a pregame commercial for the 2012 Olympics. Bet you forgot those were coming up, huh?
ESPN.com editor Adam Reisinger urges you to get on the USA bandwagon now: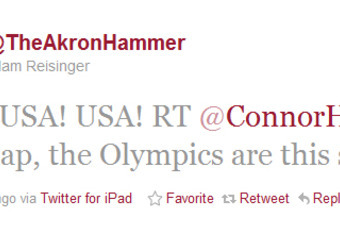 Damn right. 'Murica!
Shortly before kickoff, Hyundai revealed their new ad, which channeled the awesome theme music from Rocky.
This guy wasn't a fan: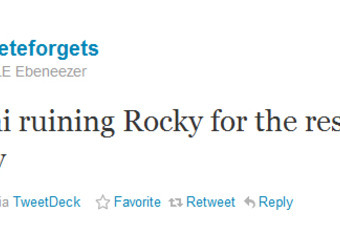 Come on, man. It wasn't that bad.
Then again, your name is Ebeneezer. Makes sense.
One of the ads generating a ton of YouTube buzz before the game even kicked off was Honda's Ferris Bueller ad, which features Matthew Broderick channeling his most famous role for the sake of selling a few cars.
Famed television writer and movie fanatic Damon Lindelof isn't a fan of the idea:
You have to admit, he has a point.
The other commercial that got a lot of buzz is Volkswagen's "The Dog Strikes Back" ad. It's not as good as last year's "The Force" ad, but CNBC's Darren Rovell wants everyone to know that Volkswagen's advertising branch is getting good grades these days: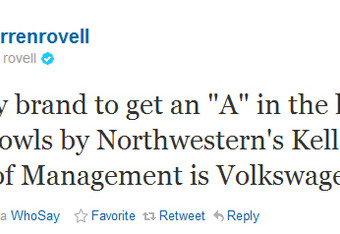 Rovell also dropped this interesting tidbit about Anheuser-Busch: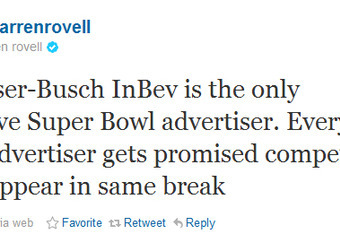 We're going to see some pretty awesome movie trailers make their debut on Super Sunday. We've already seen one for The Hunger Games, which looks fairly awesome.
Reuters social media editor Anthony De Rosa offered a unique take on the trailer:
He's right, you know.
The other trailer everyone is looking forward to is the one for The Avengers. In fact, that's the only reason this guy is watching the Super Bowl: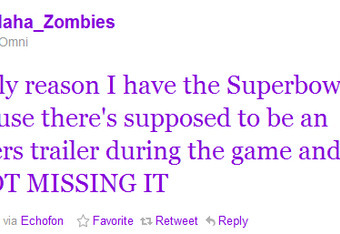 Plenty more where these came from, folks. Check back periodically for updates.