10 Car Getting Points Opens Up New Way for NASCAR Teams to Beat a Flawed System
January 31, 2012

Jared C. Tilton/Getty Images
In late 2004 at the Atlanta Motor Speedway, two big drivers and two big sponsors missed out on the race.
Scott Wimmer, driver of the No. 22 Caterpillar Dodge, and Scott Riggs, driver of the No. 10 Valvoline Pontiac, missed the race at the Atlanta Motor Speedway.
This Atlanta race was the 34th of the season. The numbers 22, 10 and 4, which were being driven by Mike Wallace at this time, all missed the Atlanta race. However, they had attempted the previous 33 races of the then Nextel Cup Series schedule.
NASCAR took issue with the big sponsors of Caterpillar and Valvoline missing races. So in order to "protect" these sponsors, NASCAR makes sure the sponsors make races.
NASCAR decided to institute a new rule which went into effect at the start of the 2005 season. The rule stipulated the teams in the top 35 in owner's points are guaranteed a starting spot in the upcoming races. This way teams don't need to be fast every week, and can still make the race.
In a sport that is based on speed, it didn't make a lot of sense to me but I decided to live with it  knowing what was going to happen next.
Everyone's concern was that these points were going to be sold and the big teams would buy them out.
But NASCAR said that was not going to happen. They were going to police this.
Now I was born in 1989, and I remember the tail end of the 1992 season. I know the history of this sport very well. And I know what NASCAR policing rules means—some people get away with things and others can't.
But hey, I was giving them the benefit of the doubt.
For a year and half after the rule was passed, the issue of policing never came up. That was until halfway through the 2007 season.
Ginn Racing, which had purchased MBV Motorsports, were running the No. 01 team driven by Mark Martin/Aric Almirola. Glinn Racing was also running the No. 13 team driven by Joe Nemechek, and the No. 14 team driven by Sterling Marlin. However, it was struggling financially.
Dale Earnhardt, Inc., now owned by the late Dale Earnhardt's widow, Teresa Earnhardt, stepped in to "purchase" Ginn Racing.
DEI had the No. 1 car driven by Martin Truex, Jr., the No. 8 driven by Dale Earnhardt, Jr. and another car that was not in the top-35, Paul Menard's No. 15.
When the DEI/Ginn merger took place Menard's No. 15 team got the points from Ginn's No. 13 team, and kept running the No. 01. NASCAR's four car limit forced DEI to run No. 14 points. So there was talk that the No. 78 Furniture Row Racing team, lead by driver Kenny Wallace, was going to buy those points.
It didn't seem like NASCAR liked that. DEI bought Ginn and they were going to police this tops-35 rule.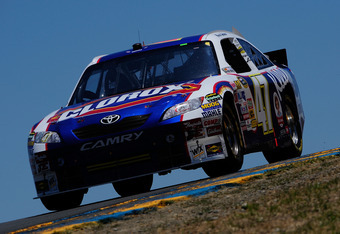 Robert Laberge/Getty Images
So far they were policing this rule, but that all changed in the middle of 2008. From that point forward there has been 11 other questionable point swaps.
Michael Waltrip Racing had three sets of points in 2008, the No.'s 55, 44 and 00. A new organization known as JTG Racing, who was running Fords in 2008, somehow became the No. 00 at MWR.
JTG Racing didn't run under the MWR banner, and didn't even run the No. 00, but because the driver was from Australia and had big backing, NASCAR allowed it.
TV ratings in Australia are essential to this sport's survival. But honestly, if Brian France had to defend this, those words would probably come out of his mouth.  
DEI ran one more year as a four-car organization before sponsorships left and funding fell out from under the team. Menard left and went to Yates Racing, US Army went to Stewart-Haas Racing and Budweiser and Dale Jr. also left the team.
They merged their remaining sponsor/driver combination with another organization that was having sponsorship problems.
Chip Ganassi Racing stepped up and came to the rescue and purchased DEI. CGR had points from their No. 41 and 42 entries. Now as well as all four, No. 01, 1, 8 and 15, from DEI. Six sets of points.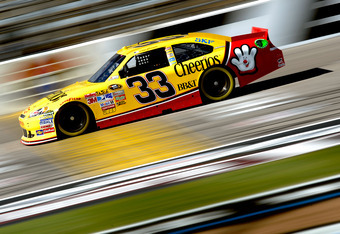 Jared C. Tilton/Getty Images
Ganassi decided to hang on to the No. 42, 1 and 8 for 2009. They ended up selling their points from the No. 15 team to Richard Childress Racing's new No. 33 team. Wow.
To get past it they said that Childress had bought DEI. But didn't Ganassi? Yes. He did. So why should the No. 33 get those points?
Oh, I know why, because Cheerios had left Petty Enterprises, the operation that put NASCAR Racing on the map, to go to RCR and NASCAR didn't want that big sponsor missing a race.
Policing it? Good job.
That wasn't the end either.
Then the new EGR team sold the No. 01 points to an organization known as Front Row Motorsports and their No. 34 entry. Bobby Ginn was the listed owner of the 34 team.
Isn't this is supposed to be policed?
How can DEI/CGR/Ginn Racing now become RCR and FRM? This is not policing the rule. Now this rule has just become a free for all. And it didn't end there.
In the same off season, Bill Davis Racing, a Toyota team, closed up shop, selling their engine department. Penske Racing was in search for points since they didn't hire anybody better than Sam Hornish Jr. Yet, because of Sam's name earned in a different racing series, NASCAR allowed Penske Racing to "purchase" Bill Davis Racing. Not one chassis was exchanged because Penske runs Dodges, but this was still allowed by NASCAR.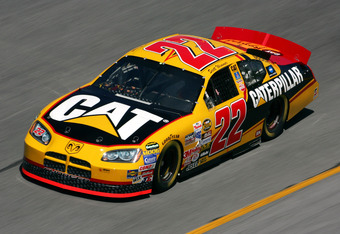 Jamie Squire/Getty Images
This is their version of policing the top-35 rule.
Also during this same time period, Yates Racing purchased Hall of Fame Racing and the Yates points were spread between the No. 96 and 98 teams. That's fine. I only stated this to show what happens to these points later. Let's keep going.
Before the 2010 season, Furniture Row Racing, who was using Hendrick engines gets points from Richard Childress Racing's No. 07 team which had lost its sponsor, Jack Daniels.
Ginn's No. 13 points that kept the No. 15 team in, that went to the 33 to keep the 07 in, is now a part of the No. 78 team.
This is all making sense. Their policing is working. The big teams are not getting bigger.
Remember those Yates points? Well, Yates Racing lost Paul Menard to Richard Petty Motorsports when they merged with Yates Racing. Menard took one of the RPM points. But RPM bought the Yates team and those points should've stayed there. But of course, they didn't.
Front Row Motorsports, which was starting two new teams, buys the Yates points for their No. 37 and 38 teams. So, did Front Row Motorsports buy chassis from Yates? Let's not fool ourselves. No, they didn't! But they did switch to Ford.
So before the 2011 season, it gets even crazier.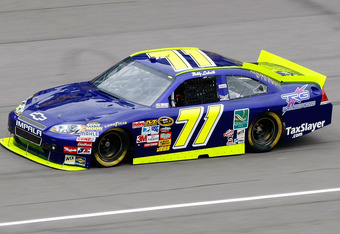 Geoff Burke/Getty Images
Paul Menard leaves the Yates team and joins Richard Childress Racing. Originally RCR thought that they were going to get the No. 98 points as Richard Petty Motorsports was downsizing to two teams.
But NASCAR stepped in. So instead, RCR "bought" TRG Motorsports' No. 71 team and then TRG got the No. 98 points. How that is any different is beyond my understanding.
Also, RPM had another set of points, those of the No. 19 car formally driven by Elliott Sadler. What happened to those points? The Wood Brothers Racing team was able to acquire the points from the No. 19 team. The Wood Brothers must've bought Richard Petty Motorsports or merged with them? Oh wait—they didn't.
But what's happening in 2012 is the worst example and abuse of a top-35 rule in the history of the top 35 rule. It is a blatant attempt by NASCAR to put in a driver who otherwise couldn't get his/herself into the Daytona 500.
Danica Patrick is a beautiful woman, but can she drive a Sprint Cup Series car with the best drivers in the business? That has yet to be seen.
But yet, NASCAR thinks that by fudging the rules and having Tony Stewart's No. 10 team form an alliance with Tommy Baldwin Racing and get Patrick into the Daytona 500 is somehow, for the best interest of the sport. That's unbelievable.
Brian, Mike, Robin, John and the rest of NASCAR, it's in the best interest of their pockets.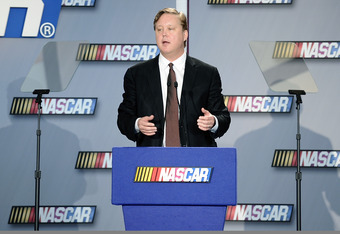 Jared C. Tilton/Getty Images
Fans are leaving, TV ratings are falling, racing is getting worse, and NASCAR's way of trying to make it better is to anger fans more. They're doing a good job.
But let's just look at the bigger picture. The top-35 rule has run its course. Let's find something else. NASCAR has made the points system easier for the fans to understand, so let's have a qualifying scenario which is easier for fans to understand.
And NASCAR, instead of promoting Danica Patrick and Dale Earnhardt Jr., can we please promote drivers who run up front and win? Drivers such as Jimmie Johnson or Carl Edwards?
Why doesn't NASCAR paint the same picture for those drivers that it does for the other two?
If Jimmie Johnson and Carl Edwards were promoted, and were as popular as Dale Jr. and Danica, there would be no need for a top-35 rule at all. Those guys wouldn't miss races. Dale Sr. never did.
What's the sport going to do in 10 to 15 years when Dale decides to hang it up and Danica is in IRL and hasn't been in NASCAR in seven to 12 years? Good question. I don't know either!