2012 Fantasy Baseball Rankings: Top 15 Catchers (Updated)
January 23, 2012

Jason Miller/Getty Images
1. Carlos Santana, Cleveland Indians
Pitchers are scared of Santana, that's why they walked him 97 times in 2011. Santana still hit 27 HR and 79 RBI even with the high walk total.
2. Mike Napoli, Texas Rangers
Napoli was a fairly big surprise in his first season in Texas. He had career highs in AVG (.320), HR (30) and RBI (75).
3. Brian McCann, Atlanta Braves
McCann is good for around a .280 AVG, 20 HR and 75 RBI every season.
4. Buster Posey, San Francisco Giants
The heart of San Francisco's lineup only played 45 games before breaking his ankle in 2011. In 108 games the previous season, he hit 18 HR and 67 RBI.
5. Alex Avila, Detroit Tigers
Avila shouldn't have a problem being full-time catcher for the Tigers in 2012. His numbers rivaled those of teammate Victor Martinez, and that's saying a lot.
6. Joe Mauer, Minnesota Twins
We'll give Mauer a mulligan for last season. Last year's .287 AVG was the lowest of his career, but he did only play 82 games.
7. Matt Wieters, Baltimore Orioles
The average wasn't what we thought it would be last season (.262), but Wieters did hit 22 HR and 68 RBI.
8. Miguel Montero, Arizona Diamondbacks
Montero was a very pleasant surprise for the D-backs in 2011, batting .282 with 18 HR and 86 RBI.
9. J.P. Arencibia, Toronto Blue Jays
Just over a quarter of Arencibia's hits were home runs in 2011 (24/97).
10. Jesus Montero, Seattle Mariners
The highly-touted catcher has a lot of upside but is unfortunately now on the Mariners.
11. Yadier Molina, St. Louis Cardinals
Molina is known mostly for his defense but he did have career-highs in HR (14) and RBI (65) last season.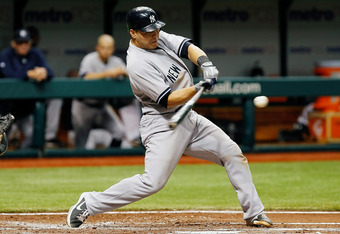 J. Meric/Getty Images
12. Russell Martin, New York Yankees
His AVG has really tailed off the past three seasons but Martin enjoyed hitting 18 HR in 2011. Jorge Posada's departure will give him more opportunities this season.
13. Geovany Soto, Chicago Cubs
Soto has been inconsistent so far in his career but he has hit 17 HR each of the past two seasons.
14. Kurt Suzuki, Oakland Athletics
Believe it or not, but Suzuki is one of the best fantasy options on the A's.
15. Wilson Ramos, Washington Nationals
Having 15 HR's and 52 RBI's isn't too shabby for a first full season in the big leagues as a catcher.