Calvin Johnson: Next Contract Will Show If Megatron Is Truly a Team Player
January 20, 2012

Doug Pensinger/Getty Images
Calvin Johnson showed the NFL he is the indisputable best receiver in the game. The question going forward is if Calvin will force the Detroit Lions to pay him in a commensurate manner.
Next year, Calvin Johnson is set to make approximately $22 million, an astronomical number for a player who touches the ball six to 10 times on any given Sunday.
But the scary part is that it will pale in comparison to the payday Johnson will receive after his contract expires.
The franchise tag was a loophole designed specifically for bottom-feeder teams that struck gold with a player who blossoms into a superstar and wanted to use the free-agent market to bolt out of town.
With the tag, teams with less-than-desirable situations could keep their difference-makers on two consecutive, one-year contracts at an average price of the top five players at the same position. But it's the caveat that could soon doom the Lions.
Calvin is already compensated at a stratosphere much higher than any other WR and under the NFL's collective bargaining agreement, he is entitled to 120 percent of his current salary if he is slapped with the franchise tag.
Not a bad bump, considering he already makes more money than the other 52 players on the roster, including double Matthew Stafford's 2012 salary.
What this means, in rough numbers,  is that Calvin will make $22 million next year, $26.4 in his first franchise year and a whopping $31.6 million in the second franchise year.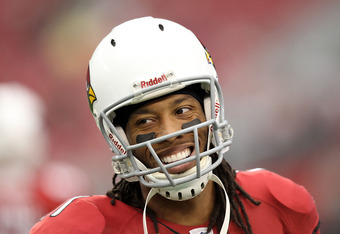 Christian Petersen/Getty Images
The escape clause that benefited the Lions for years now works against them.
The only wide receiver who has a contract even close is Larry Fitzgerald, who will need eight seasons to make his guaranteed money of $50 million; Calvin gets his guaranteed cheddar in less than half that time.
Could you imagine picking the winning lottery numbers for a $75 million jackpot in three consecutive years? That's essentially what Tom Lewand and the Lions have facing them.
Bus Cook, Calvin's agent, could walk into Tom Lewand's office with a yo-yo, paddle ball and his favorite comic book, put his shoes up on the desk and not utter a single syllable and earn his client nearly $80 million over the next three years.
At a conservative 5 percent commission rate, $4 million is not bad for picking boogers. But hey, Brett Favre retired, so Bus has to make it up somewhere.
Beyond the ridonculous numbers soon to be earned by "Megatmillions," Calvin is not the only mouth to feed for Tom Lewand.
If Matthew Stafford continues to light up NFL secondaries the way he did in his first full season under center, you better believe his contract will be re-negotiated and plenty of scratch will be going into the Stafford savings account.
Plus, Ndamukong Suh's contract goes from $11 million in 2013 to $1 million in 2014. Does anybody truly think Suh will be happy with a 90 percent pay cut?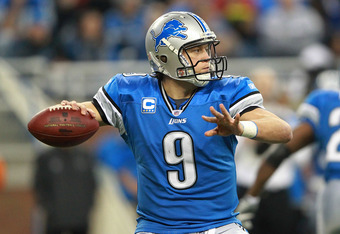 Leon Halip/Getty Images
What I'm saying is the Lions have set themselves up for financial disaster. It's conceivable the Lions will be paying three players nearly half of their allotted salary cap.
Beyond the on-field performance of Stafford and Johnson, the financial albatross is becoming eerily similar to the Indianapolis Colts' distribution of wealth when Peyton Manning and Marvin Harrison were dominating both the scoreboard and Jim Irsay's checkbook.
That's the problem with continually picking at the top of the draft and having three top-two picks pan out; Tom Lewand is forced to "make it rain" in order to keep all three players happy.
Unless, of course, Calvin does the unthinkable and forgoes his family's financial windfall and signs a long-term contract to free the Lions from the shackles of previous miserable seasons and accompanying top-end deals. 
Call me callous, but it would be hard to fault Calvin if he simply played out his contract.
Isn't that what all professional athletes want? To be able to pick where they live and who they play for? Why should anybody fault Calvin if he decides to not forgo the luxury he has earned with his five years of service to Mr. Ford and his franchise?
So why would Calvin give up his freedom and monetary security that is right around the corner?
In my opinion there are only three possible scenarios in which Calvin selflessly offers a contract extension that will allow the Lions to spread the money over several years while continuing to build a Super Bowl roster.
Know where your bread is buttered
This may sound like an over-simplified theory, but can you name me another quarterback in the NFL Calvin would rather have throwing him the ball for the next five or six years?
There is no better JUGS machine going forward than Matthew Stafford. Calvin is an elite talent, but he can't throw himself the ball and his career year did not come from the arm of Jon Kitna or Shaun Hill.
Nobody in the league can spin it like Stafford and at 23, he can make throws others can only dream of; his prime years are still on the horizon.
It's like having a Ferrari in the garage and wanting to go test drive a Corvette. It may be fun to go beat on the car for an hour, but ultimately you know there's nothing better than what you have parked back at the crib.
Having Stafford dial up Calvin for the next several years is the best on-field combination for Calvin, period.
He cares about his teammates
Football is the ultimate team game. In no other sport are you more dependent upon the man who lockers next to you.
There are countless teams who had talented rosters but lacked the chemistry for a winning football team. To win in the NFL, the team must have talent, but to get to the Super Bowl in the salary cap era, the cohesiveness of the locker room is critical.
The Lions have shown that they play for each other and for Calvin in particular. The jawing in the end zone in Week 17 where Calvin defended Kevin Smith gave us insight into how Calvin's feelings about the organization have reversed.
Remember, it was only last year when Calvin decreed that he could not get used to losing and something had to change.
After those comments on December 9, 2010, the Lions have a regular season record of 14-6 including a four-game winning streak that ended the 2010 campaign.
Maybe too much was made of Jim Schwartz's playoff simulation and more credit needs to go to the camaraderie in the locker room.
Signing a deal that pushes some money out will not put Calvin on skid row, but would keep a cohesive working environment from splintering.
Calvin could head for greener, warmer pastures but there are no guarantees he will enjoy going to work anymore than he does with his current commute to Allen Park. The chemistry in the next locker room would be little more than a crapshoot.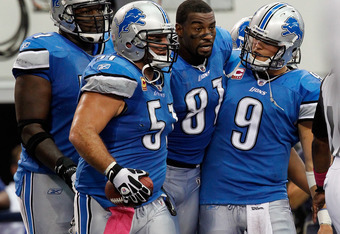 Tom Pennington/Getty Images
Legacy
There's one thing that separates the great players from the legends and that's legacy.
Randy Moss was great, but what's his legacy? A freakish talent with childlike tendencies who bounced around the league is what the NFL leader in touchdown receptions for one season will be remembered as.
Jerry Rice, on the other hand, has records and rings plus a career that spans 15 years with the same team. Yeah he held on too long, but Jerry will always be remembered as a 49er.
How does Calvin want to be remembered?
As a player who took advantage of the franchise tag to fleece his team and leave them with only ad hoc pieces to complete the roster, or a leader who recognizes the disparity of his contract and forsakes immediate gratification for the promise of Super Bowl immortality?
This is a question I am not envious of Calvin having to decide, since both options appear destined for scrutiny. We will soon discover where his loyalty lies—with himself or his teammates.
If it is the latter, the Joe Schmidt Award for leadership in 2012 should already go into production with the name Calvin Johnson displayed prominently.