Stanford vs. Oregon State Basketball: 4-OT Win Bodes Well for Cardinal
January 11, 2012
Patrick McDermott/Getty Images
When we last reported on the Stanford men's basketball team, they had exceeded everyone's expectations at the November 2011 preseason NIT at Madison Square Garden. 
Stanford defeated the Oklahoma State Cowboys (Stanford fans: Admit it, you really liked reading those six words) in the NIT semifinals and gave top-ranked 'Cuse a battle before losing, 69-63, in the championship game. 
Stanford's NIT performance served warning to the Pac-12 that coach Johnny Dawkins' Cardinal could well contend for the conference title. And with preseason favorite UCLA plunging into dysfunction, the door has remained wide open for the rest of the Pac-12 teams. 
Stanford opened conference play by defeating the aforementioned Bruins, and USC, at home in late December.
Which brings us to last Saturday night's pulsating, 103-101 quadruple-overtime win by the Cardinal men's basketball team over another OSU—the Oregon State Beavers—in Corvallis. 
The four-OT victory was the longest game in Stanford history, the second longest ever in the conference, and raised the Cardinal's Pac-12 record to 3-1 and its overall record to 13-3. 
The game, played before a typically boisterous Beavers crowd at Gill Coliseum, was not always a work of art, with 34 total turnovers and 54 fouls, but was hard fought from start to finish. The high-scoring Beavers, coached by Craig Robinson (you know, the brother of First Lady Michelle Obama), raced out to a 43-36 halftime lead.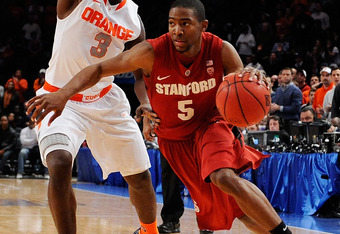 Patrick McDermott/Getty Images
Stanford managed to pull even at 76-76 after regulation. The teams were deadlocked at 83-83 after the first OT and 92-all after the second OT. A three-pointer from Anthony Brown in the waning seconds of the third OT tied the score at 95. 
The Cardinal's freshman phenom guard Chasson Randle then scored the first five points in the fourth OT, and Stanford held on for the win. The 6'1" Randle poured in a career-high 24 points, including 13 in the four overtime periods. 
Senior 6'8" PF Josh Owens made his presence felt inside as usual, with 16 points and 11 boards. And 6'9" sophomore Dwight Powell, whose play in December was uneven at times, showed off his great potential with a double-double (10 and 11). 
PG Aaron Bright, who was among three Cardinal players to foul out, added 18 points with 4-of-5 shooting from three-point range, as Stanford made 13-of-28 from beyond the arc. 
The Cardinal now host Pac-12 newcomers Utah and Colorado this weekend, in a pair of highly winnable games.
(Oh, and did we mention that Stanford beat Oklahoma State at the preseason NIT?)