Michigan State vs. Wisconsin: TV Schedule, Live Stream, Spread Info and More
January 3, 2012
Jonathan Daniel/Getty Images
Two of the best teams in the Big Ten conference take on each other, as the Michigan State Spartans (13-2, 2-0) travel to Wisconsin to take on the Badgers (12-3, 1-1).
Wisconsin is coming into this game after suffering a disappointing loss at home in their conference home opener against Iowa, 72-65, while Michigan State is entering this game winning 13 straight ball games and their last two Big Ten games.  
Where: Kohl Center, Madison, Wis.
When: Tuesday, Jan 3. 7:00 p.m. ET
Watch: ESPN-2 and ESPN-3.com
Listen: Michigan State: WLBY 1290 AM, Wisconsin, ESPN Milwaukee 540 AM
Betting Line: According to SBG Global, the Badgers are a -6.5 point favorite to win. You should take the Spartans to upset the Badgers at home tonight, as Michigan State has dominated in their last 13-games. 
Key Injuries (According to USA Today.com)
Michigan State: There are no injuries to report.
Wisconsin: G Dan Fahey is questionable with a shoulder injury.
What's At Stake
For both teams, a spot in the Top 10 or Top 15 in the next polls while improving their position in the Big Ten Standings. 
For the Spartans, a loss will end what has been an impressive streak of 13 consecutive victories where they have scored 70-or more points in nine of their victories, while for Wisconsin, a victory would place them back among the Big Ten conference leaders with a 2-1 record. 
What They're Saying
Michigan State: Brandon Howell of Mlive.com takes a look at the Spartans winning streak and their failures at Wisconsin.
The Spartans are on their longest winning streak since taking 22 in a row in the 1998-1999 season. But MSU has dropped six of the eight games in its current funk at Wisconsin by double digits.
Wisconsin: According to Todd Rosiak of Badgers Blog on Milwaukee-Wisconsin Jounal Sentinel website, the Badgers have a great history against the Spartans under head coach Bo Ryan. The Badgers (12-3, 1-1 Big Ten) are coming off just their seventh conference loss under Coach Ryan on their home floor.
The Spartans (13-2, 2-0), meanwhile, have had no luck here in recent years. They are 0-8 against UW with Ryan as coach and 0-3 against the Badgers on neutral courts over that same span.
Overall, the Badgers are 13-6 against the Spartans with Ryan at the helm.
Michigan State Player to Watch: Forward Draymond Green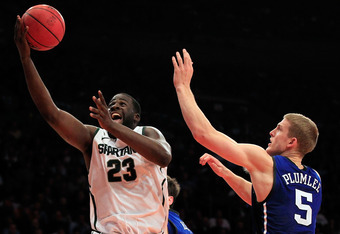 Chris Trotman/Getty Images
Green has been a superstar for this Spartans team during their 13-game winning streak. He leads Michigan State in points per game and rebounding this year, averaging 15.4 points per game and 9.5 rebounds per game. 
Over his last five games, Green has averaged over 30 minutes per game, with 13.6 points per game and 9.2 rebounds per game. 
He will do a great job in dominating the paint against Wisconsin, who rank 140th in the NCAA in rebounds per game.
Wisconsin Player to Watch: Guard Jordan Taylor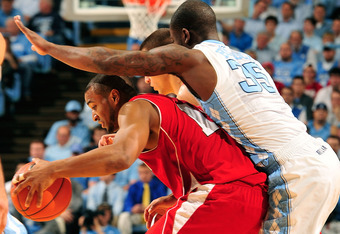 Grant Halverson/Getty Images
Taylor has been your prototypical senior leader this year for the Badgers. He is No. 1 on this Wisconsin team in points per game and assists per game averaging 12.7 PPG and 4.9 APG. 
Over Taylor's last five games, he has averaged 15 PPG and 3.4 APG while playing in a season high 40 minutes per game against Iowa. 
Taylor will have to be able to control the floor and keep Michigan State from going on big runs if they want to upset Michigan State and end their winning streak. 
Key Matchup: Draymond Green vs. Wisconsin's Forwards 
Green has been a nightmare for interior defenders this year. He is among the leaders in the Big Ten in offensive and defensive rebounds per game while grabbing the most defensive rebounds with 105. 
If Wisconsin can contain Green in the paint, they will be able to limit Michigan State's second chance opportunities while creating a good chunk of second chance points for themselves.
Prediction
Michigan State has gotten consistent play from Green and the rest of their ball club over the last 13 games, while Wisconsin has proven that they can handle anything that Michigan State's head coach Tom Izzo can throw at them. 
If Wisconsin can get Green into foul trouble, they will run away with this game. 
However, Green and Michigan State will prove to be too much and will run away with this game late. 
Michigan State 72-Wisconsin 60