New York Rangers: 6 Reasons Why They Will Win Stanley Cup Within 3 Years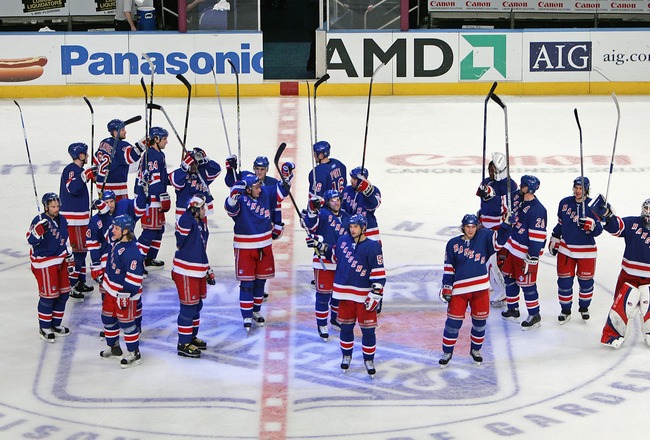 Bruce Bennett/Getty Images
Despite the fact that the NHL has a system where the majority of its teams make the playoffs each year, the reality is that there is no more grueling process in all of sports than the march to the NHL championship. Winning a Stanley Cup is the sports equivalent of winning a war, one where the enemy typically changes and improves every two weeks or so, regardless of how handily you may have defeated your previous opponent.
Projecting that a team will win a Stanley Cup, even a perennial powerhouse, is therefore not a straightforward proposition. There are so many obstacles and unforeseen potentialities, so many variables to consider, and, consequently, many observers ultimately rely less on the X's and O's of analysis and lean towards the intangibles, those difficult to define elements that come together to produce a champion.
For a team to be in consideration as a contender, however, certain variables must be present. While there is no universal formula for NHL success, an organization that possesses team speed, lock-down capable team defense, stellar goaltending and above-average special team play will typically produce good results come playoff time. Those are the four pillars of any successful modern-day NHL team, and so a team that does not possess those qualities will more than likely not succeed over time.
The New York Rangers organization, as long-time Rangers' fans would more than likely attest, does not have a consistent history of "fielding" teams with such qualities. There have been stretches, of course, where Ranger teams have had all of these qualities (the early to mid-1990's come to mind), and there have been times when individual Rangers' teams have had a majority of these qualities. Again, as an organization the Rangers have not typically achieved sustained periods where the team has the makeup to consistently compete for the championship.
It would appear that now, however, the Rangers are very well positioned to not just simply compete consistently but to actually win it all in the not too distant future. They possess organizationally each component of the so-called four pillars outlined above, plus another two elements we'll address in our break down. Together, that makes for six reasons why the New York Rangers will win the Stanley Cup within the next three years.
6. Team Speed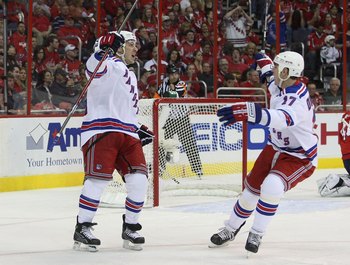 Brandon Dubinsky and Ryan Callahan Celebrate
Bruce Bennett/Getty Images
Across the entire organization, the Rangers are fast. Up-front they have speedsters Brandon Dubinsky, Ryan Callahan, Derek Stepan, Marion Gaborik and Erik Christensen to name a few, and perhaps a year away they will add what many consider to be the fastest player in the organization to the roster in LW Chris Kreider. Defensively they have four players who have demonstrated that they can skate with any forward in the league, namely Marc Staal, Dan Girardi, Michael Sauer and Ryan McDonagh.
In simple terms, speed is a game-changer, and the Rangers have focused on this specific skill-set heavily in recent drafts and transactions. Rangers coach John Tortorella emphasizes up-tempo, in your face hockey, and he is being provided with the horses to do so. As an example, J.T. Miller, the Ranger's first round pick (15th overall) in 2011, is known for his speed in addition to his play-making abilities.
5. Lock-Down Defense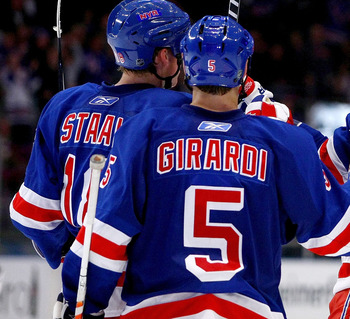 Rangers Top "D" Pairing; Staal and Girardi
Chris McGrath/Getty Images
The Rangers' current top four are exceptional now and will only get better. Marc Staal, Dan Girardi, Michael Sauer and Ryan McDonagh established themselves as a true force as the season went on, displaying toughness, poise and the ability to slow the game down when necessary. Overall, the Rangers yielded only 2.38 goals per game during the 2010-2011 season, ranking fifth overall in the league.
Consider how well this group of four played collectively last season and into the playoffs, and then consider that two of the four, McDonagh and Sauer, were in their rookie campaigns. Additionally, the Rangers could add two additional top 20 first-round picks in Tim Erixon and Dylan McIlrath over the next two seasons, and this group of six could be together for a long time as they are all no older than 27 and average just below 23 years of age collectively.
Over and above this group there is another tier of high-quality defensemen that could either compete with or supplant some of the names listed above. These include Michael Del Zotto, Tomas Kundratek, and hard hitters Mikhail Pashnin and Pavel Valentenko.
4. Stellar Goaltending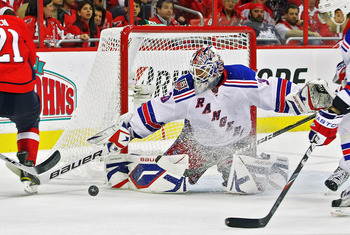 Lundvist Making Save vs. Washington in 2011 Playoffs
Len Redkoles/Getty Images
In Henrik Lundqvist the Rangers possess a true number-one goalie capable of shouldering the heavy workload of the regular season and playoffs, as well as a goalie capable of carrying a team for long stretches. At 29, Lundqvist is well within his prime years, and the organization can rest easy knowing that, barring a catastrophic injury of some sort, they are in very good shape between the pipes for years to come.
3. Above Average Special Teams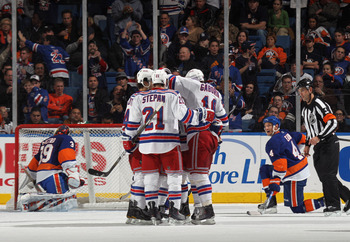 Rangers Tally Power Play Goal vs. Rival Islanders
Bruce Bennett/Getty Images
The 2010-2011 season saw the Rangers fall back in the pack on the penalty kill from the year before. They went down in both percentage of kills and in terms of their rank across the league. With that said, it should be pointed out that one of the teams' most potent PK weapons, Ryan Callahan, was out for much of the season. Despite this reality, the young Ranger team was still ranked 10th overall on the PK, and, with Callahan returning presumably to good health, the Rangers can expect to excel in this category during the 2011-2012 season and beyond.
The power play, however, has not been a reliable component of the Ranger attack for the past two seasons. To address this, the Rangers signed one of the most talented PP quarterbacks in the league in Brad Richards, and the hope is that his presence will bolster the effectiveness of Marion Gaborik and others on the PP.
Additionally, the Rangers will be adding the aforementioned Kreider to the unit in a year or so, and there is also potential sniper Christian Thomas challenging for a spot with the big club this year. Although the PP remains the biggest question mark heading into the 2011-2012 season, going forward the Rangers have justifiable reasons to believe that their PP unit will at least match the effectiveness of their above-average PK.
2. Leadership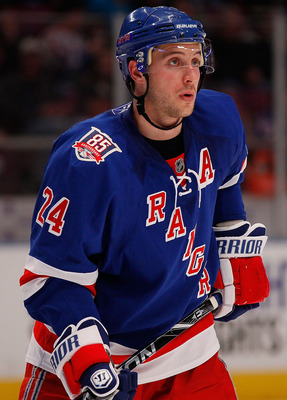 Ryan Callahan, potential Ranger's Captain
Mike Stobe/Getty Images
Whether the next Ranger Captain is Ryan Callahan or someone else, the Rangers will rely on this player's uncanny ability to rise to the occasion and produce in all facets of the game. This ability is the hallmark of any leader, and Callahan should be the on-ice leader of this franchise for years to come.
If Rangers brass goes in a different direction, though, choosing from a collection of capable candidates that includes Brandon Dubinsky, Marc Staal, Dan Girardi and newcomer Brad Richards, the team will be in great hands regardless.
This is a young but strangely mature group, and the Ranger organization has gone against type in recent years and chosen to build from within. The fact that this collection of players (with the exception of Richards) has developed and played together for so long will only enhance their individual leadership qualities over time.
It reminds one of the Islanders in the mid-1970's, with players like Bryan Trottier, Denis Potvin, Clark Gillies and others all performing the role of Captain despite the fact that only Potvin had the "C' on his sweater. Whether any of these young Rangers ever approaches the production of those legendary Islanders is another question, but the tone is the same, and that sense of family is almost palpable.
1. Organizational Depth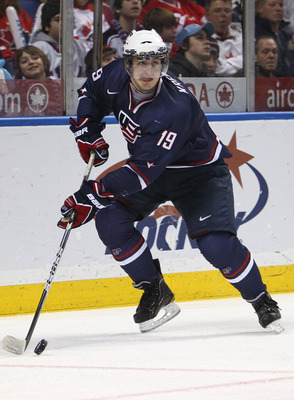 Chris Kreider, Eagerly Awaited at Madsion Square Garden
Tom Szczerbowski/Getty Images
Any prediction that has a three year time-line associated with it has to take the future into account. Saying that the Rangers will win the Cup within three years may be bold, but the prediction is based on not just the team the organization will present this year but also on the talent of the players that will make up the next few versions if it.
In addition to LW Kreider, RW Thomas and C J.T. Miller, the Rangers can feel good about several other offensive prospects. There is C/LW Ryan Bourque, son of Ray, who has performed well at the international level, and wingers Jesper Fasth and Carl Hagelin as well, both of whom are speedy and capable of scoring. Mats Zuccarello, who was up with the big club last year at times, is also an intriguing prospect in that he has scored at every level he's played.
Defensively, the Rangers have an abundance of talent throughout the organization. As discussed earlier, the top four will be challenged by a crop of young d-men that are top-four quality in their own right, and this abundance of talent on the blue-line will allow the organization to be as aggressive on the trade-front as they'd like to be. All in all, Rangers fans can look at the team roster now and know its trending in the right direction. And that direction, by the way, is towards New York City's Canyon of Heroes and a ticker-tape parade.
Keep Reading

New York Rangers: Like this team?