Roberto Luongo: A Look at 2011-12 and His Connection to LeBron James
September 21, 2011
Bruce Bennett/Getty Images
Three months ago we all became "witnesses" to the fact that Roberto Luongo and LeBron James are similar.
Like James, Luongo is a phenomenal talent. Both are athletically gifted and have had Olympic Gold draped around their necks. Like LBJ, Bobby Lu once toiled with a bottom-dwelling franchise for several years before ending up in a much bigger pond. 
LeBron used free agency as a ticket to Miami, and Roberto was stolen by Vancouver from Florida. James' new home was a place he planned to win "not one...not two...not three...not four...not five...not six...not seven..." rings. Luongo joined a team that would grow into Canada's best hope for a Cup. 
But like "the King" has a couple of times, "No. 1" stumbled on the championship stage.
"Luuuuu," as he's affectionately called whenever a puck comes near his general area, was Dr. Jekyll in Vancouver and Mr. Hyde in Boston. At the TD Garden, he stopped just 51 of the 66 shots he faced and was yanked twice in three games.
The fact is, when a title is on the line, great players are not only supposed to hold serve at home but also find a way to deliver on the road, even if they don't have their best stuff. If Luongo just turns in mediocre report cards in Beantown, there are no comparisons to James, there are no questions of his mental toughness and there are possibly no Vancouver riots...possibly.
So with regards to free agency, what will Luongo's butterfly-flop do to his value? It doesn't really matter given that his current 12-year, $64 million contract doesn't end until 2019-2020 (gulp). What it could do is shorten the leash a bit and possibly give Cory Schneider a few more starts moving forward.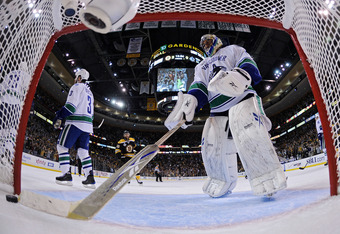 Elsa/Getty Images
In a recent piece written by Brad Ziemer of the Vancouver Sun, Lu maintains he has put last year behind him. And with the 2011-12 season just around the bend, the Canucks are preparing with largely the same unit that brought them to within one win of the Stanley Cup. Given the minimal changes, on paper the 'Nucks have a great chance of repeating their regular season success—and I think they will. They've accomplished all that a team can from October through May. What Vancouver fans (not the "fake rioting ones") really care about is that the team find success next June. Re-enter Roberto.
Talking about moving forward is one thing, but as we've seen with LeBron, fans only care to hear so much. It's what they see that matters. And no, this does not include one-hour televised specials with Jim Gray.
So will Luongo's actions speak louder than his words? The "decision" is his...
Follow Stephen Nelson on Twitter: @Stephen__Nelson
To contact, email: GoStephenNelson@gmail.com