Friends, Family and Hockey: Memories of a Canadian Winter
August 23, 2011
It's the end of August, just a few more weeks before NHL training camps open up and I have ice in my veins. I'm not talking about the kind of ice that keeps a man cool, calm and collected under pressure.
Nope.
This kind of ice elicits another kind of response. This kind of ice makes a man feel excited, jumpy and impatient. I am talking about the kind of ice that that makes a man feel like a kid again—the kind of ice that impels you to don your skates and go for a spin on the frozen pond down the street or on the backyard rink your father made with the garden hose.
I sit here as the heat of summer is starting to wane with my five-year-old daughter begging me to take her to the water park "one more time." Sure, I'll take her. I always do. Who could resist the innocent wishes of such a cutie? But when I go, I won't see water slides and fountains. I'll see a frozen pond with a gang of kids on it playing a game of shinny.
Yeah, I've got hockey on the brain. The season couldn't start soon enough for me.
I remember growing up in Bradford, a small town north of Toronto next to a large swampy area that a bunch of Dutch settlers drained and started farming. They called that place the Holland Marsh and when I was a kid, the miles of canals that surrounded it froze over and all the towns' folk used to skate on it. That's where I first learned to skate.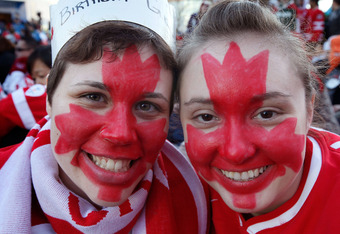 Nowadays they say it's too dangerous and will give you a bunch of legal mumbo jumbo explaining why no one skates there anymore. They may be right, but when I was a kid it was the most wonderful place around town on a cold winter's day.
My father and I lived with his parents and when I got a little older, my father would take the garden hose and flood the backyard at my grandfather's home. After it froze and was wiped with a warm mop, all of my cousins, uncles and aunts would play hockey until the sun went down. Other days, all the kids from the neighborhood would come by and we'd play for hours on end on that ice.
When the sun would finally retreat below the horizon, we would all gather in my grandparent's basement to watch the Toronto Maple Leafs. I remember heroes like Paul Henderson, Dave Keon, Borje Salming, Lanny McDonald and Eddie Shack. My dad just loved Eddie Shack and I wanted to be Paul Henderson.
There was always a crowd for the game. My grandfather would tend the bar he built in the downstairs den. He'd serve bottles of beer to my uncles and ginger ale to us kids. My grandparent's home and grounds were large enough to accommodate many people. I didn't realize it then, but that's why there was always something going on at their house, that's why whenever my gang of friends got together, we got together at my house.
My grandparents have since passed and that house atop the hill in Bradford has long been sold, but the memories made there will never fade. And so it is that another season of my family's favorite pastime is almost upon us. The withdrawals that occur in summer are giving way to the anticipation of another winter and the eternal hope that comes with it for a successful season for my favorite team in all of sports.
As I pack our bathing suits and towels, my daughter looks at me with a wondrous and joyful smile that comes from knowing that her favorite activity is only a few heartbeats away. She is so happy and it's contagious—because I am reminded that my favorite activity is only a few heartbeats away as well.