NHL Predictions 2011: Western Conference Standings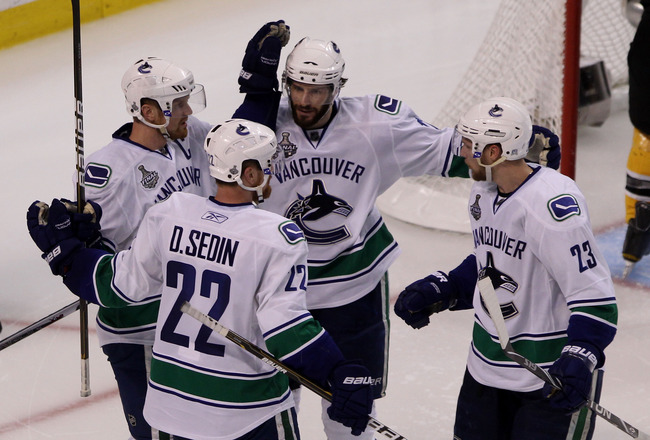 Bruce Bennett/Getty Images
With the bulk of free agency over and teams just putting the bits and pieces together, we can finally see a clear picture of who will be competitive in 2011-12 and who will not.
When we last left off, the Boston Bruins hoisted the Stanley Cup, upsetting the favored Vancouver Canucks, who are still looking for their first Cup.
The Western Conference was stacked head to toe last season, with the Blackhawks making the final eighth seed at 97 points. Only five teams in the Eastern Conference had more than 97 points in 2011.
However, the 2011-12 season should be even more competitive in the Western Conference. Free agency did wonders for some teams, and for others it simply brought them back to the field, in a sense.
There are arguably 13 of 15 teams with a shot at making the playoffs in 2012.
Here are my predictions for the final Western Conference standings at the end of the 2011-12 NHL season.
15. Edmonton Oilers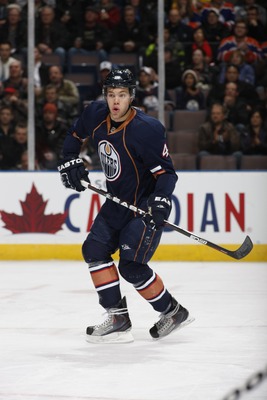 Dale MacMillan/Getty Images
It is an exciting time for the Edmonton Oilers. Their young core of talented players just got a little more talented with the No. 1 overall pick in the NHL draft. Ryan Nugent-Hopkins was selected by the Oilers, and he will fit right in with youngster Taylor Hall.
Edmonton has also had a decent free agency, as well. On July 1, they signed Ben Eager, Andy Sutton, Eric Belanger, Cam Barker, Darcy Hordichuk and Corey Potter, as well as acquiring Ryan Smyth from the Los Angeles Kings.
Although the Oilers have made intelligent moves to change things in Edmonton, it seems like it may take more than that to escape last place in the West in 2012.
14. Dallas Stars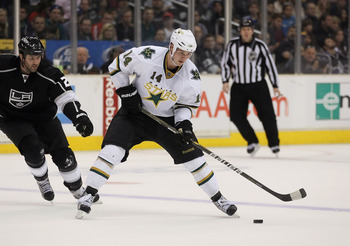 Jeff Gross/Getty Images
Everyone knows the Stars lost a key piece of their franchise in Brad Richards, but it was how they were to rebound from this in free agency that was going to tell how they would do in 2011-12.
They signed six free agents on Day 1, including Michael Ryder, Vernon Fiddler, Jake Dowell, Radek Dvorak, Sheldon Souray and Adam Pardy.
Although these are not franchise-changing names, it is a start and a decent rebound from the loss of Richards.
The Stars still have Morrow, Ribiero and Benn, so expect a competitive team out there next season. However, the loss of Richards will be a real hit, so Dallas will not be in the playoffs in 2012.
13. Colorado Avalanche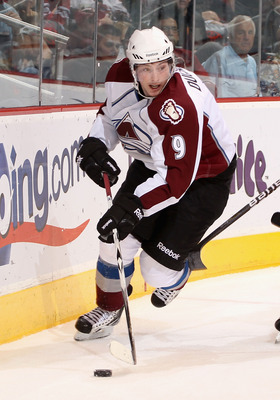 Christian Petersen/Getty Images
After finishing 14th in the Western Conference last season, things needed to change. And it needed to start with the goalie.
The Avalanche did that by acquiring two of them on the same day. Colorado nabbed Semyon Varlamov from Washington and Jean-Sebastien Giguere via free agency.
With a goaltender competition likely, expect better goaltending in 2011-12, but it will take more than that to help youngster Matt Duchene rebound the team from just 68 points last season.
12. Columbus Blue Jackets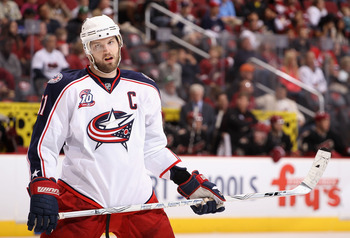 Christian Petersen/Getty Images
Columbus has finally helped out their star Rick Nash this free agency, and things are looking up for the Blue Jackets. Although a tad risky, the moves should pay off for Columbus.
The Blue Jackets acquired Jeff Carter from the free-dealing Flyers, as well as James Wisniewski. They also bought out the contract of Mike Commodore.
The Wisniewski deal is something to keep an eye on, though. It was for six years and $33 million, including a $5.5 million annual cap hit.
A definite hit-or-miss move for GM Scott Howson, and one that will either set the team back a few years or nudge them forward next season.
Expect an improved Blue Jackets team, but one that will have to wait their turn for the playoffs in 2012.
11. Calgary Flames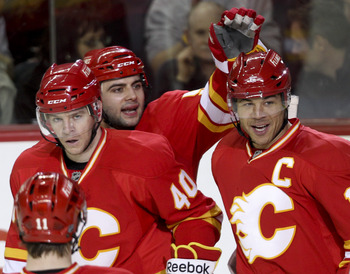 Mike Ridewood/Getty Images
The Flames seem to be right on the cusp every year, and in 2011 it was no different. The team tallied 94 points, missing the playoffs by just three.
This was a big offseason for the Flames, as they hoped to push their team back into the playoffs in 2012. However, they only made two moves early in free agency. They re-signed both Chris Butler and Anton Babchuk.
With not much activity from them, expect much of the same hockey from Calgary in 2012.
10. St. Louis Blues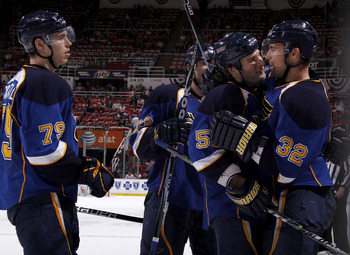 Gregory Shamus/Getty Images
It will be an interesting year for the Blues. Many have aspirations that this team is playoff-caliber in the Western Conference, while many also believe that this team simply did not do enough in the offseason.
The best they could do was fill the needs they had by signing T.J. Oshie, Jamie Langenbrunner, pesky Scott Nichol and Jason Arnott, to name a few.
Nothing significant changed this team from one that is just on the cusp of the playoffs, but hopes are high that this team can put something together.
However, a team that was just normal of the pack entering free agency did nothing to make them elite contenders in the West, and that is what a team needs to be to make the playoffs in 2012.
9. Phoenix Coyotes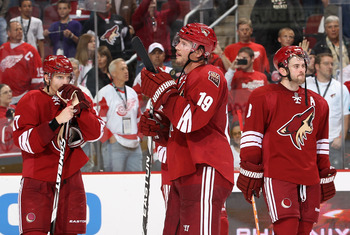 Christian Petersen/Getty Images
The Coyotes received a crushing blow by trading Ilya Bryzgalov to the Flyers. Moreover, they signed veteran goalie Mike Smith to replace him.
Although Smith can still do damage in net, he is nothing to lay the team's hopes and dreams on this next season. However, they are still a talented team on the ice, which is why they are sure to be on the brink of the playoffs next season.
Phoenix did land former Canuck Raffi Torres, but little else was done to ease the pain of this free agency, which is why they will be on the outside looking in in 2012.
8. Minnesota Wild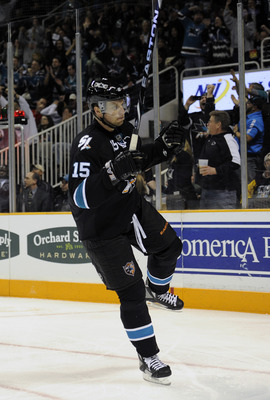 Thearon W. Henderson/Getty Images
The newly-found partnership with the San Jose Sharks has given the Wild much excitement for next season.
They took two of San Jose's disappointments, hoping to change them into elite competitors in Minnesota, which they have a great chance of doing.
The Wild gave up Martin Havlat and Brent Burns for Dany Heatley and Devin Setoguchi in two separate deals this offseason. The trades filled both of the team's needs.
The offensive gain, thanks to the Sharks, has the Wild thinking playoffs next season, and it looks like they may have the roster to do it.
7. Anaheim Ducks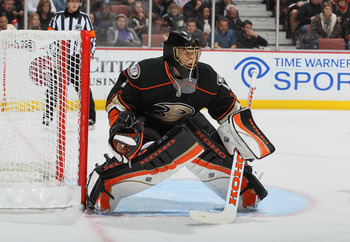 Jeff Gross/Getty Images
Not much has changed this offseason for the Anaheim Ducks, other than the fact that Corey Perry won the Hart Trophy as the NHL's MVP.
Where was this team during free agency?
Anaheim acquired winger Jean-Francois Jacques, while parting ways with defenseman Andreas Lilja this offseason, but it was not much cause to further this team in the standings next season.
6. Nashville Predators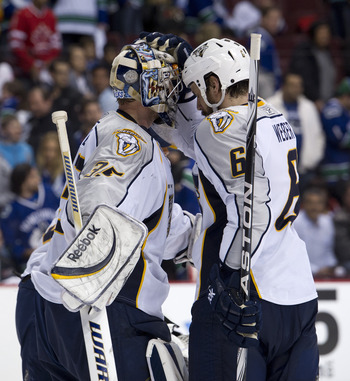 Rich Lam/Getty Images
Last year's regular season and run through the playoffs proved to the hockey world that Nashville has a terrific defense and a deserving goalie.
The Predators had the talented core to drive them past the first round last season, but just not enough to get past an elite team like the Canucks.
During free agency this offseason, the Predators picked up winger Niclas Bergfors and defenseman Kyle Wilson, but had to part ways with fan-favorite Steve Sullivan, Marcel Goc and Joel Ward, leaving a few holes on the secondary lines.
However, expect Nashville to be back in the playoffs, ready to make another run.
5. Chicago Blackhawks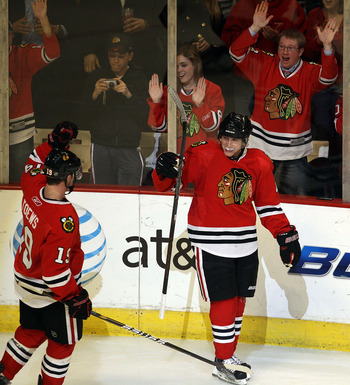 Jonathan Daniel/Getty Images
After a Stanley Cup victory in 2010, last season's eighth seed was hardly what Chicago had hoped for, especially since they were matched against the top-seeded Vancouver Canucks in the first round.
However, this roster is too talented to be stuck in the eighth seed for a second consecutive year.
In Chicago's free agency, they picked up Andrew Brunette from Minnesota, but had to part ways with Troy Brouwer on draft day.
If the goalie situation can get figured out, we should see a more improved team from 2011, mirroring the team from 2010.
4. Los Angeles Kings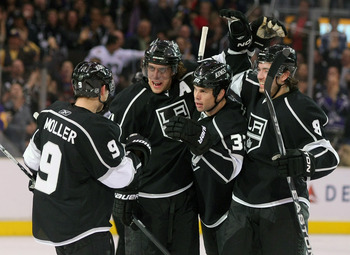 Victor Decolongon/Getty Images
A good 2010-11 season by the young Kings team was ultimately spoiled by a late-season plunge in morale. This was especially true after star Anze Kopitar went down to injury and was unable to play in the first round of the playoffs against the San Jose Sharks.
Make no mistake about it, though. This is a team with a real chance at the Stanley Cup Finals this season. Getting Kopitar back is one thing, but adding Mike Richards from Philadelphia and Simon Gagne from Tampa Bay should also give this team some veteran leadership to fit nicely with that young talent.
The Kings can easily finish anywhere from fourth to second in the standings next season, as long as they figure out that Drew Doughty situation.
3. Detroit Red Wings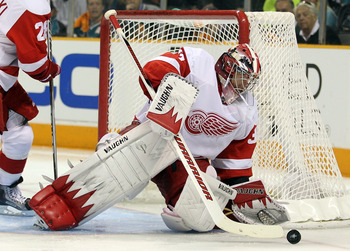 Ezra Shaw/Getty Images
At the end of last season, the story in Detroit was about how the Red Wings could possibly lose Game 7 in San Jose, as well as how in the world the team was going to contend next season with only four defensemen signed.
However, as much as we want to write off the Wings from next season's contention, I dare not do that.
The Wings signed defensemen Ian White and Mike Commodore in free agency, as well as re-signing Jonathan Ericsson. They also re-signed Patrick Eaves and Drew Miller.
Are you happy now, Hockeytown?
Expect Detroit to maintain the same competitiveness it usually does in the Western Conference next season.
2. San Jose Sharks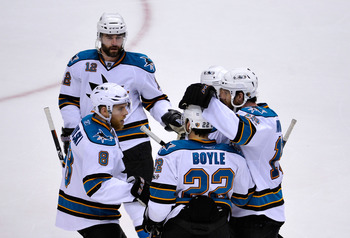 Rich Lam/Getty Images
The Sharks are always so close to being that team in the Western Conference to go all the way, and every year something tragic happens and they lose.
GM Doug Wilson would like to change that for good with his bold moves during the offseason. The partnership found with the Wild changed both teams heavily.
However, Wilson did not blow the team up, by any means. He re-tooled.
The partnership with Minnesota had the Sharks sending Devin Setoguchi and Dany Heatley to the Wild in exchange for Brent Burns and Martin Havlat in two separate deals.
Suddenly, San Jose's defense was shored up and the offense got faster, while burning off two severe disappointments in Setoguchi and Heatley.
Expect San Jose to play a different game in 2011-12, and be in the hunt yet again for a trip to the Stanley Cup Finals.
1. Vancouver Canucks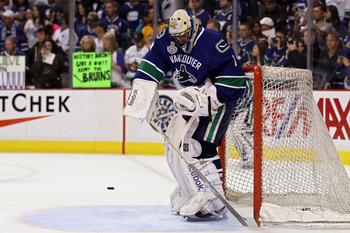 Elsa/Getty Images
The Vancouver Canucks' collapse at the hands of the Boston Bruins in the Stanley Cup finals will sting for quite awhile in Canada, but they had more problems entering free agency.
Three of their top defensemen were free agents, which included Sami Salo, Christian Ehrhoff and Kevin Bieksa. Although they managed to salvage Salo and Bieksa, Ehrhoff signed a long-term deal with Buffalo.
However, the core is still intact and with that, the Canucks can have another go-around at the Stanley Cup.
The offense is too good, defense did not lose too much as to write them off and Luongo is still one of the best in the game.
Vancouver should have no problem winning the Western Conference next season.
Keep Reading

Detroit Red Wings: Like this team?