Dallas Mavericks: 5 Ways Dirk Nowitzki and Co. Can Ensure Title Repeat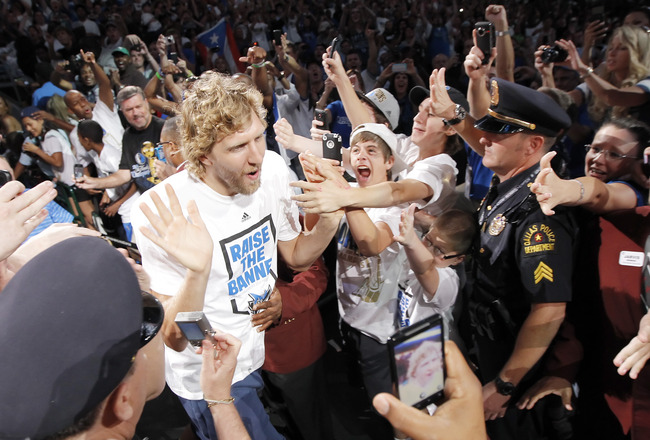 Brandon Wade/Getty Images
As a Dallas Mavericks fan, the only silver lining to this lockout we're all suffering through is being able to savor the Mavs' first title.
When (or if) the NBA comes back, Dallas will have a great shot at being able to repeat (even though the experts will once again count them out from day one).
Here are five things the team needs to do to ensure their chances at a 2012 title...
You can follow Andy Bailey on Twitter @_Andy_Bailey
5: Re-Sign Caron Butler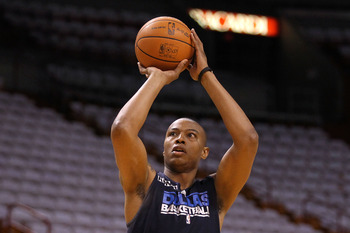 Chris Chambers/Getty Images
Not many people gave the Mavs a shot at winning the title this year and the loss of Caron Butler added fuel to the doubters' fire.
He was considered the only viable scoring option after Dirk and we were all told Dallas would fold after he was injured. Obviously, they didn't.
Now, it makes sense to wonder if the team needs to bring Butler back at all. After all, they did win the title without having him on the court.
He's not the only Dallas wing/forward whose contract just expired. The team also has to consider DeShawn Stevenson, Brian Cardinal and Peja Stojakovic. They can't bring all four (Butler included) back. In fact, under the new CBA (whatever it may look like), they may only be able to afford one.
Even though he's coming off a season-ending knee injury, Butler has more to offer than any of those other players. He's averaged nearly 17 points a game for his career and was hitting a career-high 43 percent from three-point range last season.
Butler would be a great player to bring off the bench behind Rudy Fernandez, Shawn Marion and possibly even Dirk (in spots).
4: Work Rodrigue Beaubois into the Rotation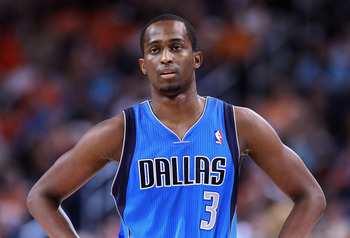 Christian Petersen/Getty Images
Another player that Dallas may not be able to afford to bring back is J.J. Barea. Despite his lack of size (there's no way he's as tall as his six-foot listing suggests), he can play both point and shooting guard and provided scoring and energy off the bench all year.
Midway through the NBA Finals, he was inserted into the starting lineup and was a big part of Dallas's victory over the Miami Heat.
Assuming he can stay healthy, Rodrigue Beaubois can instantly step into Barea's role and be every bit as productive and probably even more so.
In 84 career games, Beaubois has averaged 19.1 points and 4.2 assists per 36 minutes. Like Barea, he can play both guard positions, but he can do so more effectively. He's listed at 6'2", but his insane 6'10" wingspan and 39" vertical jump make up for his lack of size against bigger opponents. He also possesses great speed and lateral quickness.
If the Mavs aren't able to re-sign Barea and DeShawn Stevenson, Beaubois will be a huge part of the team's plans next year.
3: Start Rudy Fernandez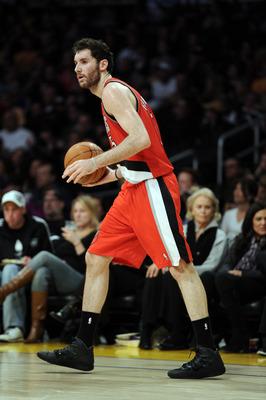 Harry How/Getty Images
Rudy Fernandez has been a starting-caliber wing his entire career, but he's been stuck behind Brandon Roy, Nicolas Batum and Wesley Matthews in Portland.
Dallas may have made the steal of the 2011 NBA draft when they acquired him that night. He seems to be a perfect fit for Dallas. They've been undersized at shooting guard for a long time and the 6'6" Fernandez can rectify that.
He can score inside and out and plays hard on both ends of the floor.
2: Re-Sign Tyson Chandler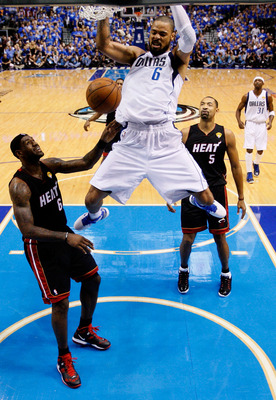 Pool/Getty Images
Tyson Chandler's contributions to and influence on the Dallas Mavericks have been covered extensively for months. I've gone as far as saying that he was a bigger upgrade for the Mavs at center than LeBron James was for the Heat at small forward.
You can't truly understand the impact he had on the Mavs unless you watched a lot of their games. Take my word, the impact was enormous.
He brought an energy, intensity and enthusiasm that I've never seen in the Mavericks. They cannot afford to lose that. Dallas has to re-sign him for more than just the 10 points and 10 rebounds a game he can provide.
1: Stay Hungry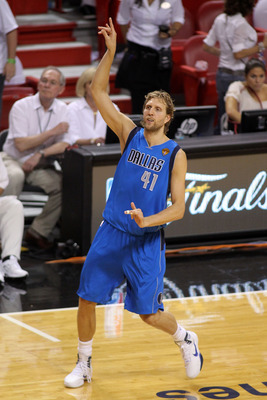 Marc Serota/Getty Images
One of the biggest reasons Dallas won the title was the fact that they simply wanted it more than anyone else. I know that's terribly cliche, but it's true.
Most of the so-called experts will be counting them out again next year so they'll still have plenty to prove.
I don't anticipate the team losing their hunger, especially if the previous four items on this list go down as I've detailed them.
Keep Reading

Dallas Mavericks: Like this team?