NHL: Penguins, Canucks Remain Cup Favorites in Wake of Free Agent Insanity
July 7, 2011
Jamie Sabau/Getty Images
Has there ever been a more crazy, senseless, unpredictable start to NHL free agency than the seven-day storm of stupid we've seen take place this summer?
There were few high-level free agents available this summer, yet teams had cash burning holes in their pockets. The salary floor was as big a player in this free agency pool as the cap.
Owner Terry Pegula and the Buffalo Sabres signed second-pairing defenseman Christian Ehrhoff and third-line winger Ville Leino to deals worth upwards of $40 and $20 million, respectively, and each to a term longer than those received by Pittsburgh's Sidney Crosby and Evgeni Malkin after each had won an Art Ross Trophy.
The Florida Panthers went from the bottom of the NHL barrel to having signed two forward lines, a defensive pairing and a goaltender in Jose Theodore through free agency and through trades, and had enough money to throw more than four million per year at an aging Ed Jovanovski and over three million per at third-liner Tomas Kopecky.
The Philadelphia Flyers destroyed a team that reached the Cup Finals two seasons ago and brought a host of new faces into the fold, not the least of which were the mercenary Jaromir Jagr and former Penguin Max Talbot, whose contract, remarkably, was the only one to violate the terms of the CBA.
In the immortal words of Vince Lombardi...
Well, you know.
Three years from now, we can point back to this overvalued free agent pool as the reason why certain teams will be locked into titanic contract messes and why, perhaps, the 2012 CBA talks could result in another NHL lockout.
Wade deep enough through the pool of crazy, though, and you're bound to find at least a few teams that bettered their chances at a championship this off-season.
A quick search of the interwebs reveals the latest Vegas odds to win the 2012 Stanley Cup. Vegas has yet to update their odds to include free agent moves and the trades which preceded them, so let's help them get a jump on the post-free agency odds with this article.
Via Statfox.com (June 23), the pre-free agency favorites to win the Stanley Cup list as follows.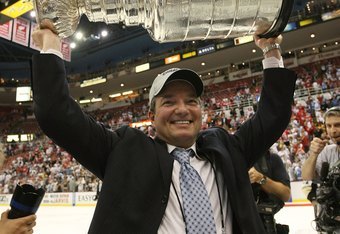 Bruce Bennett/Getty Images
Those are the top 10 teams as listed at Statfox—no other team lists at better than 30-to-1 odds.
Let's see how free agency has changed the landscape at the top.
The Favorites
Hemingway's iceberg theory asserts that what is said is less important than what is left unsaid.
In that spirit, the money that wasn't spent this summer may be more beneficial than the money that was.
Starting with the top two, the Vancouver Canucks and Pittsburgh Penguins have been relatively quiet in this free agency period, and each may be better off for it.
Their biggest moves may have been to re-sign their own players.
The Canucks locked up defenseman Kevin Bieksa, who enjoyed an outstanding postseason, to a five-year deal worth $23 million. Andrew Alberts, Chris Higgins, Maxim Lapierre and Sami Salo also re-signed with the Canucks, who came within a game of winning the Stanley Cup last season.
Pittsburgh re-upped checking forwards Craig Adams and Pascal Dupuis prior to the deadline, then re-signed Tyler Kennedy once the bid for Jagr fell through. Each player was signed to a two-year contract, though it might be more concise to say that each was signed to a deal that will come off the books when Sidney Crosby and Jordan Staal are due to be re-signed.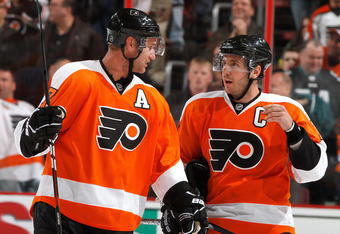 Paul Bereswill/Getty Images
These teams enjoyed great success last year (it's no stretch to imagine a healthier Pittsburgh squad in last year's finals). By staying largely out of this year's bidding, each team locked up familiar pieces and avoided overpaying for complimentary players.
Detroit Quietly Improves, Washington Makes Some Noise

The Detroit Red Wings have navigated this free agent class much like Pittsburgh and Vancouver by remaining quiet and locking up their own. Detroit had no large pieces eligible for FA status other than Nicklas Lidstrom, who signed another one-year deal with the team earlier this summer.
Mike Commodore, Ian White and Garnet Exelby were brought in to help fill the defensive void left by Brian Rafalski.
Drew Miller, Patrick Eaves and Jonathan Ericsson also re-signed with the Wings.
Washington made a little more noise, bringing in Troy Brouwer via trade and signing him to a two-year deal. They also re-signed Brooks Laich to a six-year deal, acquired Joel Ward for four years, stole a first- and second-round pick from Colorado for backup goaltender Semyon Varlamov and signed Tomas Vokoun to an unexpected one-year, $1.5 million deal.
Jeff Halpern, Roman Hamrlik and Mike Knuble also signed on with the Capitals.
Detroit is always in contention for the Cup, but have been eliminated in the second round by the San Jose Sharks in consecutive seasons. After two sour playoff exits in the last two seasons, Washington seems to have addressed their trademark softness and acquired grit and experience along their lower lines.
Brouwer's deal put the Capitals over the cap limit, and salary will have to be moved to accommodate the deal.
Paul Holmgren Out of His Mind
What on Earth is Philadelphia doing?
In are Ilya Bryzgalov, Jaromir Jagr, Jakub Voracek, Brayden Schenn, Wayne Simmonds, Max Talbot, Andreas Lilja and a host of draft picks.
Gone are Captain Mike Richards, Jeff Carter, Sean O'Donnell, Darroll Powe, Ville Leino and Dan Carcillo.
Among skaters, the Flyers traded away 90 regular season goals from the 2010-11 squad to acquire players that combined for 36 goals last year.
If some of those new players remain consistent in their production, Brayden Schenn and Jaromir Jagr will have to account for 54 total goals to replace the goal scoring numbers inflated mostly by Richards, Carter and Leino.
No matter how big an improvement Bryzgalov is over Boucher, Michael Leighton and Sergei Bobrovsky, a net loss of 54 goals would be a hard sell for any NHL general manager.
The moves the Flyers made were unprecedented for a team coming off such relatively successful seasons.
The Rest
Among the rest of the top 10, the Kings seem to have best improved their chances at reaching the finals, though the Drew Doughty situation still looms large over their chances of winning it all. Imagine Los Angeles reaching this year's playoffs with a new line of Mike Richards, Anze Kopitar (injured) and Simon Gagne.
Unfair.
Boston has been perhaps the quietest team this offseason, and with good reason (it worked last year). Tampa Bay has remained fairly level in the players they've lost and gained, but as with Los Angeles, a star player hung in an RFA battle will have a lot to say about their chances.
San Jose has moved Devin Setoguchi and Dany Heatley to Minnesota in exchange for Martin Havlat and Brent Burns, a pair of one-for-one deals that seemed to address needs on both teams. Whether these deals finally put San Jose over the hump is anyone's guess.
Chicago has been quiet and has a few RFA hangnails of its own.
Outside the top 10, perhaps only Buffalo can jump into the conversation. Christian Ehrhoff, Robyn Regehr and Ville Leino are upgrades, but at a combined $12.02 million per season, may have had their values inflated by the soft market.
I won't try to guess at a Cup finals match-up *cough, Pens-Kings, cough,* but the relatively weak free agent class has left the most patient teams positioned to sign or re-sign genuinely excellent free agents in the coming years.
Disagree with the arguments made above? So does James. Set him straight at SlewFooters.com, or yell at him publicly @slewfooters.