NHL Free Agents 2011: 7 Teams Hurt the Most by Free Agency Market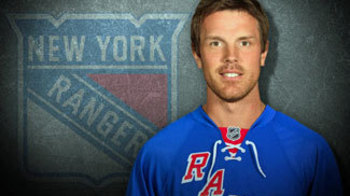 Credit: NHL.COM
The free agency period has been very active these past few days as many players have swapped sweaters and joined new franchises.
Free agency is a bittersweet period for players and teams alike. For every team that gains a new star, a team loses one in the process.
Lets take a look at some of the teams most hurt by free agency.
1. Dallas Stars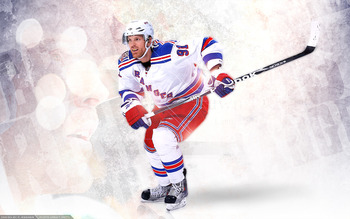 Credit: Phil Kocher
2. Toronto Maple Leafs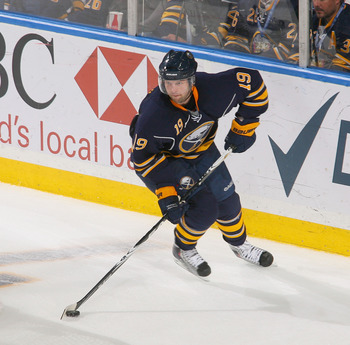 Rick Stewart/Getty Images
The Toronto Maple Leafs were hurt in free agency because of the UFA class. Brian Burke had to bide his time and wait to hear where Brad Richards would land before the Maple Leafs could make any moves.
The backup plan was signing injury prone Buffalo Sabre Tim Connolly to a 2 year $9.5 million dollar contract.
This free agent market limited the ability of the Maple Leafs to improve their team.
In a larger free agent market with more options, the Leafs would have had a legitimate shot of improving their team to the point where they could make the playoffs.
3. Florida Panthers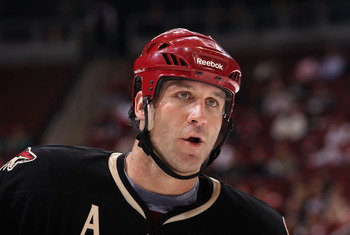 Christian Petersen/Getty Images
Dave Tallon was a very busy man in the infant stages of the free agency period. He was spending money left and right on a plethora of free agents.
The new salary cap floor of $48.3 million really hurt the Panthers as they were forced to dish out albatross contacts to aging veterans.
There is no way Ed Jovanovski should have received the contract he did.
In the same way Tomas Kopecky received a generous deal given his numbers did not dictate a contract of that size.
Tomas Fleischmann also received a sizable offer even though he is coming of an injury shortened season
The Panthers are going to have a lot of cap to shed if the salary cap does indeed role back in future years.
In many ways the Panthers hurt the rest of the league by setting contract standards too high and too early in the free agency period.
4. Buffalo Sabres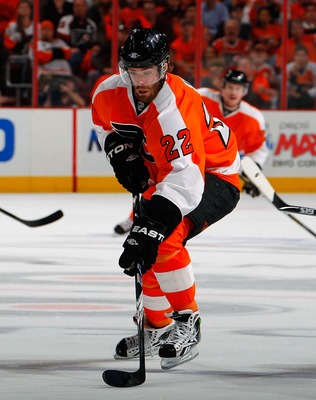 e.g. 'Chicago Blackhawks', 'Chicago Cubs'
Paul Bereswill/Getty Images
The Buffalo Sabres shredded the salary of Tim Connolly from their books via unrestricted free agency but instead of attempting to fill other holes, they signed Ville Leino at a $4.5 million cap hit.
This is another example of overspending for players in a high price free agency market.
Leino's highest points total was 53 last season for the Philadelphia Flyers. This should have gotten him a $ 3 million dollar cap hit at most but at almost $ 5 million per year, Leino will have a lot to live up too.
5. Philadelphia Flyers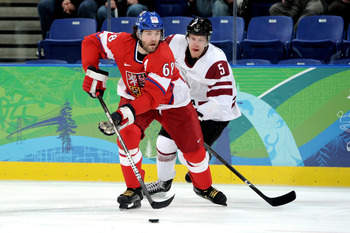 brad richards
Harry How/Getty Images
Lets take a look at who the Flyers have lost from their roster this offseason so far and what they have gained in free agency and related trades.
Lost
Mike Richards- Trade
Jeff Carter - Trade
Ville Leino- Signed by Buffalo
Brian Boucher- Signed by Carolina
Gained
Jaromir Jagr
Max Talbot
Ilya Bryzgalov
Brandon Schenn
Wayne Simmonds
Jakub Voracek
The Flyers were a team that were legitimate playoff contenders this past season. In the process they signed Jeff Carter and Mike Richards and acquired Jakub Voracek, Brandon Schenn, Wayne Simmonds.
In free agency they signed Jaromir Jagr, Max Talbot, and Ilya Bryzgalov.
The Flyers could have kept Carter and parted ways with the other players and signed a top goaltender. If you told me three weeks ago that the Flyers would trade Jeff Carter and Mike Richards and they would replace them with Jaromir Jagr and Max Talbot, I would tell you to put down the pipe.
6. Tampa Bay Lightning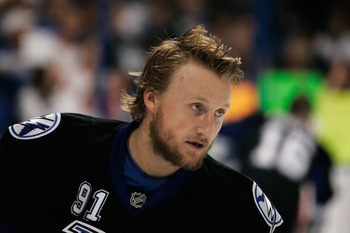 Justin K. Aller/Getty Images
So far the Lightning have lost Sean Bergenheim, a catalyst during their playoff run and Simon Gagne to free agency.
It also appears that thus far the Lightning have may be unable to lock down Steven Stamkos to a new contract. He is only 21 years old and is a very attractive player for other teams. The two sides have not been able to iron out a contract for weeks now.
The question on everyone's mind is could Stamkos be traded. Teams like the Toronto Maple Leafs and New York Rangers have the prospects, NHL ready players, and cap space to potentially deal for Stamkos.
If Stamkos were to be traded, the Lightning would be very hurt by this free agent market.
7. Colorado Avalanche
Claus Andersen/Getty Images
The Colorado Avalanche so far have lost Tomas Fleischmann to free agency, John Michael Liles via trade, and their 1st-round pick in 2012 and a conditional 2nd-round pick in 2012 in a trade for Seymon Varlamov
Yes they have added Jan Hejda , JS Giguere and some other prospects and role players but a team like the Avalanche is most likely going to finish in the lower half of the Western Conference so parting with thos draft picks hurt them.
Also the signing of Hejda is a replacement for Lilies just like the signing of Giguere is a slight upgrade. It seems like the Avalanche have made moves for the sake of making them.
I admit I am no expert so check out my buddy Kevin Goff's analysis for a more accurate and in depth view.
Comments, Questions, Concerns?
Tom Urtz is a Featured Columnist and is a member of the Bleacher Report's Official 2011 NHL Draft Coverage Team. For more NHL draft news, updates and alerts about prospects:
Following @SH_TomUrtzNYR
Also check out Tom at SportsHaze.com.
For more Blueshirt Brotherhood discussion, click here and join Tom and other die-hard fans.
Keep Reading

New York Rangers: Like this team?