2011 NHL Free Agency: Analysis of the Colorado Avalanche's Moves
July 2, 2011
Rob Carr/Getty Images
Unlike the 2010 first day of free agency, the Colorado Avalanche proved to be very active on July 1, 2011, making several moves and signings that will have a definite effect on the outlook of the team this coming season.
Before we talk about what happened today, let's give a brief review of what the Avalanche did leading up to free agency.
Leading up to the 2011 NHL Entry Draft, the Avalanche traded long time Avalanche defender, and fan favorite, John-Michael Liles to the Toronto Maple Leafs for a second-round pick in the 2012 NHL Draft.
This news definitely hit Avalanche nation hard with mixed reactions. Personally I really like having Liles on the blue line of the Avalanche, but with the high hopes for young offensive minded Stefan Elliott and Tyson Barrie, the Avalanche clearly were looking to turn the page and give the future of the Avalanche a chance sooner rather than later.
While I, personally, was not a fan of this particular trade, I understand the thinking behind it and have made my peace.
The other portion of that trade was that Liles had a pretty big cap hit, just north of $4.2 million, with him and the Avalanche needed to do a decent amount of spending in order to get to the cap floor, which stands at $46 million.
Draft day, of course, brought on the drafting of Gabriel Landeskog and Duncan Siemens, two moves that seem to have the majority of the Avalanche fan base happy.
So the big questions with the Avalanche coming into free agency were what on earth were they going to do about the goalie situation, and were they going to try and grab anybody else for depth at the wing position, which was a big need.
We didn't have to wait too long for our answers.
In an unexpected move, the Colorado Avalanche ended up passing on top free agent goalie Tomas Vokoun, in favor of a trade for restricted free agent Semyon Varlamov.
Varlamov was acquired for a first round draft pick in the 2012 Draft, and a second round pick in either the 2012 or 2013 Draft. This move shocked everybody, including the GM of the Washington Capitals.
All signs seemed to point to the Avalanche grabbing Vokoun and then this bombshell came out. What does it mean?
To me, it means that Vokoun wanted either too much money or too many years on his contract that was enough to make the Avalanche, a team who had to spend their brains out just to hit the floor of the cap, to pass.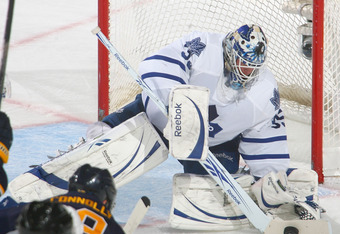 Rick Stewart/Getty Images
The Avalanche later added former Stanley Cup Champion, and Conn Smythe winner, J.S. Giguere to the team with another two-year contract.
In the end, the Avalanche may end up okay with all of this as Varlamov (23 years old), gets to be mentored by a goalie who knows what it is like to be on top, J.S. Giguere (34 years old) and who can be counted on to come in at any time, unlike Peter Budaj.
After much reflection, I will give the Avalanche a grade of a B- for their moves with goalies, only because they paid way too much in order to get Varlamov.
In addition to their needs in the crease, the Avalanche also brought on defenseman Jan Hejda with a four-year contract, and winger Chuck Kobasew.
Hejda continues the trend of the Avalanche trying to get bigger and stronger on the blue line, as he is 6'3" and 229 pounds.
Hejda was a strong part of Columbus' defense for the past few years, and will help out an Avalanche defense that was the worst in the NHL last year.
Perhaps the best part about Hejda is that, despite being as big and strong as he is, he doesn't take stupid penalties.  Last year, Hejda only had 28 penalty minutes and has only once had a season where he logged more than 40.
Kobasew comes over from divisional rival Minnesota and will add some more size and grit to the checking lines.
This trend of the Avalanche getting bigger seems to signal that players like Matt Hunwick and Kyle Cumiskey may no longer have a place on the team and could be used as trade bait for prospects, draft picks, or missing pieces as the team comes closer to the new season.
What does this say about the Avalanche for next season?
It says that they are very confident about many of the players that they have coming in, and feel that their top six forwards are what they want them to be.
It says they want to get bigger on defense and concentrate more on winning the battles in the important areas of the ice, rather than relying on small defenders who can skate fast but lose all the physical battles.
In goal, I think the Avalanche could potentially have a long-term solution as Varlamov has shown flashes of brilliance in net. He is also young and wants to be too active at times, but that is where the Avalanche hope that the addition of savvy veteran J.S. Giguere will rub off on the youngster.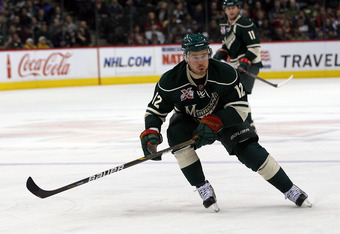 Bruce Bennett/Getty Images
Kobasew's signing could make players like Brandon Yip expendable as well, mostly because Kobasew knows where the line is on plays.
What I mean is that Yip found himself out of position a lot last season and ended up taking bad penalties as a result (54 PIM). Kobasew had only 19 penalty minutes last year. Meaning he might not win you a game, but he isn't going to cost his team with stupid penalties, either.
All in all, for day one of free agency, I'll give the Avalanche a B, bordering on a B+.
The Varlamov trade will be the ultimate deciding factor on how things went for free agency because if it pans out well, then the Avalanche lose a mid-first round pick.
If he tanks and plays terribly, the Washington may get a lottery pick and the Avalanche will be left wondering what happened.
Another thing to consider, with the massive difference in performance between Year 1 and 2 of the Sacco/Sherman era, if the Avalanche perform just as poorly this year, the organization may be looking for another coach and GM.
At the end of the day, I do think the Avalanche are a better team today than they were at the end of last season, and that is the important thing.