Los Angeles Kings: Can Dean Lombardi Convince Free Agents to Play for Kings?
June 29, 2011
Harry How/Getty Images
The Los Angeles Kings don't have a stellar track record in free agency under general manager Dean Lombardi.  In actual fact, the track record is downright awful.  Lombardi managed to have players like Chris Drury, Marian Gaborik and most recently, Ilya Kovalchuk walk right out from under him. 
After acquiring Mike Richards, the Kings, for the first time in a long time, won't be in search of that star power-player.  Lombardi did a great job of acquiring him via a trade with the Philadelphia Flyers.
The trade saw fan-favorite Wayne Simmonds and budding prospect Brayden Schenn head to Philadelphia in exchange for the former heart and soul of the Flyers squad, Mike Richards.  At the end of the day, both teams feel as though they came on top.  That's the sign of a good hockey trade. 
With that being said, there is going to be a number of holes that the Los Angeles Kings would like to fill this offseason.
Fans, bloggers and writers alike have all noticed that there is an opening on the second line playing on the wing with Mike Richards.  Names have come up from within the organization like Scott Parse or Kyle Clifford, but they are risky moves when you consider that this team wants to compete for the Stanley Cup this season.  The Kings need a more experienced and offensively gifted player. 
Brooks Laich's name constantly popped up on the rumor mill for just about every team around the league.  If he had made it to July 1st, one would have assumed that the Kings would have made a serious run at him.
Other players that are still available include Ville Leino and Simon Gagne.  Each player brings something different to the table, yet both players are familiar with Mike Richards from their time in Philadelphia.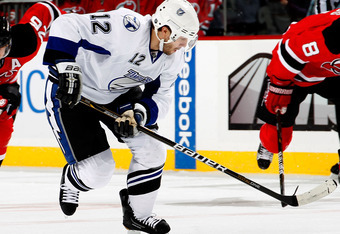 Paul Bereswill/Getty Images
There aren't many players that are as offensively gifted as Simon Gagne.  He has the skill level of an elite player in this league, but due to injuries, he has never been able to wrap it all together.  Still, he can be an incredibly effective player who typically performs well in the postseason.  The ability to play under pressure has never been an issue for Gagne, as he thrived in Philadelphia which is a true hot bed of hockey.
The big concerns with Gagne are health and the salary he may demand.  Any fan of the Los Angeles Kings knows that Dean Lombardi is not one to overpay free agents.  Ilya Kovalchuk can attest to that. 
If the Kings are in search of more grit and size, Ville Leino could be their man.  After floating around in the Detroit Red Wings organization for a number of years, Leino was traded to the Philadelphia Flyers, and he quickly became an integral part of their team.
His play during Philadelphia's run to the Stanley Cup Finals in the spring of 2010 was truly remarkable to watch, considering the small price the Flyers had to pay to acquire him.  Leino is still young and will be looking to cash in, but he could be worth the money in the right situation.
At the end of the day, Dean Lombardi could have his mind made up on one of these players or another top-tier free agent.  There is a rather shallow crop, but said players may opt out of playing in Los Angeles.  It has happened before and it will surely happen again.
Lombardi needs to be able to close a deal with a solid free agent.  This summer is vital for the development and performance of the Los Angeles Kings.  There is no doubt that he will give everything he has to bring the Kings their first Stanley Cup in franchise history.
Thanks for reading.