NHL Trade Rumors: 10 Packages That Could Land Brad Richards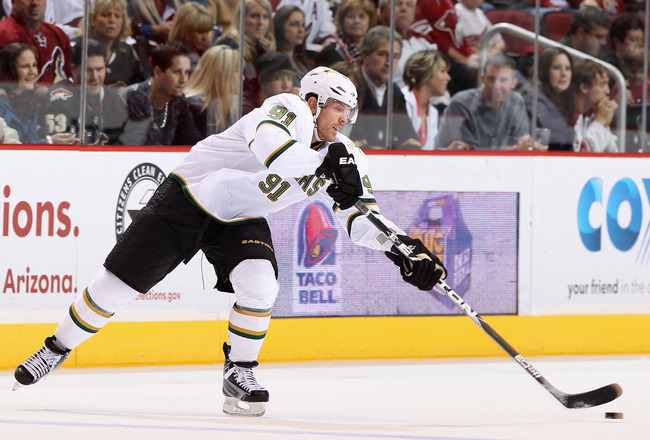 Christian Petersen/Getty Images
The Dallas Stars are 30-15-5, sit atop the Pacific Division and their first-place record in the conference has the franchise primed for a deep run into the postseason.
However, their top-flight center Brad Richards is likely to be dealt before the NHL's Feb. 28 trade deadline.
It goes without saying that the days leading up to the deadline include some of the most intriguing moments in the league's calendar year.
This time of year has media outlets over-analyzing potential roster moves and hockey fans bombarding the Internet with unsubstantiated rumors of key players being dealt.
Brad Richards has been one of the most common names mentioned in the trade rumor mill of late and the possibility that Dallas Stars GM Joe Nieuwendyk could move the player some time this season is very real.
He becomes an unrestricted free agent at the end of the 2010-11 season, so Dallas is looking to move the player if they are unable to sign him long-term.
Many teams in the playoff hunt could benefit from having a seasoned veteran center with leadership ability and a knack for scoring. Richards would make a great rental player for a playoff-caliber contender that has some prospects to spare for use as trade chips.
He is a top ten offensive player in the NHL and could easily notch a seven-year contract for $7 million a season. That kind of deal could scare away a number of small-market teams.
The New York Rangers and Toronto Maple Leafs have expressed interest, but could not put together the right package to impress Dallas. The Montreal Canadiens and Tampa Bay Lightning are also potential suitors, but at what cost ?
Time will tell how much it will take for the Stars to finally pull the trigger on a deal to move the crafty athlete.
Here is a look at 10 packages that could seal the deal on a trade for Richards.
To the New York Rangers For Marc Staal and Ryan Callahan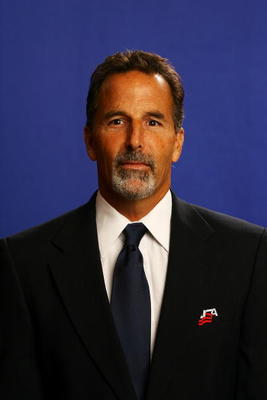 Jamie Squire/Getty Images
Brad Richards won a Stanley Cup in the 2003-04 season with the Tampa Bay Lightning.
The Lightning were coached that year by John Tortorella and the duo were a perfect match.
Richards, who had 26 points, won the Conn Smythe Trophy as the MVP of the Stanley Cup playoff series and Tortorella was NHL's Coach of the Year.
Richards has expressed interest in once again being coached by Tortorella due to their previous success.
The New York Rangers have a need for a strong center and with plenty of cap space to spare, Richards would be a perfect fit.
To the Toronto Maple Leafs for Tomas Kaberle and a Prospect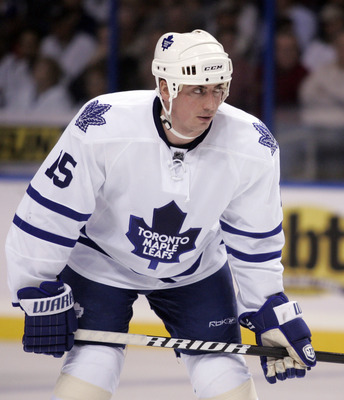 Justin K. Aller/Getty Images
Perhaps the most common trade rumor has Brad Richards finding a new home with the Toronto Maple Leafs.
The Dallas Stars want Tomas Kaberle and a prospect, but only if Kaberle is willing to sign a long-term extension.
Dallas is willing to make a deal, but will not trade Richards to the Leafs if Kaberle will just be a rental for this season.
To the Philadelphia Flyers for Jeff Carter and a First-Round Pick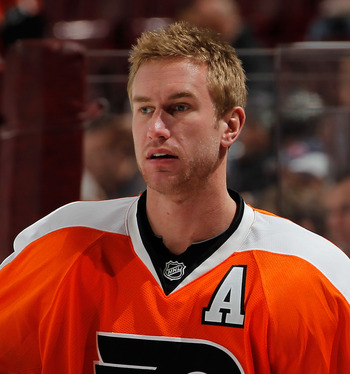 Paul Bereswill/Getty Images
The Philadelphia Flyers have apparently offered Jeff Carter and a first-round draft pick in exchange for Brad Richards.
The Flyers have plenty of defense, but could use improvement on the offensive side. The addition of Richards would be the boost they need to push them over the edge to make a deep run in the playoffs.
Dallas is waiting closer to the trade deadline to see if better offers will come in.
To the Boston Bruins for Draft Picks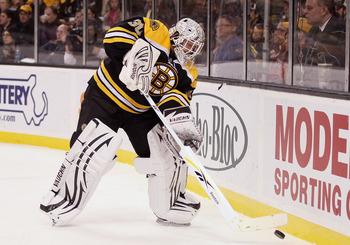 Elsa/Getty Images
At 28-15-7, Boston is in first place in the Northeast Conference.
They could certainly use an offensive threat like Richards to solidify their place atop the division and Richards is a proven 20-plus goal scorer with veteran poise and unselfish play.
He will be looking for a big contract that should net him approximately $7 million per season.
Boston is a big market team that could afford to pony up the big bucks.
To The New York Islanders for Michael Grabner and Nathan Lawson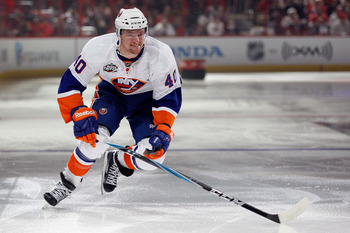 Kevin C. Cox/Getty Images
At first glance, the New York Islanders appear to be a team that is rebuilding and looking for younger players at a discounted rate.
However, they have played much better since the dismissal of head coach Scott Gordon earlier this season. With Marc Streit returning to action in April, the Islanders will have plenty of momentum going into the offseason.
New head coach Jack Capuano will be back next season, so the addition of a proven winner like Brad Richards would surely boost the Islanders' long-suffering fanbase.
The addition of Islanders netminder Kevin Poulin has made Nathan Lawson expendable.
To the Montreal Canadiens for Tomas Plekanec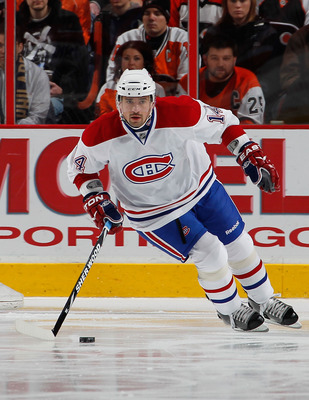 Paul Bereswill/Getty Images
In 49 games played this season, Plekanec has 16 goals and 24 assists and would be a nice offensive addition to the Dallas Stars if they were to lose Richards.
Plekanec is three years younger than Richards and in the prime of his career.
To The New York Rangers for Brandon Dubinsky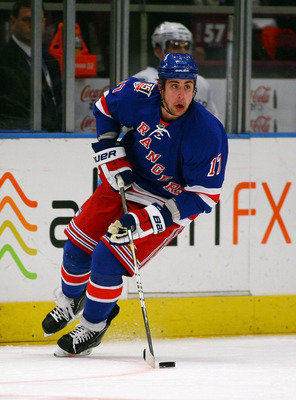 Andy Marlin/Getty Images
The New York Rangers continue to be the most likely destination for Richards to land in.
Besides his previous ties to coach Tortorella, he fits the up-tempo style of the Rangers offense. However, the Rangers are uncertain about parting ways with Brandon Dubinsky.
Dubinsky is the Rangers' top scorer, but may miss 3-4 weeks with a stress fracture in his left leg.
At 29-20-3, New York could certainly use a powerful veteran center to solidify their team coming down the stretch.
To The Toronto Maple Leafs for John Mitchell and Francois Beauchemin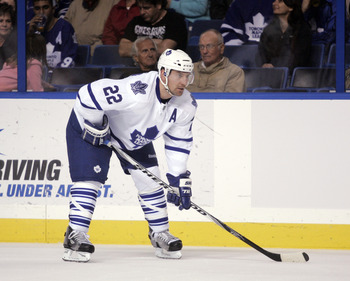 Justin K. Aller/Getty Images
Since early November, trade rumors have swirled around Richards heading to the Toronto Maple Leafs.
Defenseman Francois Beauchemin would be a nice fit with the Dallas Stars, who are in dire need of a solid stopper in front of the net.
26-year-old John Mitchell only has two goals through 23 games this season, but has a huge up-side that would benefit the Stars.
To The St. Louis Blues For Draft Picks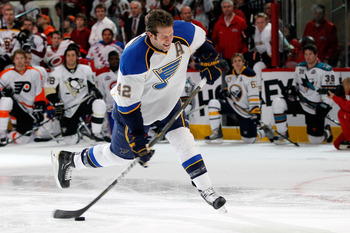 Kevin C. Cox/Getty Images
At 22-20-7, the St. Louis Blues are five points off the pace of the eighth-seeded San Jose Sharks in the Western Conference playoff hunt.
To earn a berth in the postseason, they could benefit from the presence of Brad Richards. They have plenty of cap space and a young solid core of players led by David Backes.
Alexander Steen and Backes should turn the rebuilding St. Louis Blues back into contenders by next season.
They are only a player or two away from moving into the upper echelon of the Central division.
To The Toronto Maple Leafs for Luke Schenn and Tyler Bozak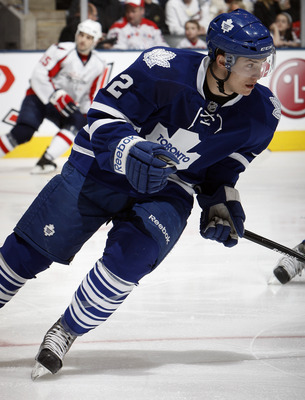 Abelimages/Getty Images
Will Toronto Maple Leafs GM Brian Burke mortage the future of the franchise by dealing away Luke Schenn and Tyler Bozak ?
This deal was close to happening earlier in the season, but Toronto fell out of the playoff race quickly and did not want to lose two core players with huge up-sides.
21-year-old defenseman Luke Schenn has had some of the inevitable growing pains you would expect from a young player, but has a ton of potential.
24-year-old center Tyler Bozak has just eight goals in 49 games this season, but has shown flashes of brilliance in his young career.
Keep Reading

Dallas Stars: Like this team?