Sidney Crosby and Steven Stamkos: Top 10 NHL MVP Candidates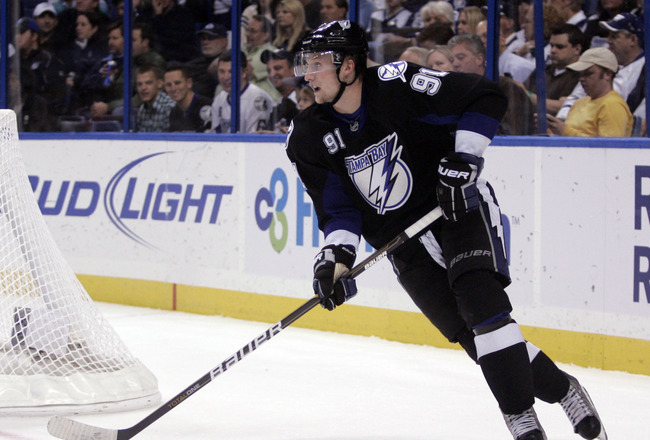 Justin K. Aller/Getty Images
At the midway point of the NHL season, the MVP race is in full swing.
Sidney Crosby and Steven Stamkos have emerged as the clear cut favorites for the Hart Memorial Trophy with a handful of other worthy candidates right on their heels.
2009-2010 winner Henrik Sedin is once again in contention for the award, along with his twin brother Daniel as they have over 60 points for the league's best team.
Goaltenders like Jonas Hiller and Tim Thomas have kept their teams in contention nearly single-handedly. Both the Ducks and the Bruins have relied on their goaltending to get them through stretches of inconsistent play.
There is plenty of hockey left to play and this list could certainly change throughout the rest of the season. But for now here are the top 10 MVP Candidates.
Honorable Mentions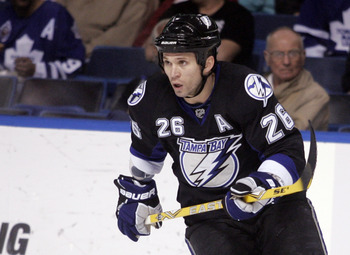 Justin K. Aller/Getty Images
With a list of only 10 MVP candidates, a handful of worthy candidates will get left out. Here's a few guys who could sneak onto this list at some point in the second half of the season.
Martin St. Louis, Tampa Bay Lightning—A former Hart Memorial Trophy winner, Martin St. Louis has 60 points at the All-Star Break.
Most will attribute St. Louis's success to playing with Steven Stamkos, but doesn't Stamkos owe some of his production to his talented veteran linemate?
Ryan Kesler, Vancouver Canucks—Ryan Kesler is having a career year, with 47 points at the break. His 27 goals is tied for the team lead, and he is an instrumental piece to hockey's best team right now.
Henrik Zetterberg, Detroit Red Wings—With Pavel Datsyuk spending some time out of the lineup, Henrik Zetterberg has stepped up his game, collecting 53 points to date. If Datsyuk continues to struggle to stay healthy and Zetterberg can handle the offensive workload for the Wings, he could shoot up this list.
10. Alexander Ovechkin, Washington Capitals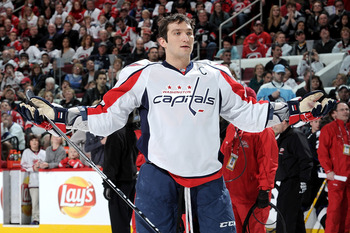 Harry How/Getty Images
What's a list of top MVP candidates without two-time Hart Trophy winner Alexander Ovechkin.
While he is not having a dominant season in terms of points (51), few can argue what he means to this team. The team's success is directly tied to his success.
It is no coincidence that Ovechkin's scoring drought and Washington's losing streak went hand in hand.
Ovechkin can never be counted out of the MVP race. If the Capitals catch fire in the second half, you can bank on Ovechkin having something to do with it.
9. Nicklas Lidstrom, Detroit Red Wings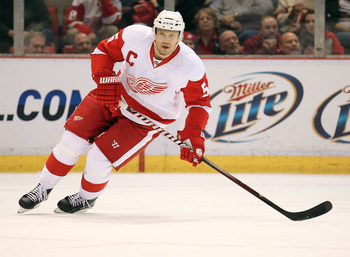 Claus Andersen/Getty Images
A defenseman has not won the NHL MVP award since Chris Pronger did so in the 1999-2000 season, but Nicklas Lidstrom has been as valuable as ever to the Detroit Red Wings.
His 42 points rank him third among defensemen, and he has been steadier than any blue liner in the league this season.
Every year critics expect the Red Wings and Lidstrom to get old but even at age 40, the six-time Norris Trophy winner is the best defenseman in the league.
8. Brad Richards, Dallas Stars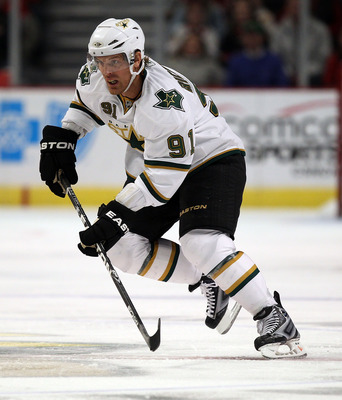 Jonathan Daniel/Getty Images
Despite the constant trade talks in the offseason, the Dallas Stars held on to superstar center Brad Richards, and it has paid off. Dallas is sitting atop the Pacific Division and third in the Western Conference, thanks in part to Richards's 57 points.
While the Stars have had tremendous success in the first half of the season, I have a hard time seeing them replicating that success in the second half. Even if Richards and the Stars play like they did in the first half, they will not finish high enough in the standings to produce an MVP.
Richards is the most valuable player on the Stars but owes a lot of his success to the young talented players around him.
7. Eric Staal, Carolina Hurricanes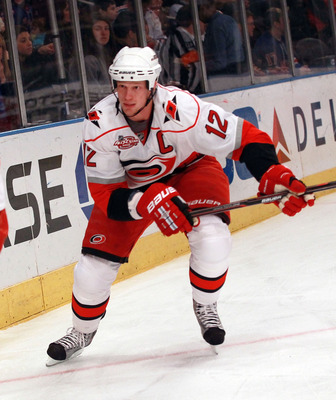 Bruce Bennett/Getty Images
Eric Staal is making one hell of a case for the MVP Award.
His 52 points are eighth in the NHL and have the Carolina Hurricanes in playoff contention at the break.
The most remarkable part of Staal's success is how little talent he has around him. Jeff Skinner and Tuomo Ruutu have 40 points apiece, but Staal has carried this team up to this point.
6. Tim Thomas, Boston Bruins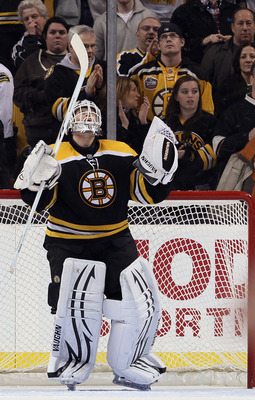 Elsa/Getty Images
The last goaltender to win the Hart Trophy was Jose Theodore in 2001-2002, but two net-minders are making strong cases this season.
Mired by inconsistent play through the beginning of the season, the Boston Bruins were forced to rely heavily on goalie Tim Thomas to keep them in and win them hockey games.
Thomas leads the league in all major statistical categories with a .945 save percentage, 1.81 goals against average and seven shutouts.
It's hard to imagine him replicating those numbers, but if he does, he'll have as strong of a case as anyone for the MVP Award.
5. Daniel Sedin, Vancouver Canucks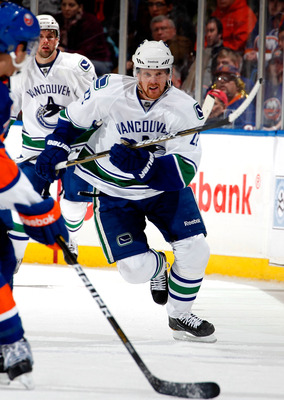 Paul Bereswill/Getty Images
After being slowed down by injuries during the 2009-2010 season, Daniel Sedin is back to full strength and producing some of the best numbers of his NHL career.
Of course, he has plenty of help alongside him in Vancouver, which may end up hurting his chances of bringing in the MVP award.
4. Henrik Sedin, Vancouver Canucks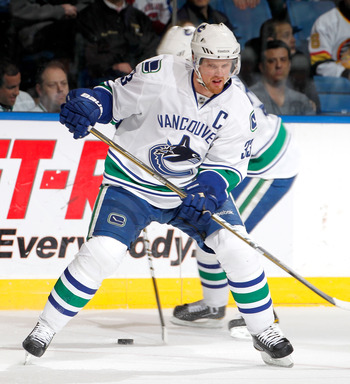 Paul Bereswill/Getty Images
Henrik Sedin is looking for back-to-back Hart Trophies and is making a strong case.
Henrik makes everything happen for this Canuck's team, as he already has 50 assists this season to go along with his 11 goals.
One has to wonder where Vancouver would be right now without the best offensive playmaker in the league.
3. Jonas Hiller, Anaheim Ducks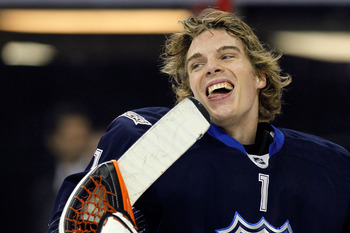 Kevin C. Cox/Getty Images
It is tough to argue that any player has been more valuable to his team than Jonas Hiller has been to the Anaheim Ducks.
Despite allowing more shots on goal than any team in the league, the Ducks find themselves in fifth place in the Western Conference due largely to Jonas Hiller's league-leading 27 wins.
He is having the season of a lifetime and will be hard to ignore if he can continue this run of excellence.
2. Sidney Crosby, Pittsburgh Penguins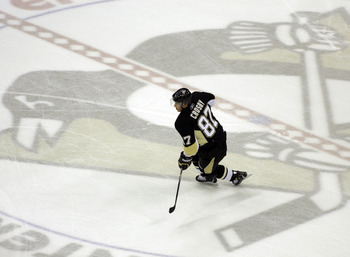 Justin K. Aller/Getty Images
Sidney Crosby is just a point behind Steven Stamkos's league-leading 67 despite having played 10 fewer games due to injury.
There is no question that if Crosby stays healthy during the second half of the season, he could pass Stamkos for the league lead in goals and points en route to his second NHL MVP award of his career.
1. Steven Stamkos, Tampa Bay Lightning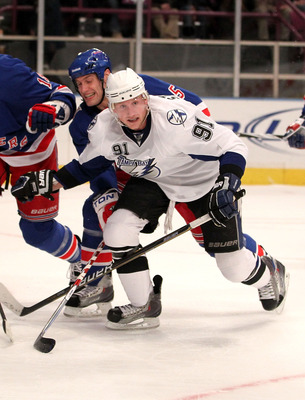 Paul Bereswill/Getty Images
Steven Stamkos is having a career year with a league-leading 38 goals and 67 points at the break.
More importantly, he has the Tampa Bay Lightning sitting atop the Southeastern division and in third place in the Eastern Conference.
Holding off the Capitals for the division crown will not be an easy task, but if anyone can carry this team to a division title it's Steven Stamkos.
If the Lightning win the division, Stamkos has to be the MVP.
Keep Reading