Chicago Blackhawks: Why Jonathan Toews Is The Most Valuable Player In The NHL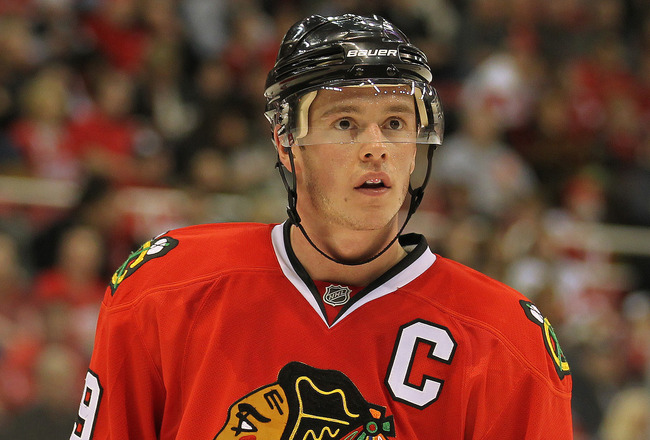 Claus Andersen/Getty Images
I shouldn't have to sell you the idea that Jonathan Toews is one of the best players in the game. His track record speaks for itself.
He won gold medals at the 2005 World U-17 Hockey Challenge, the 2006 and 2007 World Junior Championships, the 2007 World Championships and the 2010 Winter Olympics, in which he was named top forward, leading Team Canada in points.
In June 2010 he became the third youngest captain to win the Stanley Cup and the second youngest ever to win the Conn Smythe trophy.
He's the youngest ever player to become a member of the Triple Gold Club.
And he's a two-time All Star.
If this doesn't convince you, then watch Jonathan Toews play hockey. He is so tremendously skilled in so many different areas of the game. I would argue that he`s the most dynamic and versatile player in the NHL.
I don't think there is a GM in the league that would not want Jonathan Toews on their team. Without Toews the Blackhawks would be a mere shadow of the team they are. His value to them is immeasurable.
In this slide show I will argue that Jonathan Toews is the most valuable player in the NHL. Enjoy!
(Important note: I am NOT arguing that he is the most skilled)
1. Offensive Skill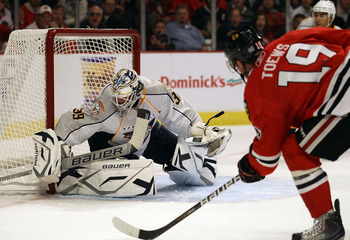 Jonathan Daniel/Getty Images
Like I said, I am not arguing Jonathan Toews is the most skilled player in the league. It's hard to argue that when the league is full of players on track to put up 90-100+ points. But Toews is still one of the most talented players in the league and his skill is not to be overlooked.
Toews didn't have much of a learning curve as a rookie. He broke into the NHL, scoring on his first ever shot on goal and strongly established himself as an NHL player. He received a Calder Trophy nomination but was narrowly defeated by his teammate Patrick Kane.
Toews has put up consistent numbers the past three years. His rookie season he recorded an impressive 54 points (24G 30A). His second season he improved to 69 points (34G 35A) and last season he still recorded 68 points (25G 43A) despite missing six games.
Toews is on track for a career high 70 points (30G 40A approximately) despite a very poor start to the season and missing two games due to injury.
We've witnessed what Toews can do with the puck. We've seen him pull off some great moves to get around defensemen and fire some deadly accurate shots to beat goalies.
He has great vision on the ice and generates chances nearly every shift. He can command an entire offense from the first line and help up the tempo of the entire team.
Toews' skill with the puck, his ability to play a very good team game and his consistent numbers make Toews one of the most offensively valuable forwards in the league. And remember Toews is only 22. He's still considered a developing player.
2. Defensive Skill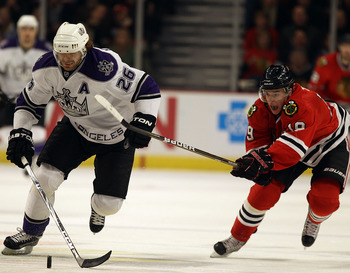 Jonathan Daniel/Getty Images
Why Jonathan Toews hasn't been nominated for a Selke Trophy is beyond me. He is undoubtedly one of the best two-way forwards in the game
Toews has never had a minus NHL season and it is unlikely he will have one anytime soon. His rookie year he finished +11, his sophmore year he finished +12 and last season he was +22. He's +9 so far this year despite a sub-par performance by himself and the Blackhawks in the first half of the season.
For a player only in his fourth NHL season he already has a very impressive career plus/minus of +54.
Toews is also one of the best penalty killers in the league. Yes the Blackhawks have had their troubles on the penalty kill this season, but you can`t blame that solely on Toews. He has proven he can be an effective penalty killer. He was on the first penalty killing unit for the gold medal winning Team Canada.
He's one of the best checkers in the NHL. He always seems to get take-aways in the offensive zone because of his back-checking and he forces lots of turnovers in his own zone.
In short, Toews is an excellent defensive forward to compliment his offensive abilities. In the new NHL, dynamic, two-way forwards that can play multiple roles have become an extremely valuable commodity for GMs.
3. Shootouts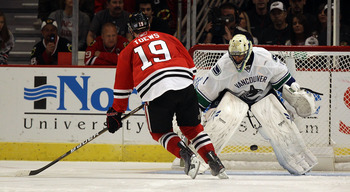 Jonathan Daniel/Getty Images
The shootout is part of the NHL, regardless of how you feel about it. I know there's a lot of mixed feelings towards it. However, it doesn't look like it's going anywhere so coaches and GMs need to arrange their rosters to accomodate the shootout.
As a result, players with a knack for the shootout have become particularly valuable in the NHL. One of the many great things about Jonathan Toews is how good he is at the shootout.
I'm sure all Canadians remember his remarkable performance at the 2007 World Juniors (in which Toews lead team Team Canada in points) where he scored three times in the shootout against the USA that carried Canada into the gold medal game.
Toews has a 54.8 shootout percentage in his career, making him one of the best in the league in terms of number of attempts versus goals. Toews has had 31 shootout attempts in his career and has scored 17 times.
In the new NHL it is important to have guys talented at the shootout. That's the difference between one point and two points. The Chicago Blackhawks are very fortunate that they have a shootout expert in one of their star players.
4. Discipline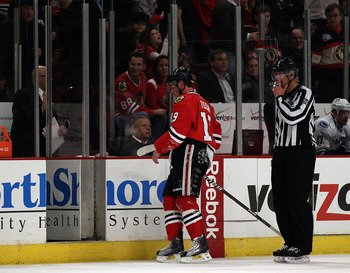 Jonathan Daniel/Getty Images
Toews has averaged around 45-50 penalty minutes over the past three seasons. It's not the lowest number in the league (Martin St. Louis had only 12 last season) but it's good considering the extensive role Toews has on the team, playing on the penalty kill and at times he's in a very defensive role.
Despite his penalty minutes being pretty high, what makes Toews disciplined is the fact that he doesn't take necessarily bad, stupid or lazy penalties.
His penalties usually come in the form of a trip or a hook while trying to back-check or an accidental high stick. He doesn't take lazy holding penalties, dumb interference penalties or dangerous roughing penalties.
Toews in on track for a career low in penalty minutes at only 26, a great number by any standards.
Toews is very disciplined and very good at controlling what he does on the ice so his team doesn't end up short-handed.
5. Faceoffs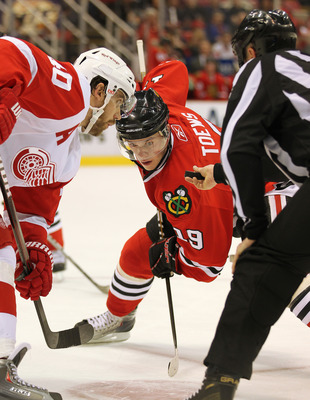 Claus Andersen/Getty Images
Ask anyone who plays hockey and they'll tell you the importance of winning faceoffs. Faceoffs determine who possesses the puck more, which determines who gets more scoring chances, which often determines who wins the game.

The point is, winning a faceoff is never a bad thing and you can never win too many of them.

Jonathan Toews is one of the best faceoff guys in the league. He wins 58.7% percent of his draws, 5th best in the NHL.
The Blackhawks utilize his faceoff skills in both zones, on the powerplay and the penalty kill.
His ability to win faceoffs on the powerplay and give his team possession in the offensive zone has been a huge contributor to the success of the Blackhawks powerplay.
6. Versatility
Jonathan Daniel/Getty Images
I've already talked about Toews' two-way play in previous slides but when you analyze his game even deeper you will see that Toews is capable of playing multiple roles and is so skilled in so many areas.
Toews, on occasion, has replaced Dustin Byfuglien as the Blackhawks presence in front of the net. This is quite interesting considering how he's not a big guy like most players who camp in front of the net are. However, he seems to have a natural talent for it. He gets good position and is tough for defenders to move.
Another thing Toews is surprisingly good at considering his size is boardplay. Toews uses his body very effectively to pin opponents on the boards and gain possession of the puck, even some guys that have a considerable size advantage.
On offense, Toews can be both a playmaker and a goal scorer and he has the ability to play both roles very well. He passes the puck well and has great vision for finding his teammates, but he can shoot to score when necessary.
It's much better to have a player that can do five things well than have five players that can only do one thing well. That's why players like Pavel Datsyuk, Mike Richards, Ryan Kesler and of course, Jonathan Toews, have become so valuable to their teams.
7. Leadership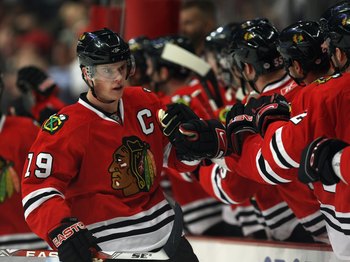 Jonathan Daniel/Getty Images
I'll always remember the awful game the Blackhawks played against the Calgary Flames on November 19th. To summarize, the Blackhawks played terribly, losing 7-2. But I don't remember how badly they played, I remember Ray Ferraro saying: "Jonathan Toews just slammed his stick against the boards in front of the Blackhawks bench and screamed at his teammates "you guys need to wake up!"
How many captains really do this in the NHL? How many captains hold their teammates accountable for poor play? How many have the guts to chew out their team in front of a crowd?
At least one. Jonathan Toews.
Toews, in my opinion, is one of the best captain in the NHL, if not the best. He knows how to lead. He knows it`s best to do so through a good combination of words and actions. He gives 100% and he expects his teammates to do the same and if they don't, he lets them know. He holds them accountable. A good leader knows to do this.
He has the attitude and mentality of a leader and maturity far beyond his years. He never gives up in a game. He battles hard every shift and gives his team momentum. He`s the Blackhawks morale go-to guy. And that`s what a leader is: he`s the person a team turns to when they`re struggling.
Toews has lead the Blackhawks out of disaster more times than I can count. Most recently against the Columbus Blue Jackets, where he scored a short-handed goal near the end of the second to give his team some confidence for the third period.
He is the foundation of the Blackhawks. The rock. The wheel that steers the team. Any team would be lucky to have his leadership guiding them through good times and bad.
Toews is only 22 and as he gets older and gains more NHL experience, he will only grow wiser in the ways of the game and as a leader.
8. Attitude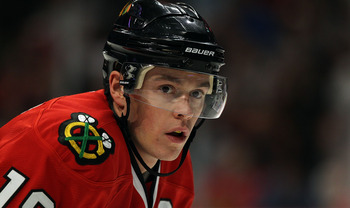 Jonathan Daniel/Getty Images
I mentioned in the previous slide about Toews`attitude, but I felt that it was significant and deserving enough to have it`s own slide.
Toews is one of the hardest workers in hockey. I have yet to see a game where Toews does not show up to play. Admittedly he has nights where he`s not at his best, but so does everyone. I`m saying Toews gives 100% every shift.
I remember something Toews said during an interview that stuck with me. When he was asked about why he seems so serious all the time Toews replied: "I guess I just always felt that when you come to the rink and you step on the ice it's time to go to work."
That line sums up Toews' entire attitude toward hockey.
For Toews, it's work first. He's very competitive and takes his career very seriously (hence the name Captain Serious) He's dedicated to the game and to his team.
If I were a GM, this the kind of attitude I would want my rookies learning to develop: a work-first and work hard mentality. Toews is someone who could bring this mentality to a locker room.
I can't blame him for being so serious all the time. Look at what he's accomplished at such a young age. Clearly his attitude and mentality is working for him.
NHL's Most Valuable Player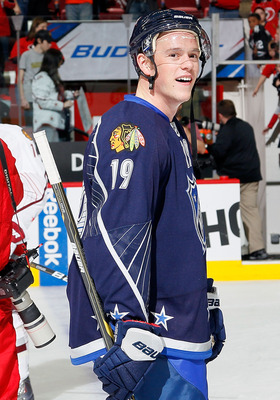 Kevin C. Cox/Getty Images
All things considered, Toews is arguably the leagues most valuable player. He may not be the highest goal scorer but he brings to the table a lot more than just numbers. Crosby and Ovechkin can score goals, but they will never be the kind of leader Toews is.
Toews brings skill, versatility and character to a team. He is one of the games truly complete players that can do it all. It's complete players like Toews that are important actors in their teams success and I have yet to find a player that has the same resume as Jonathan Toews.
That's why Toews gets my vote as the leagues most valuable player.
Thanks for reading!
Keep Reading

Chicago Blackhawks: Like this team?