The Top 20 Undrafted Players in the NHL Today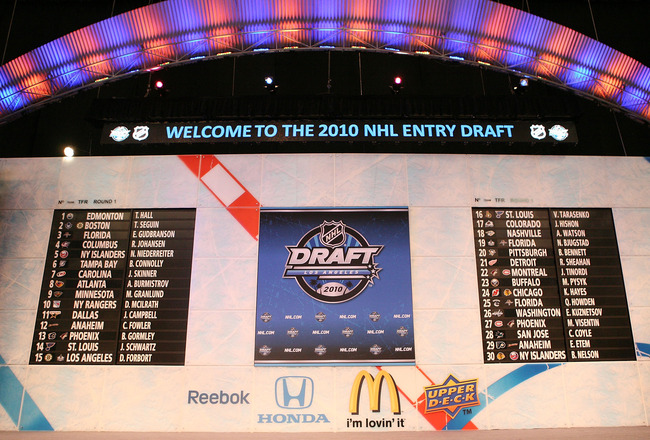 Bruce Bennett/Getty Images
For as many NHL stars that have been picked up during the NHL Entry Draft, there are just as many that go unnoticed for whatever reason.
Perhaps these players just slipped under the radar, or maybe they weren't seriously considering being a professional until late in their junior or college careers.
You will not see Sidney Crosby or Alexander Ovechkin in this slide show. Who you will see, however, are those players that did not get picked in the NHL Draft when eligible.
This group has held their own against the stars that have been getting hype since their junior hockey days. They have set records, won Stanley Cups and represented their teams in NHL All-Star Games.
Some of the players included on this list are rookies who are already making an impact on their team, and others are veterans with years of NHL experience who will leave lasting legacies when they retire.
As always, feel free to add your feedback in the comments.
20. Matt Gilroy: Defenseman, New York Rangers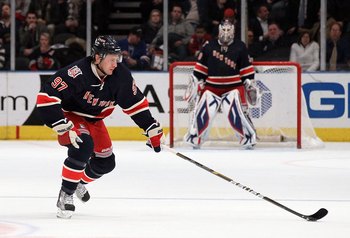 Jim McIsaac/Getty Images
After a four-year career at Boston College, where he made the team as a walk-on, Gilroy signed a two-year deal with the Rangers in 2009.
In the 2009-10 season, he played in 69 games and posted 15 points. His first NHL goal came against the great Martin Brodeur.
So far this year, he has eight points and a plus-nine over 33 games. His plus/minus rating is second on the Rangers.
19. Tyler Bozak: Center, Toronto Maple Leafs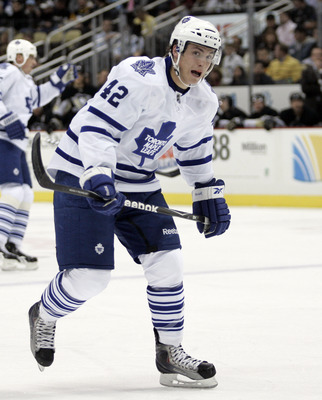 Justin K. Aller/Getty Images
Bozak played just two years at the University of Denver before signing with the Maple Leafs in 2009.
He had a strong training camp with the Leafs last season but was sent down to the Toronto Marlies of the AHL for salary cap reasons. However, he still played 37 games in the NHL and posted 27 points.
Bozak is currently on pace for a 30-point season and has 18 points in 45 games. He had his first two-goal performance on New Year's Day against the Ottawa Senators.
18. Ty Conklin: Goaltender, St. Louis Blues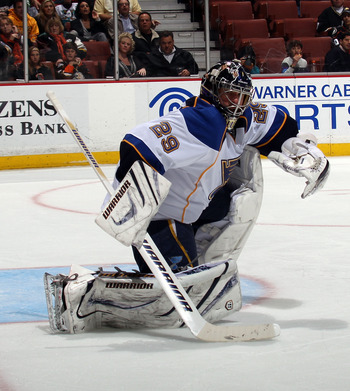 Bruce Bennett/Getty Images
Ty Conklin is one of the names most commonly associated with the Winter Classic. He appeared in the Heritage Classic as a member of the Edmonton Oilers and in two Winter Classics with the Pittsburgh Penguins and the Detroit Red Wings.
He was also a member of each team when they went to the Finals (2006, 2008 and 2009) but has yet to win the hardware.
Conklin may not be a Cup champion, but he is a reliable backup goalie. He is 88-56-4-14 in 186 NHL games with a .909 save percentage and 2.61 GAA.
He did great things with the Penguins in 2008 when Marc-Andre Fleury was injured. He went 17-6-5 and broke Tom Barrasso's record for single season save percentage with a .923. He was also the Penguins' nominee for the Masterton Trophy that year.
Conklin is currently in his second season in St. Louis and is backing up Jaroslav Halak. In 11 games, he is 5-3-2 with one shutout and has a .875 save percentage and 3.34 GAA.
17. Ruslan Fedotenko: Left Wing, New York Rangers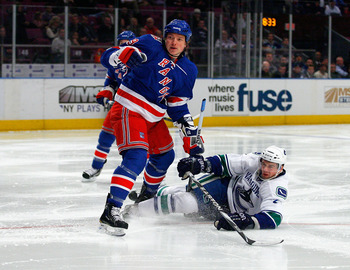 Andy Marlin/Getty Images
Fedotenko was a member of the Sioux City Musketeers of the USHL before being signed by the Philadelphia Flyers in 1999.
He has gone on to become a two-time Stanley Cup champion, winning the title with the Tampa Bay Lightning in 2004 and the Penguins in 2009. In 2004, he scored the game winning goal in Game Seven of the Finals, which helped Tampa Bay to their first Cup in franchise history.
In the season after that, he set a career high with 26 goals and 41 points.
He has posted seven 30-point seasons in his career and currently has 19 points and a plus-eight rating in 48 games with the Rangers. He made the team on a tryout contract after becoming an unrestricted free agent with Pittsburgh last year.
16. Mark Giordano: Defenseman, Calgary Flames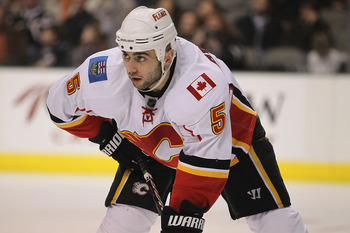 Ronald Martinez/Getty Images
Giordano has been in the Calgary organization for his whole career after playing at York University. After he played for Calgary's AHL affiliates in Lowell, Massachusetts and Omaha, Nebraska, he earned a permanent roster spot in the 2008-2009 season.
In the 2009-10 campaign, he set career highs with 30 points and a plus-17 rating. As a result of his performance, The Hockey News named him one of the most underrated players in the league.
Giordano signed a five-year contract extension with the Flames in October and is considered one of the key players the organization will build around for the future.
15. Rene Bourque: Left Wing, Calgary Flames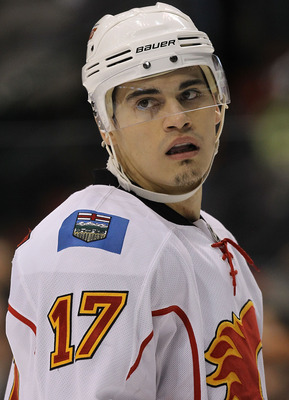 Ronald Martinez/Getty Images
Bourque did not entertain the idea of playing in the NHL until he was into his college hockey career at University of Wisconsin-Madison.
He started his NHL career with the Chicago Blackhawks and had 75 points in three seasons from 2006-2008.
Prior to the 2008-09 season, Bourque was traded to the Flames for a second-round pick at the 2009 draft. Although he had been getting better each year since the 2006-07 season, he really began to shine in Calgary. Last year, he set a career high with 58 points in 73 games.
What makes Bourque stand out is that he is able to improve his game and be one of the Flames' top players in spite of injury problems. In his short career, he has been cut by a skate and suffered a high ankle sprain, but he has always fought back.
He currently has 28 points this season and signed a six-year contract extension last February to remain with the Flames.
14. Dwayne Roloson: Goaltender, Tampa Bay Lightning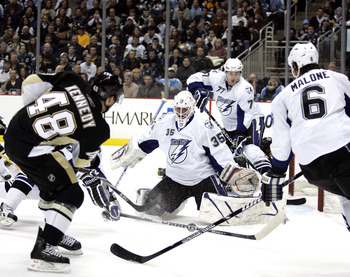 Justin K. Aller/Getty Images
Roloson is the longest tenured player on this list. His 14-year NHL career has taken him to the Flames, the Buffalo Sabres, the Minnesota Wild, the Oilers, the New York Islanders, and now, the Lightning.
He has played in 540 NHL games and has a record of 201-232-42-33 with a .910 save percentage and 2.66 GAA.
While with the Islanders, he became the oldest goalie to start at least 60 games, as he started in 63 games in the 2008-09 season. In the 2009-10 season, he set another record by making 58 saves in a matchup against the Maple Leafs. His performance broke the record originally set by Rick DiPietro, who made 56 saves in a 2007 defeat against the Rangers.
Roloson was traded to Tampa Bay on New Year's Day and recorded a shutout in his first game, a 1-0 win over the Washington Capitals. He was the first goaltender in franchise history to accomplish this. He is also the third goalie in NHL history to post a shutout at the age of 41 or older.
A 2004 NHL All-Star, Roloson has a record of 11-16-1 in 28 games with the Isles and Bolts this season. He also carries a .914 save percentage and 2.67 GAA.
13. Andy McDonald: Center, St. Louis Blues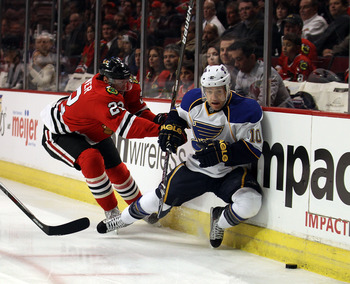 Jonathan Daniel/Getty Images
Prior to his NHL career, McDonald played at Colgate University, where he earned ECAC All-Star Team honors and was a finalist for the Hobey Baker Award.
McDonald began his path in the NHL with the Anaheim Ducks, where he was a part of the 2007 Stanley Cup team. During the playoffs, he assisted on all three goals in Game Four of the Stanley Cup Finals against the Senators. He had five goals in the series and 14 points overall in the playoffs as the Ducks won the first Cup in team history.
Although he was a part of the Stanley Cup squad, his career year was in 2005-06. That year, he had 85 points and 34 goals to go with a plus-24 rating.
He was also named to the 2007 NHL All-Star Game to replace Red Wings forward Henrik Zetterberg, who was out with an injury. There, he won the fastest skater competition.
McDonald is in his fourth season with St. Louis and has improved every year since joining the team. Unfortunately, a concussion has limited him to just 17 points in 25 games this season.
12. Chris Kunitz: Left Wing, Pittsburgh Penguins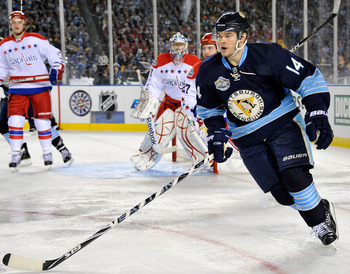 Jamie Sabau/Getty Images
Kunitz is a two-time Stanley Cup champion, having won the Cup in 2007 with the Ducks and in 2009 with the Penguins.
Kunitz played his college hockey with Ferris State and signed with the Ducks after that. In the 2005-2006 season, he had 41 points, which set a new Ducks record for points by a rookie in a single season.
Although his record was broken the next year, he was named an alternate captain and upheld by head coach Randy Carlyle as a young player who could fit a leadership role on the team.
Kunitz took his new role to heart and improved on his rookie year totals. He set career highs for goals (25) and points (60).
In 2009, he was traded to Pittsburgh for defenseman Ryan Whitney. After coming to the Penguins, he posted 18 points in 20 games for 53 points total. He also had 14 points in 24 playoff games.
He was limited to 32 points in 50 games last season after having abdominal surgery. However, he is having a good rebound season and currently has 32 points and a plus-14 rating in 46 games.
11. Sergei Bobrovsky: Goaltender, Philadelphia Flyers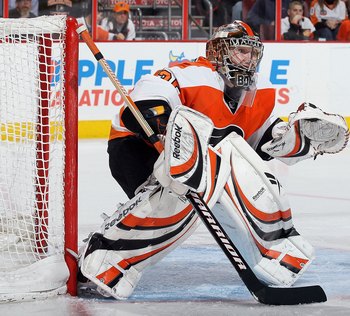 Jim McIsaac/Getty Images
Although he is an NHL rookie (and in his first season in North America), Bobrovsky is proving to be a solid pick-up by the Flyers.
Bobrovsky started his first NHL season by coming into Pittsburgh on the night the Penguins played their home opener in the Consol Energy Center. He stole a 3-2 victory and became the youngest Flyers goalie to win in their opening game. He was also the first rookie goaltender to win his Flyers debut since Antero Nittymaki accomplished the feat in 2004.
He was named the NHL Rookie of the Month in November 2010. As of right now, he is 10th in the NHL with 19 wins. He also had a .918 save percentage and 2.49 GAA.
10. Dan Girardi: Defenseman, New York Rangers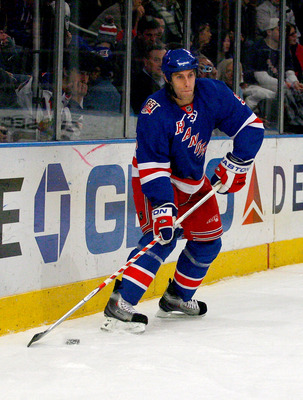 Andy Marlin/Getty Images
Girardi played his pre-professional career with the London Knights of the OHL, where he was a member of the 2005 Memorial Cup championship team.
He is currently in his fourth full season with the Rangers and posted at least 20 points in his first three years. He already has a fourth, with 22 points through 49 games.
Girardi leads all Rangers defensemen in scoring and is fourth on the team with a plus-seven rating.
Over the summer, he signed a four-year contract extension to remain in New York. Its is likely that he will beat his 2007-2008 total of 28 points and may also set a new high for plus/minus rating.
9. Ville Leino: Left Wing, Philadelphia Flyers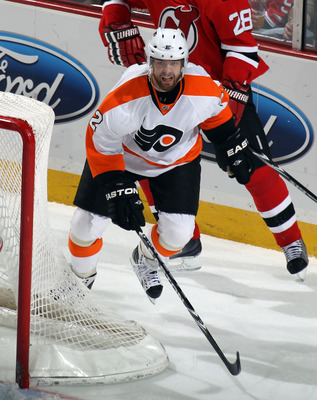 Bruce Bennett/Getty Images
Leino spent eight years playing in Finland before originally being signed by the Red Wings in 2008.
He was sent to the Grand Rapid Griffins of the AHL for salary cap reasons in his first season, but Wings coach Mike Babcock called him the best player he has ever sent to the minors.
Leino had 46 points in 57 games with Grand Rapids and posted nine points in 13 games when given the opportunity to play in Detroit.
Last season, he was traded to the Flyers for Ole-Kristian Tollefsen and a fifth-round pick in the 2011 draft. He finished his first full NHL campaign with 11 points in 55 games with the Red Wings and the Flyers.
In the 2010 playoffs, Leino was given a chance to play when Simon Gagne and Jeff Carter were injured. He came in and made an impact immediately, posting 21 points and 14 assists. His totals set NHL records for the most points and the most assists in the playoffs by a rookie.
He has 36 points in 47 games so far this year, and his plus-23 rating is ranked third in the NHL.
8. Niklas Backstrom: Goaltender, Minnesota Wild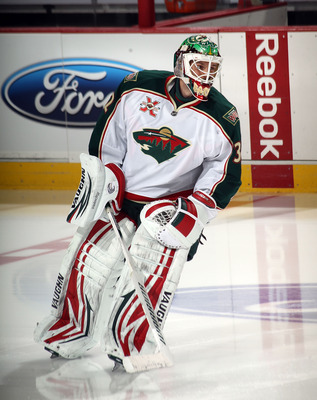 Bruce Bennett/Getty Images
Another player who started his pro career in Finland, Backstrom joined the Wild in the 2006-2007 season. He was 28-years-old by the time he started his rookie year.
In his rookie campaign, he had a record of 23-8 with a .929 save percentage and 1.97 GAA
However, his 2008-2009 season stood out the most. He played in 71 games and had a record of 37-24-7 with eight shutouts. He also had a .923 save percentage and 2.33 GAA and was the second runner-up for the Vezina Trophy.
His performance that year set Wild franchise records for most wins and shutouts in a single season.
Last season, in a January game against the Vancouver Canucks, he set another franchise record by earning his 114th win all-time. That is the most career wins by any Wild goaltender.
Backstrom also won a bronze medal with Finland in the 2010 Olympics.
This season, he is 14-10 in 27 games with a .923 save percentage and 2.72 GAA.
7. John Madden: Center, Minnesota Wild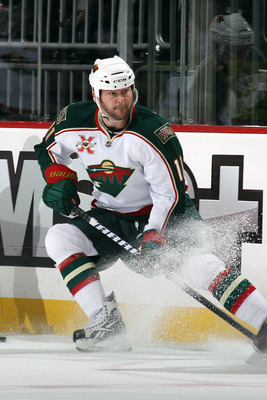 Bruce Bennett/Getty Images
In his lengthy NHL career, Madden has won three Stanley Cups. He was a member of the 2000 and 2003 New Jersey Devils championship teams and also helped the Blackhawks break their Stanley Cup drought last season.
Madden has 235 points in 836 games, and his best year came in 2007-08 when he had 43 points and 20 goals with the Devils.
In 2000, he tied an NHL record for six shorthanded goals, the most by a rookie. He also scored a hat trick that season, which included two shorthanded goals and set another NHL record.
He won the Selke Trophy for best defensive forward in 2001 and has also been nominated in 2003, 2004 and 2008.
He signed a one-year deal with the Wild over the summer and currently has 15 points in 45 games.
6. Jonas Hiller: Goaltender, Anaheim Ducks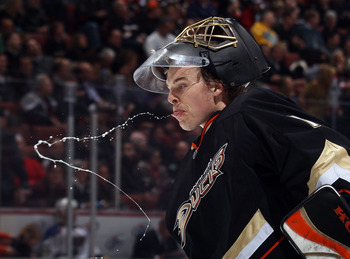 Bruce Bennett/Getty Images
Hiller first made an impact when he took over the starting goaltender role from 2007 Cup winner Jean-Sebastien Giguere in the 2009 Stanley Cup Playoffs. He played in 13 games and posted a record of 7-6 with a .943 save percentage and 2.23 GAA to go with two shutouts.
He has played 172 regular season games with the Ducks, where he has a record of 86-61-9 and 10 shutouts. He averages a .922 save percentage and 2.42 GAA.
So far this year, Hiller has been the cream of the crop of NHL goalies. He has a record of 23-16-3 with four shutouts and has a .926 save percentage and 2.51 GAA. He is first in the league in wins and is fourth in save percentage and shutouts.
As a result of his performance, he was recently named to the 2011 NHL All-Star Game, the first of his career.
5. Dustin Penner: Right Wing, Edmonton Oilers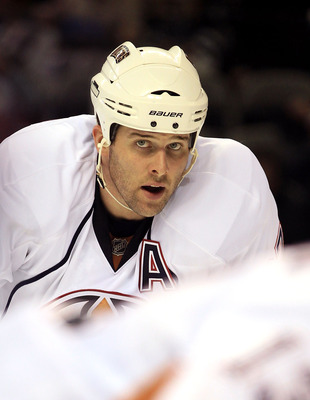 Ezra Shaw/Getty Images
Penner went to the Ducks after playing at the University of Maine. In his rookie year in 2006-07, he broke the franchise record for points scored by a rookie with 45. He also was a part of the team that won the 2007 Stanley Cup.
In 2007-2008, he went to the Edmonton Oilers, where he led the team with 23 goals and improved his season point total to 47 points.
Last season, he had a career year with 32 goals and 63 points despite the fact that the Oilers finished near the bottom of the league standings and failed to make the playoffs.
He currently has 29 points and 14 goals in 46 games and is tied with Ales Hemsky for the team scoring lead.
4. Alexandre Burrows: Left Wing, Vancouver Canucks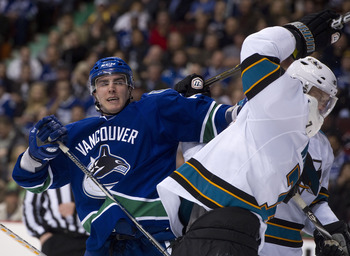 Rich Lam/Getty Images
Burrows is one of those players who can be an agitator but also knows how to play a bit of hockey.
He has been in Vancouver since 2005, where he went after playing two years in the QMJHL.
After having nine points and 93 penalty minutes in 2006-07, Burrows has improved every since. Last season, he set career highs of 35 goals and 67 points and also posted a plus-34.
He has had more than 100 penalty minutes each year over the last three years. His performances helped him get voted the Canucks Most Exciting Player each of those years.
Although he missed some time in the beginning of the season recuperating from surgery, he is starting to come back strong. He has 24 points and a plus-13 rating in 37 games.
3. Dan Boyle: Defenseman, San Jose Sharks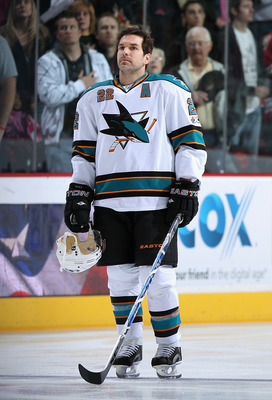 Christian Petersen/Getty Images
Boyle is currently serving as a Sharks alternate captain and has been with the team since 2008-09.
After playing one and a half years with the Florida Panthers, he was traded to the Lightning in the 2001-02 season. He was there through the 2007-08 campaign and was a member of the 2004 Stanley Cup championship team.
Boyle has posted five seasons of 50 or more points in his career. He had his best total in 2006-07, when he had 63 points.
This year, he has 31 points in 48 games, which leads all Sharks defensemen. He is also fourth on the team in scoring.
Boyle was also named to the 2010 Team Canada Olympic team, where Canada captured the gold medal.
2. Brian Rafalski: Defenseman, Detroit Red Wings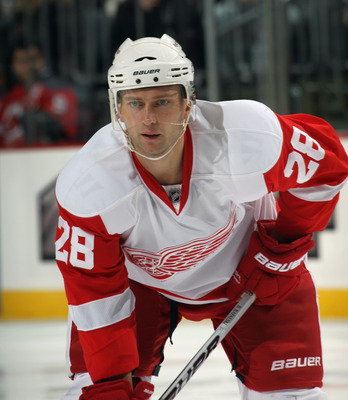 Bruce Bennett/Getty Images
Rafalski has won three Stanley Cups over his career. He hoisted the Cup with the 2000 and 2003 Devils and again with the 2008 Wings. He has also been a Cup finalist in 2001 and 2009.
He is a two-time NHL All-Star, having been named to the 2004 and 2007 events.
He also represented the United States in the 2002 and 2010 Olympic games. In the 2010 Olympics, where the USA won a silver medal, he was named the best defenseman of the tournament.
In 2008-09, he set a Red Wings franchise record by scoring at least one point in seven games to start the season. It was the best start by a Detroit defenseman over their rich history.
In the 2009 Winter Classic, he scored the game winning goal as the Wings beat the Blackhawks by a 6-4 score.
He currently has 31 points and a plus-14 in 36 games. He is first on the team in plus/minus rating and second in scoring among Wings defensemen.
1. Martin St. Louis: Right Wing, Tampa Bay Lightning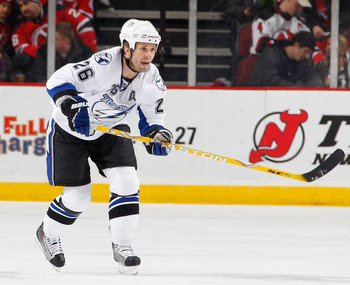 Paul Bereswill/Getty Images
Martin St. Louis may be 35 years old and stand at 5'8", but he is not slowing down, and his height is far from an issue.
He spent a brief time with the Flames before joining the Lightning in the 2000-01 season.
In 2004, he not only won the Stanley Cup with the team, he became the eighth player in NHL history to win the Hart Trophy, the Art Ross Trophy and the Cup in one season. He also picked up the Lester B. Pearson Award that year.
In 2006-2007, he set a career high by posting 102 points and 43 goals.
He became an alternate captain in 2007, a title he still holds today.
He won the Lady Byng Trophy for sportsmanship in 2010 and was nominated for the award in 2008 and 2009.
He was named to the NHL All-Star team in 2003, 2004, 2007, 2008 and 2009 and will participate again this year.
Last year, he posted 94 points and could come close to that total again this year. He has 57 points, good for fourth in the NHL and second on Tampa Bay in scoring. He is also second in the league with 38 assists. He has posted at least 50 points in eight seasons.
So, what hasn't Martin St. Louis done?
The answer is...not much.
Keep Reading