NHL Trade Rumors: Tomas Vokoun, Jason Arnott and the Latest NHL Trade Buzz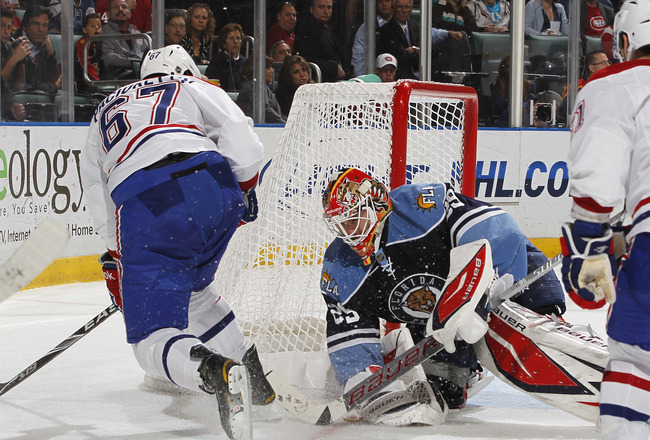 Joel Auerbach/Getty Images
NHL trade rumors are still buzzing around the league and they'll continue to until the February 28 trade deadline.
There's already one chip that has fallen in New Jersey, as the Devils have cleared some cap space by trading Jamie Langenbrunner to Dallas for a draft pick, and there's expected to be more moves coming. As the teams begin to space themselves out, the names of players being available are starting to grow, and teams looking for trade help continue to grow as well.
So here's an update on some of the other trade rumors going around.
Tomas Vokoun, G, Florida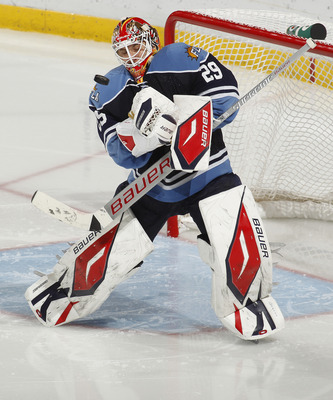 Joel Auerbach/Getty Images
Vokoun is now the best goaltender who could be available, but the latest news could very well mean that he stays with the Panthers.
With Dwayne Roloson going to Tampa, the trade market for goaltending has dried up right now. It doesn't mean things will change, but there isn't much of a market for Vokoun or any goaltender. The other news is that according to Pierre Lebrun of ESPN.com, the Panthers have started to discuss a contract extension with Vokoun, which means they at least are considering keeping him around.
Jason Arnott, C, New Jersey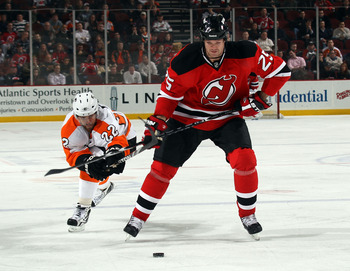 Bruce Bennett/Getty Images
Arnott hasn't been a healthy scratch recently, so it doesn't look like there's a trade on the horizon. But among the Devils who have those big contracts, he's probably the next likely player to go. His numbers are a little down but he's still a useful, big forward who can add pop to an offense. Perhaps a team willing to part with one or two prospects or a draft pick would take a flyer on Arnott.
Martin Brodeur, G, New Jersey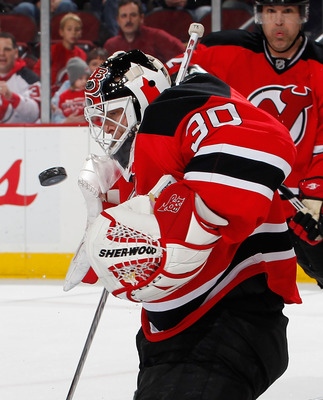 Paul Bereswill/Getty Images
It's hard to believe Martin Brodeur, the greatest player ever to wear a Devils sweater and a surefire Hall of Famer, and "should he be traded" could be in the same breath. Yet many media members speculated on whether it was best for both sides to part ways with the season the Devils are having.
But at least for now, all those rumors were put to rest when Lou Lamoriello was asked by Lebrun on whether or not Brodeur could be traded:
The answer: No. Case closed, at least for now.
Cory Stillman, LW, Florida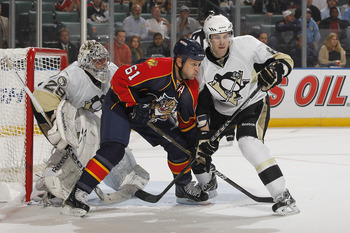 Joel Auerbach/Getty Images
There hasn't been anything specific on whether or not Stillman would be traded out of Florida, but there was speculation out of Philadelphia. Frank Seravalli of the Philadelphia Daily News wrote that the Flyers are looking for a veteran winger and Stillman's name came up as a possible fit.
Stillman will be a hot trade name, especially as a guy who can bring veteran leadership and scoring for a low price. With that in mind, look for the Rangers to think about him as well, since they need a scorer with Alex Frolov out for the year.
Nikolai Khabibulin, G, Edmonton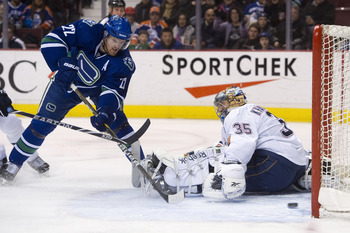 Rich Lam/Getty Images
Khabibulin has played well, considering the situation he's in with the Oilers. His name hasn't really been linked to trade rumors, but he's probably the best player that could be had from Edmonton. But according to Eric Francis during the Hotstove on Hockey Night in Canada last week, the Oilers have no interest in trading away Khabibulin.
Turns out it's really for the best, considering there's no real market for goaltenders right now and Khabibulin is the best option for Edmonton, even with his cap hit.
Johan Hedberg, G, New Jersey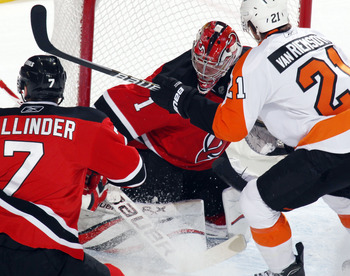 Bruce Bennett/Getty Images
Just because Brodeur isn't on the move doesn't mean the Devils won't be trading a goalie. The Record out of North Jersey reported after the Langenbrunner trade that the Devils aren't done. Arnott was named as one of the prime names to be moved, as expected.
But the interesting name is Hedberg, who has a small cap hit while playing relatively well. Hedberg probably won't get a starting spot, but a team looking for extra help and goaltending depth could use him. San Jose could be an option, as could Chicago.
Francois Beauchemin, D, Toronto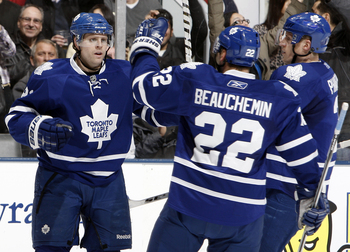 Abelimages/Getty Images
Beauchemin continues to be the hot name with the Leafs, even more so than Kris Versteeg and the perpetually on the block Tomas Kaberle. He's been rumored to be available, as there was even a speculated deal that would send him to San Jose for Devin Setoguchi. That's still probably the best fit for him, but we'll see what happens.
Marc Savard, C, Boston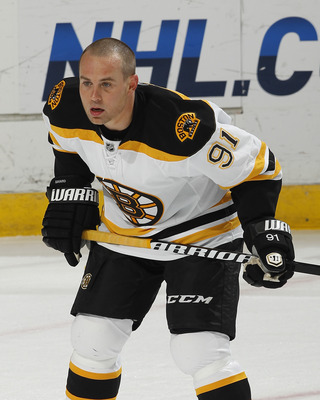 Joel Auerbach/Getty Images
Savard is starting to return to form and so have the trade rumors, including a rumored deal that would send Savard to Calgary for Robyn Regehr. ESPNBoston's James Murphy debunked the deal, but it sparked the rumors that Savard could very well be on the move again. Savard would clear a lot of salary and could get the Bruins a good deal in return, so it's a good idea to keep an eye on the situation.
Brent Burns, D, Minnesota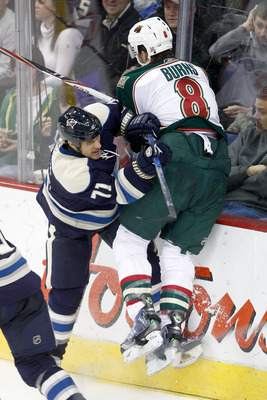 John Grieshop/Getty Images
Burns has struggled with injuries throughout his career, but he's playing pretty well now in Minnesota. That led to a tweet from Murphy saying the Bruins would be a good fit for Burns. Supposedly the Wild were dangling Burns last summer and now this should kick the tires on more rumors again surrounding Burns. Whether this will lead to anything is unknown, but it's something to keep an eye on.
Scottie Upshall, LW, Phoenix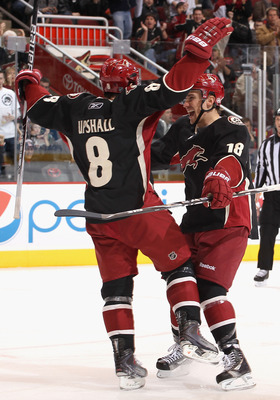 Christian Petersen/Getty Images
Upshall has been one of those supporting role players that are key to every team and he brings some grit and some offensive upside to the bottom six in Phoenix. With that in mind, the Flyers are interested in bringing the winger back to Philadelphia. Upshall was the other player named in Seravalli's piece as a possible target for the Flyers, and he would definitely be a good fit.
Of course, it will depend on whether the Coyotes stay in the playoff picture or not. But you'd get the feeling if it was offered to him, Upshall wouldn't turn it down.
Keep Reading