Phil Kessel and the Top 5 Underachieving Maple Leafs at the Christmas Break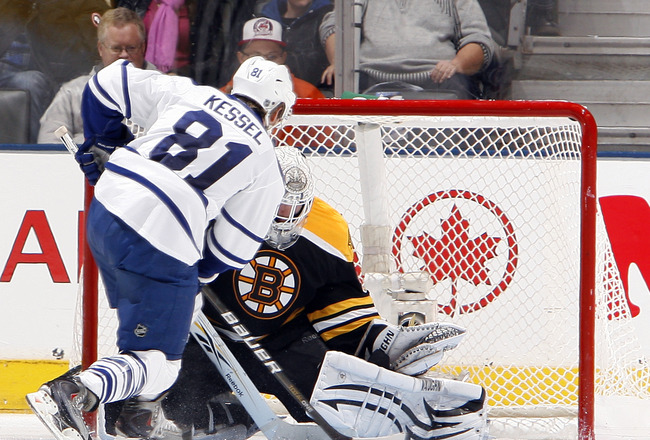 Abelimages/Getty Images
As we head into the Christmas break, we look back on what has been a downright dreadful first 33 games of the season.
This span of games has seen some bright spots, but for the most part, these games have been filled with inconsistent play, turnovers and an unwillingness to compete early and often.
To tell you all the truth, I could have made this list much bigger and included nearly three-quarters of the roster, but as it stands I will look back on the top five. These five will come from anywhere in the lineup, whether it's in net, up front or on the back end.
These five players I will have listed were supposed to be relied upon to shoulder the load of the team, but things haven't worked out so far this season.
5. Center/Left Wing Nazem Kadri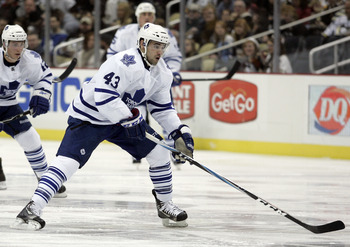 Justin K. Aller/Getty Images
Heading into the preseason as an odds-on favorite for a role in the Leafs' top six, Nazem Kadri was poised to become one of the rookies to watch this season and was the most hyped-up Leafs prospect since the arrival of Wendel Clark back in 1985.
As the preseason began, Kadri showed some glimpses of his potential, but on the whole he was underwhelming in his preseason.
What began as a possible NHL contract for Kadri resulted in an eventual demotion to the Leafs' AHL affiliate, the Toronto Marlies. While there, he was told to work on his defensive game and once he got that figured out, he would be back.
He was called back up to the Leafs about 15 games into the season after averaging a point per game while down in the "A."
He is 20 years old and probably shouldn't be pressured like this, but in the end, he's a core piece to the puzzle, and he's severely underachieved based on his offensive talents. He does have the potential to get out of this though, and very quickly at that.
4. Center Tyler Bozak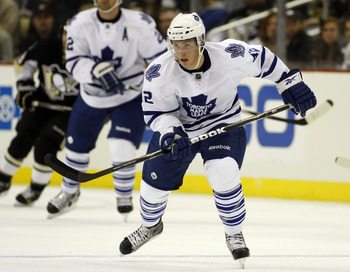 Justin K. Aller/Getty Images
Heading into the season as the odds-on favorite to center the top line alongside Phil Kessel, Tyler Bozak appeared to be heading on the right track with his NHL career.
After a relatively quiet preseason, the season has actually been even quieter for Bozak, as he has failed to live up to his rookie season expectations.
Some say it's a sophomore jinx Bozak is going through, and quite possibly that may be the case. We will all know the answer to that question next season.
Bozak was expected to get about 50 to 65 points this year playing alongside Kessel and linemate Nikolai Kulemin, but that trio was broken up fairly early into training camp, and the struggles continued for Bozak.
Having only scored four goals in 33 games and totalling a grand total of 11 points in those games, Bozak is getting a point about every third game, not exactly the scoring pace GM Brian Burke was banking on from Bozak, being the highest-paid center on the squad.
3. Left Wing/Right Wing Kris Versteeg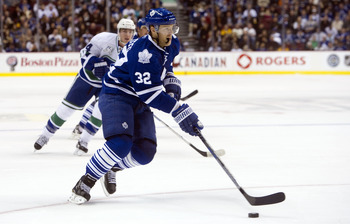 Rich Lam/Getty Images
Acquired in an offseason trade with the Chicago Blackhawks, Kris Versteeg was brought into the organization with the hopes he could add some offensive flash to a team needing it.
Versteeg started out the preseason with a bang, and the season followed, but with pretty well the complete opposite production that he saw in the preseason.
Versteeg, who was a third-line grinder on the Stanley Cup-winning Blackhawks last season, was thrown into a more pressure-filled role with the Leafs having to play on a line with Tyler Bozak and Phil Kessel. Now having to face the opposition's top lines or top checkers, Versteeg has struggled for any sort of consistency with the team.
A team-worst minus-16 this season, Versteeg is really not showing any prowess right now defensively or on the penalty kill, two areas he was supposedly good at.
With 10 goals and 11 assists, Versteeg is on his usual pace, but his inclusion in the list is based on his defensive numbers and not showing his good defensive game on a regular basis. Being a team-worst minus-16 after playing for and winning a Cup just doesn't make sense to me.
2. Defenseman Dion Phaneuf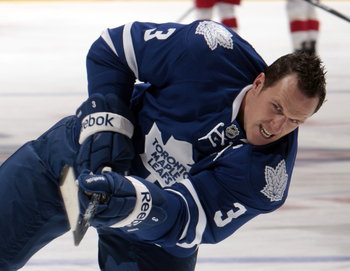 Abelimages/Getty Images
A former Norris Trophy-quality defender, Dion Phaneuf's fall from stardom really turned into a severe nosedive in his final year with the Flames. When he got dealt to the Leafs, he seemed like he was willing to bring a new culture and feel to the team's locker room.
So far so good, as he has more than proven himself off the ice as a leader of this team, being awarded the captaincy of the Leafs, a title that has not been handed out since Mats Sundin laced up the skates with the team.
Phaneuf currently has seven points in 16 games, not a bad statistic, but his defence and play outside the offensive end has been a sore spot for me. When he left the club due to injury, he was among the team's worst in terms of plus/minus, and so far since he's been back he has really been more of a liability defensively than anything, although his plus/minus hasn't changed since then.
What initially got his name known throughout the NHL was his downright nasty demeanor out on the ice and his ability to lay the body on the opponent.
In my opinion, I can count the number of times Phaneuf has laid out an opponent, and that shouldn't be happening. To get himself off this list, Phaneuf will need to play smarter and start laying out the body on a more consistent basis
1. Right Wing Phil Kessel
Rich Lam/Getty Images
Phil Kessel was acquired last offseason by GM Brian Burke in a move that today looks to be setting the franchise back a few more years.
Acquired from the Bruins in exchange for two first-round picks in 2010 and 2011 and a second-round selection in the 2010 draft, Kessel was thought of as the savior for an organization that was in desperate need of some young talent coming their way.
Kessel so far in his Leaf career has been good, but not great—not two first-round picks sort of great.
He's a very good finisher who in fact is tied for the team lead in goals with 12 with Mikhail Grabovski, who has slowly turned into the Leafs' best forward after a period in which even I was ready to trade him for a bag of pucks.
Having lost out on Tyler Seguin already, and with the possibility that the Leafs finish nearly dead last and lose out on a top three pick, Phil Kessel may turn out to be one of the worst acquisitions in Leafs history, even passing the Tom Kurvers for Scott Niedermayer deal (actually was the third overall pick, but Scotty was picked at the third pick).
Kessel is currently on pace for around 30 goals this season. A decent total, but again, not at the level Leaf fans and experts had him pegged for. To make matters worse, he's also pretty terrible defensively and tends to play a more difficult game, carrying the puck through players rather than making the simple play.
To get out from No. 1, Kessel needs to go to the difficult areas, get those pucks, finish those chances and lastly, stop gripping the stick so tight and make the simple play. Quite often the best play made is the play you don't make, and it's one of those sentences that needs repeating with regard to Kessel.
Have a safe and happy holiday everyone.
Keep Reading

Toronto Maple Leafs: Like this team?